Nomad bi-fold leather charging wallet review
The Nomad bi-fold leather charging wallet allows you to carry a 2400mAh rechargeable battery with an Apple Lightning connector in a stylish Horween leather wallet and still store all of your cards, money, ID, etc.
I should point out that this is Apple only without a Lightning->MicroUSB or USB C adapter (which I have not found yet). I will also point out that my tests for charging on this were that it did charge an iPhone 6 at a regular rate and was able to be recharged without issue.
I will also point out that before you get sticker shock you should probably check out what a non-tech Horween wallet costs as I was guilty of doing a Tim the Tool Man Taylor "rrrrrrr?" upon finding the price. They're in line.
Most of my testing involved using the product for the past three weeks as a wallet, not as a tech gizmo. As a tech gizmo it's perfect for what it claims it will do (charge an iPhone once from dead.) As a wallet for someone who has 23 cards (license, credit, other licenses, couple of gift cards, zoo membership, science center membership, card to pick up my kid from school, I could go on but really it's 23, I counted,) it's actually still a fine wallet although I have to use the bill fold section for extended card storage.
And that's what I was more interested in with this product. Did the cost of the wallet coincide with the cost of a fine Horween leather wallet plus a gadget that probably could be obtained for under $15? That answer is mostly yes.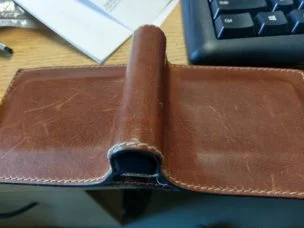 Above: wide open is the only time the wallet doesn't look particularly sleek.
Nomad has managed to take a tube charger and fit it in in such a way that the billfold is not adversely impacted. I don't pull this wallet out of my pocket and think  that there's any degradation in wallet due to the charger. That was important to me as I've got enough charging devices that turn the narrative into CHARGER + product. In this case this is a good wallet, and then there's more there's a charger added in. If that makes sense.

Above: lightning cable tucks in, Micro-USB charging port (cable included)
Basically for all but one function of a wallet in the way that I use wallets, this does it. That one function it does not do involves a cheap plastic see-through window for my ID so I don't have to remove it, but I don't think that bit of functionality fits the aesthetic of the Nomad Bi-Fold Horween wallet particularly well. In other words – even though I want that, I don't think I'd want it in this wallet.
The 2400mAh battery is generally enough to charge an iPhone once completely from dead, and the only comment I have on the gadget part is it would be nice if you could swap out the cable end so you could charge other devices or use a longer cable. Oh, and if since it charges phones with Lightning if it could be charged via lightning and not another Micro USB charge cable (included if I remember correctly).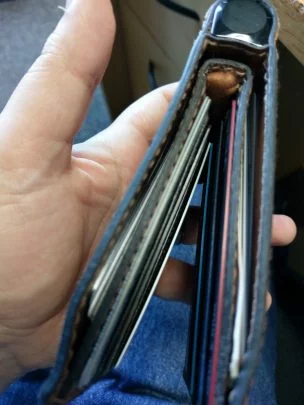 Charging an iPhone in your pocket is possible if your pockets are large, but I'd probably pass on that. It does kind of feel like the charger should be able to be popped out, but I'm betting there're reasons it's secured in there.
The marks on the wallet come from fairly hard use and that I keep forgetting I have a knife in my watch pocket that the clip has scraped it a several times on removal.
Even with my arsenal of cards, I still was able to fit a wad of cash in there for the few seconds I had it before depositing it and subsequently paying it to daycare. Ahhhh… that was the hour…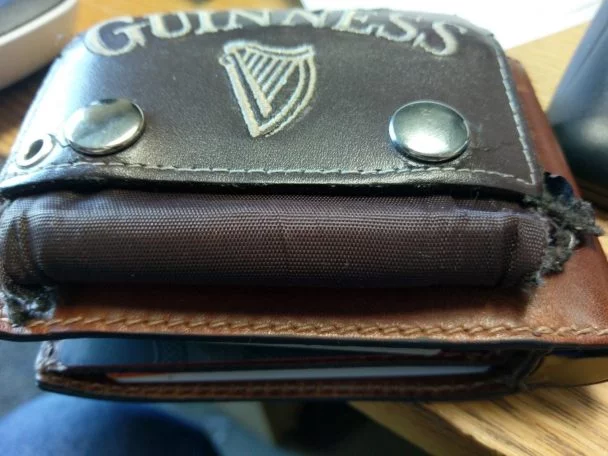 Overall as a tech wallet – great. As a Horween bi-fold wallet – great. Implementing the two together? Just about perfect. Personally I would have moved the battery to the edge and shorted the wallet half an inch on one side and added a magnetic clip and thrown in some cheap plastic see-through inserts for heathens like me, but I'm not sure I'm the target demographic for this.
But I guess here's the testimony – I'm an Android guy, I have USB C connectors. I can occasionally use this to charge someone's device but I could do that with any of five gadgets I have in my car. I use this wallet. I like this wallet. If they made it in USB C I'd buy it as a wallet. There are very few wallets I've liked in my life, as evidenced by my wearing the Guinness wallet to shreds, and this one is one I like.
The Nomad Bi-Fold Horween Leather Charging wallet can be found on Amazon for $149.95, and the slim version which I did not review can be purchased for $119.95.