VicTsing Bluetooth FM Transmitter Review
Many new vehicles are equipped with an integrated Bluetooth audio solution. It's a convenient way to get audio from your smartphone (or other device) to your car stereo system. The VicTsing Bluetooth FM Transmitter fills the gap for car owners that don't have an integrated audio system. It can take audio in from a number of sources and broadcast it via low-power FM radio. The transmitter isn't perfect but it works well and is inexpensive. It's the go-to solution in my family for our vehicles without Bluetooth audio.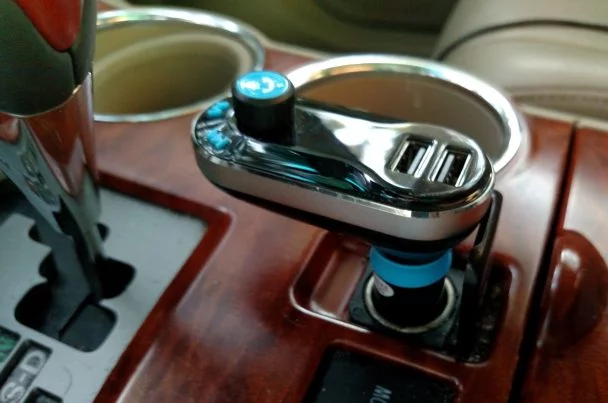 There's a lot of tech in this tiny package. There are two USB ports for charging your devices or loading audio off a USB stick (up to 32 GB), an SD card slot for playing audio files (also up to 32 GB), an auxiliary port for line-in audio, and the FM transmitter for casting the audio to your car's stereo system. The unit also has a microphone which allows you to make and receive phone calls.
The unit itself is made of glossy plastic. It won't win any design awards but it isn't ugly. It seats firmly in the power ports on my family's cars (2008 Toyota Highlander and 2010 Volkswagen Beetle). The power connection is solid and I don't worry about it popping out. The head of the unit swivels horizontally and vertically so you should be able to find a workable orientation.
The first thing you need to do after powering on the device is to find a relatively clear frequency. In my home market, Tampa FL, we use 106.9. The farther you can get from actual broadcast radio station frequencies the clearer your signal will be. Finding a dead zone can be tough. This is one of the main drawbacks to using an FM transmitter. A viable frequency in Tampa might not work in Orlando or Atlanta. If you travel much you may have to change the unit's frequency to accommodate different markets. If you mostly stay in one area you'll be OK once you've found a good frequency.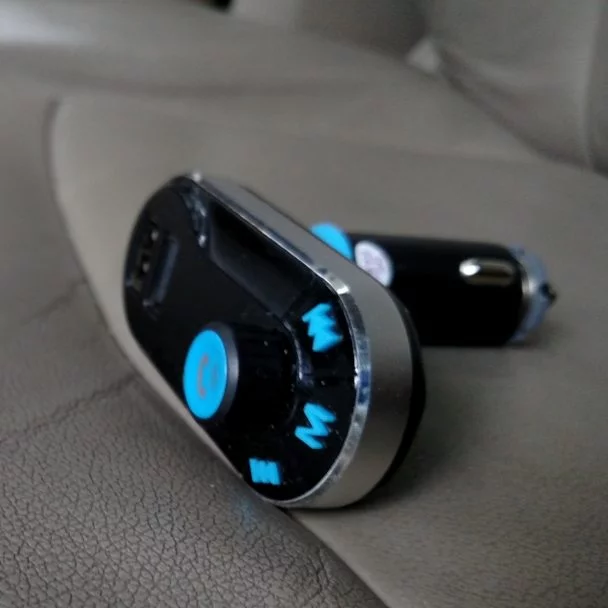 I use the device primarily in Bluetooth mode. The device connects quickly to my family's phones – iPhone 6 models, DROID Turbo, Lumia Icon, and more – and I've never found a phone that isn't compatible. Once you are connected and your radio is tuned to the right channel simply fire up the audio on your phone and you're in business. Audio is clear , especially if you leave the transmitter's volume on medium and use your car's system to control the volume. Turning the FM transmitter to max volume results in a slight hissing sound. The only complaint I have is that the display on the transmitter can be hard to read in daylight. This really only enters into things when you need to adjust the transmission frequency so it's a pretty minor inconvenience.
The convenience of leaving your phone in pocket or purse is one of the strongest selling points of the VicTsing Bluetooth FM Transmitter. For me that convenience is definitely worth the $18 Amazon is currently charging for the device. It's a product that works well at a fair price which makes it easy for me to recommend.
SPECS
Frequency range: 87.5-108.0Mhz
Output Frequency: 20Hz-15KHz
Supply voltage: 12-24V
Rated current: 90mA
Power consumption: 1W
Working temperature: 0-50 degrees
USB Charge output: 5V/2.1A
Music format: MP3 format
USB Maximum support: 32 GB (no info on file count)
microSD Maximum support: 32 GB (no info on file count)
Bluetooth version 2.1 + EDR
Transmit distance: 10m