Casio WSD-F10 Smart Outdoor Watch Review
I've been wearing the Casio WSD-F10 watch for the past week, long enough to get a feel for it and come to some conclusions. I'm coming at this review from the perspective of an Android Wear user (OG Moto 360, Huawei Watch) that didn't really wear watches before Android Wear was released and who has no history with Casio. I think that Casio history is relevant because I've decided that folks who appreciate Casio's hiking and trekking watches might love the WSD-F10.  There are compelling features that Casio has brought to the game but they aren't enough to make me give up my current watches.
A couple of things to note – I'm not reviewing Android Wear here and I only used the watch with Android phones. Google keeps Wear watches on a tight leash – they all work the same and there are no manufacturer skins to be found. As such, I'll mainly discuss the physical properties of the watch and the differentiation points that it has.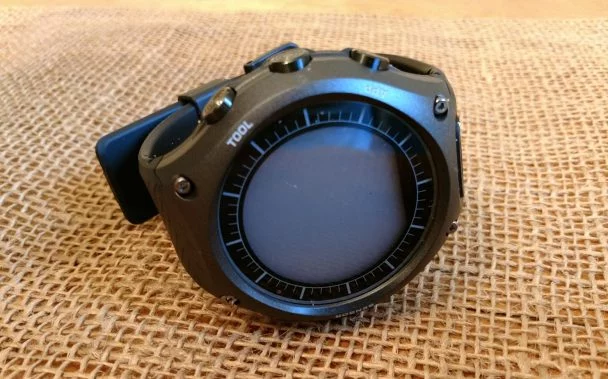 THE GOOD
My favorite thing about the Smart Outdoor Watch is easily the display. Displays, in fact. Casio has built two overlapping LCDs into the watch. One is full color like you'd see on any Android watch. This is the display you see and use when interacting with the device. When you finish whatever operation you were performing the phone seamlessly switches to a monochrome LCD. It's great for battery savings and for outdoor visibility. Casio claims approximately one extra day of battery life when operating in the dual-layer mode. This switching between color and monochrome is brilliant and a clever way to add battery life.
You can also use the watch without switching to the monochrome screen or in a monochrome only mode, called Timepiece mode. Timepiece mode offers up to a month of battery life but without the Android Wear notifications and cards. In fact, if your battery runs down the phone will automatically switch to Timepiece mode. This means you are not left with a dead watch that won't even tell you the time.
Another point in the positive column is durability. I accidentally dropped the watch several times on its face and you can't tell. The face and housing are scratch free. This thing is built like a tank. It's water resistant up to 50 meters and is MIL-STD-810G compliant. I never felt like I was going to damage or destroy the watch. It was freeing to wear the thing around without worrying about running into doorknobs or bumping into counters.
There are three buttons along the right side of the watch. The center button is the standard home/power button like you'll find on all Android Wear watches. The other two buttons are nice additions and really useful. The first is the APP button. By default it launches the weather app but it can be configured to open any app you like. This is great and very useful, for example, to access your Google Keep notes on the go. The other button is called TOOL. Pressing it cycles through the compass, altimeter, tide graph, and other informational screens. Its a great feature and right in line with the target audience for this watch.
If you set aside the size of the watch it looks nice. We received the rather bland looking black version for review but it is also available in red, orange, gold, and other colors. The orange looks particularly sharp to me.
THE BAD
There are quit e few things I didn't care for with this watch. The biggest problem I had was its size. The thing is massive and completely dwarfs my wrist. It is wide and tall and bulky. It interferes with bending my wrist – even while typing this article its getting in the way. I knew the watch was large as soon as I took it out of the box but I thought I'd get used to it. I never did.
It seems to be unbalanced, too. The watch constantly tries to slide around my wrist so that the face is on the underside of my arm. It is really annoying to have to  continuously tip the watch back to its proper position. I tried wearing the watch loose (my preference) and tight but never could find a comfortable fit. The strap is cheap feeling and non-replaceable and doesn't help matters.
Another big inconvenience is the charging cable. It is a circular plug that magnetically attaches to the side of the watch. The problem with it is that the magnet is really weak. I found the charger would disconnect at the slightest touch. It's pretty frustrating to wake up in the morning to find a nearly dead watch because the charger became disconnected during the night. No one comes close the Moto 360 for charging ease and convenience. Qi charging may not be possible on the WSD-F10 because of its metal back but even a simple microUSB port would be an improvement.
While I do love the LCD setup I did notice that whites tend to look a little yellowy. I'm not sure if this is a function of the dual-layer screen or not. I did adjust and stopped noticing it after a day or so. This is a pretty minor consideration overall but it is there.
THE VERDICT
I think there is a case to be made for the Casio WSD-F10 but it isn't a watch that appeals to me. For me the it is just way too big for everyday use and much too expensive for occasional outdoor use. If you are one that hikes or bikes often I think you will appreciate the features that Casio has built in. But this isn't a watch to wear to the office or out to dinner. It's hard to justify the $500 price tag given those restrictions but if you are already used to paying $200-$400 for a durable Casio watch then that price might not scare you off. If you are an outdoorsman you may want to check it out. For me, this watch is a pass.