Lumsing 10400mah powerbank review
Lumsing  recently sent me one of their harmonica powerbanks in to review, the device has a Staggering 10400mah capacity, which is even more impressive when considering that their powerbanks for this style extend up to 16000mah. Design wise it's larger than I'd be comfortable keeping in a pants pocket but not out of order for a bag or coat pocket, all the ports are sensibly located although some additional separation between the main usb ports would be appreciated if you were to try to charge a flashlight or other larger devices, cords for phones however are comfortably separated. The pack feels well built overall with little indication that it would suffer if treated roughly. The accessories Lumsing chose to include (A velvet bag and flat usb cable) add to an overall premium feeling.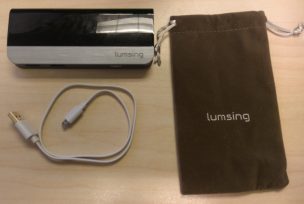 The outputs both feel secure and well designed but there is some cause for concern, although 1amp and 2.1amp outputs are common I was able to observe 1.9 amps of current on both leaving some questions as to the capabilities of the regulation circuitry, although 1.9 amps is not going to damage any modern devices seeing a potential 3.8 amp combined draw on a device designed for 3.1 amps max makes me wonder if it's mislabeled or there's potential for internal failure.
This slideshow requires JavaScript.
The capacity was staggering for more than one reason, some back of envelope math puts it at being enough to charge most of the modern top shelf phones(approx 3000mah) three times over, unfortunately this comes with a hefty recharge time, without any form of rapid charging this pack is limited to a 1.5amp input, when attached to a 2.1amp capable charger the pack took just over 14 ½ hours to charge(this works out to a 40% efficiency loss and an average draw of 1amp). I would upload the video to YouTube unfortunately i'm having some difficulty handling a 66gb source file.
Overall the device looks and feels like a premium bank, and delivers on it's capacity claims however the internal regulation gives me pause at it's longevity and the charging time shows either a very low cost, or old design in use.
Pros
Huge capacity
Two outpouts
Solid feeling design
Cons
Questionable power regulation
Super long charging (14.5 hours)
If you need massive capacity,  and are on a budget it's worth a look even with the amperage concern here