As I mentioned in the preview post for the Moto Z Play Droid, I'm something of a Moto fanboy. I've owned a lot of Moto devices through the years and convinced a lot of people in my circle of influence to give them a look. It should be no surprise to you, then, that I was stoked to have the opportunity to review the new Moto Z Play Droid. This gave me my first real look at the Moto Z line and I came away exceedingly impressed. Read on for the particulars but the condensed version of the review is: I loved it and recommend it for buyers interested in a $400 mid-range hero phone.
DESIGN
The Z line marks a departure from Moto flagships of the past few years. The recent Moto X and DROID models all featured rounded HTC-like bodies. Some were small, some were large, and some were customizable through Moto Maker but they all felt like they were part of the same family. The Moto Z Play is strikingly different. We received the white and gold model for testing but it is also available in a black and grey version. The front panel has a white bezel surrounding a 5.5 inch FHD (1920×1080) AMOLED display. There are cutouts above the display for a camera, proximity sensor, and LED flash. The single speaker is front facing. A square, gold-rimmed fingerprint reader sits below the screen.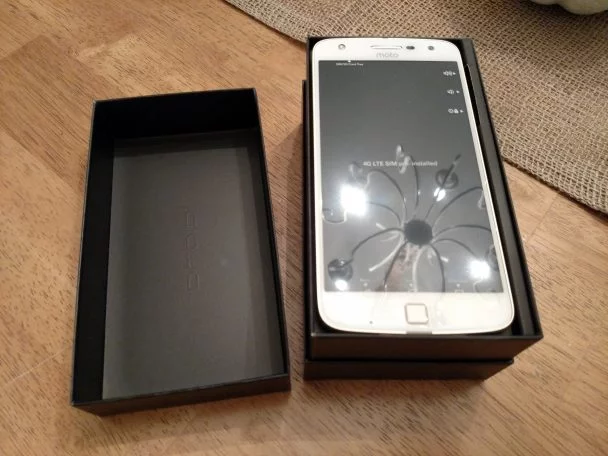 The sides of the phone are wrapped in a white metal band that's rounded slightly. The bottom edge has a USB-C port and a 3.5 mm headphone jack. A SIM/microSD slot sits at the top of the phone and the volume and power buttons are along the right side. The left side has no buttons at all. The power button sits below the volume keys and is textured to help distinguish it. That's important because the volume and power buttons are all exactly the same size. This somewhat unusual placement took a couple of days to become accustomed to but then became second nature.
The back of the phone is another white glass panel with a gold Moto logo about where the Moto X line featured its famous dimple. Along the bottom of the rear panel is a gold metal connector where Moto Mods (more on Mods later) connect. A camera hump sits above the Moto logo. It protrudes quite a bit and is pretty large as camera humps go. The camera hump is ringed by the same gold metal as the phone and features a double LED flash. It helps to anchor Mods to the back and disappears if you install any Mod. The back is completely flat except for the camera.
The Moto Z Play gives a good impression. It looks and feels like a $600-$700 phone rather than a $400 one. It shares much of its design with the more expensive Moto Z and Moto Z Force, and that's a good thing. The rounded sides make it comfortable to hold but it is pretty hefty at 165 grams. The biggest complaint I have is regarding the iPhone-sized bezels at the top and bottom of the screen. They're gigantic.
DISPLAY
I'm partial to AMOLED screens so I approve of Lenovo's decision to go with that technology for the Moto Z Play. It's a fine screen at 5.5″ and FHD and 401 ppi. There's a maximum luminance of 517 nits. That's not Samsung levels but in my experience the screen was plenty bright for most situations. The display's resolution surely helped Moto keep costs down and adds to the stellar battery performance of this phone. Many people aren't able to distinguish between FHD and QHD on displays this side so I think that's a reasonable compromise.
PERFORMANCE
In general usage Scratch that, I NEVER noticed any performance limitations from the Snapdragon 625. Using this phone feels just like using a higher-specced device like the Moto Z or HTC 10. There's definitely some magic going on here. I never saw any stuttering or hesitation. Animations were smooth and 3D games like CSR2 and Hitman Sniper worked flawlessly. Geekbench 4 benchmarks scores the phone at 2531 multi-core, similar to the 2014 Nexus 6. That's about what you'd expect out of a 2016 mid-range CPU but in this case I don't think the numbers tell the full story. I've been using this phone side-by-side with a Moto Z for over a week and cannot find a bit of difference. By way of comparison, the Moto Z scored a 3997. That's a significant difference on paper but in practice it was meaningless.
SOFTWARE
As is normal for Moto phones, the Moto Z Play ships with a near stock experience. It's running Android 6.0.1 Marshmallow with the May 2016 patches out of the box and was updated to the September patch set during testing. The Moto Z Play has 32 GB on-board storage and supports microSD cards of up to 2 TB (!). After installing all updates and patches there are about 20 GB free. The fingerprint reader is super fast at unlocking the phone. You can also use the fingerprint reader to shut off the display by just resting your finger on it for a couple of seconds.
The Moto Z Play includes the full suite of Moto Actions, Moto Voice, and Moto Display add-ons. These add-ons feature things like Approach for Moto Display, Chop Twice for Flashlight, Twist for Quick Capture, and more. Moto's enhancements really do improve the user experience and play a large part in keeping me on Moto devices. The twist action for launching the camera is brilliant and waving your hand over the phone to quickly see the time and notifications is very useful. In my opinion, software is one of Moto's strengths and one thing they always get right on their post-Blur devices.
Of course, the unit we received is the Verizon variant Moto Z Play Droid which means the phone is loaded with a ton of Verizon software junk. Apps like Verizon's Cloud, Message+, and VZ Navigator (please tell me no one pays for this in 2016) are pure bloat trash. There are also Amazon apps like Kindle and Audible installed. Fortunately all of the bloatware can be disabled or uninstalled and forgotten. Still, it is disappointing that the out-of-the-box experience is impacted by these garbage apps.
CAMERA
The main camera is mediocre at best. It's probably the one part that lets you know that this isn't a flagship device. Motorola was never a leader in camera quality and they continue that tradition with the Moto Z Play. It's adequate for good lighting photos but falls apart in low light situations. Photos can come out yellowed and grainy. Colors are wrong. The grass and flowers I photographed looked overly vibrant. Adjustable light settings and a Pro mode help in this regard if you have the skill and patience to use them. The 5 MP front camera does a good job, though. It's kind of nice that it includes a front flash. I can definitely see my daughter approving of this feature. It also supports HDR.
Lenovo has really improved their camera app offering in the last couple of years. It's customizable and responsive. I've always liked the Moto camera app but I know others have slammed it in the past. I like the ability to tap anywhere to shoot and prefer that over using an on screen shutter button. The Moto Z Play camera gives you the option to choose either which should go a long way to erasing the camera app complaints.
Click on the thumbnails in the gallery below to see sample photos. The full size images can be viewed here.
BATTERY
This phone is a battery monster. I easily got two days of average usage out of it. The combination of the 3510 mAh battery with the FHD screen and Snapdragon 625 processor make for a winner. I've never been one to see extraordinary battery performance even on the DROID Turbo with its massive battery. But this phone delivers. Lenovo states up to 50 hours of mixed use and that's definitely possible. I've included a screenshot from GSam Battery Monitor but in actuality I saw longer averages than it shows.
Additionally, the phone supports TurboPower charging (aka Qualcomm Quick Charge 3.0). That gives you the ability to charge nine hours worth of battery in about 15 minutes. A TruboPower charger is included in the box.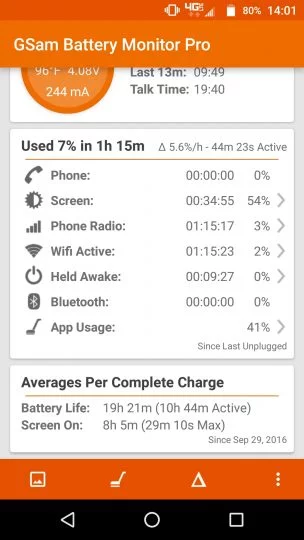 MOTO MODS
Moto Mods define the Moto Z line in 2016. Moto Mods are add-ons that magnetically attach to the back of the phone for added functionality or flair. There are several Mods available as of October 2016 – battery packs, a Hasselblad camera, a JBL speaker, a mini projector, and several options for styling your device. One of the great things about the Moto Mod platform is that all of them are hot swappable. You can pop them on and off at will. There's no need to reboot the device or run any applications. The phone just recognizes the Mod and off you go.
The Moto Z Play ships with a wood-like Style Shell in the box. Just snap it onto the back of the phone to change the look and feel of the device. Some Mods take over existing functionality (i.e. camera and speaker) while others are supplemental (i.e. battery pack). All Mods on the market are compatible with this year's Z models (Moto Z, Moto Z Force, and Moto Z Play) and Lenovo states they'll be compatible with next year's Z phones, too.
The JBL Speaker Mod puts out some really rich stereo sound. It isn't the sort of thing I'd want on my device at all times but I have used it when working around the house or when listening to podcasts. My wife leaves one on her vanity and pops her Moto Z on it while she's getting ready in the morning. Want four days of battery life? Pop on one of the battery packs and head out for the weekend. Just want to style your phone up with Kate Spade designs or add a grippy balistic nylon weave? That's an option, too.
There are so many options that it can become a bit of a distraction. You have to choose the right Mod before heading out or bring your Mods with you somehow (Verizon will sell you a Mod purse carrying case). Overall, though, I'm loving the Mod ecosystem. I can say that its something fresh in a somewhat stale smartphone market.
VALUE
At $408 from Verizon this phone represents an excellent value for those not wanting to drop down to the sub-$200 range. You get almost all of the premium features of the high-end $650 Moto Z with very few sacrifices. No one will see this phone and think of it as a budget device. The quality of the materials and design make this seem like a much more expensive device. This phone isn't cheap – $400+ is still a lot of money – but it strikes a nice balance between featureset and cost. The Moto Z Play is one of those rare purchases where you feel like you get more than what you pay for.
CONCLUSION
The Moto Z Play is one of my favorite phones of 2016 despite the camera limitations. It is a great mix of performance, design, and value. It's a great choice for people who want a nice phone but cannot justify spending $700 on a flagship. It is expandable and the battery lasts forever and a day. You can buy the Droid edition from your favorite Verizon retailer or the unlocked GSM-only version from Amazon for $449.
SPECS
| | |
| --- | --- |
| CPU | Qualcomm Snapdragon 625, 2.0 GHz Octa-core |
| GPU | Adreno 506, 650 MHz |
| RAM | 3 GB |
| Internal Storage | 32 GB |
| MicroSD Support | Yes, up to 256 GB |
| LTE Bands | B2, 3, 4, 5, 7, 13 |
| HSPA Bands | 850/900/1900/2100 |
| Battery | 3510 mAh, non-removable |
| OS | Android 6.0.1 |
| Display | 5.5 inches, 1080×1920, 401 PPI, SAMOLED |
| Main Camera | 16 MP with dual LED Flash, phase detection and laser autofocus |
| Front Camera | 5 MP with LED Flash |
| Bluetooth | 4.0 LE |
| Fingerprint Sensor | Yes |