Reminder: Google Lets You Trade Your Privacy for Google Play Credit
I've written about the Microsoft Rewards program as a way to earn points by searching that can be traded for real world gift cards and more. Google has its own program, Google Opinion Rewards, that offers rewards for loyal users. Pocketables has covered this in the past but it's been a long time. I thought it might be a good time to remind those of you that have forgotten about GPO.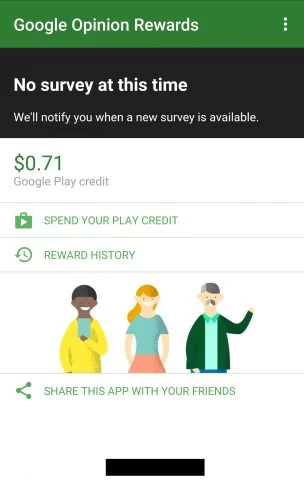 Google's offering differs from Microsoft's in some key ways. First, Google asks you to complete surveys  in order to earn credit whereas Microsoft just begs you to use their search engine, Bing. Google asks about places you've been, interests you might have, and more. For example, when I go to Publix I can count on getting a survey 24 hours later asking me two things – when did I last visit Publix and what was my experience like. You might earn $0.50 for answering questions like that. Or sometimes I'll get asked if I'm willing to share a copy of my receipt from a certain store. Seemingly the more complex the survey the more credit is available.
The second major difference is that GPO gives you credit that you can only use in the Google Play Store. Microsoft Rewards has options to redeem for store gift cards (like Amazon or Starbucks). You can use Google Play credit for apps, books, movies, or anything else you can buy in the Play Store.
I've been using the program since January 2014 and I've earned $110 in that time. I've used that money to buy mostly movies and apps. Some may be concerned about Google tracking your location but there's a good chance that if you are an Android user that's already happening. Head over to the Play Store and check it out. It costs nothing to join and may earn you a few virtual dollars.