Wireless SleepPhones by AcousticSheep Review – Bluetooth Headphones for the Insomniac
I can often tell how well a review product is going to be received by my wife's initial reaction to it. When I take something out of the delivery box and she shows interest it's probably a good product with some broad appeal. That said, I knew the SleepPhones by AcousticSheep were going to be a hit. She wanted to try them and fell in love with them straight away. SleepPhones are designed to be comfortable headphones that you can wear to bed. They're available in wired and wireless variants. I received the Bluetooth wireless version for review. See below for my impressions.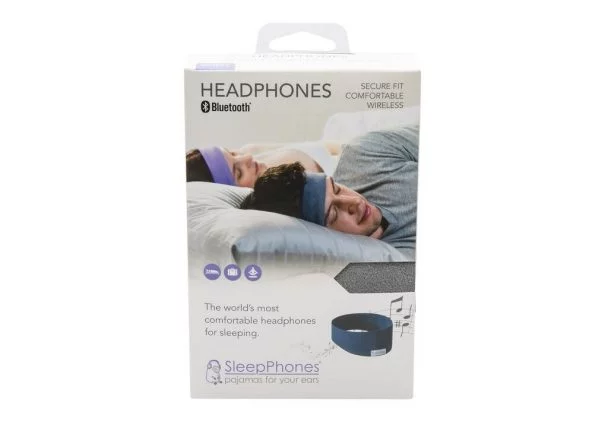 GOOD STUFF
I was a little hesitant about how wearing the SleepPhones would impact my ability to fall asleep. My wife jokes that I have some sort of sensory disorder but I just prefer to think that I like things to be comfortable. I thought the SleepPhones might just be a little uncomfortable and distracting. Turns out, they weren't. They are available in two materials – a warm fleece and a lighter weight "breeze" version – as well as three sizes – extra small, one size fits most and large. I live in Florida where it gets pretty hot and is never really cold so I went with the light version, large. I probably could get by with the OSFM size as there's plenty of stretch and give in the band. The band was quite comfortable and is akin to wearing a stretchy hat. I felt no discomfort or pressure when wearing it.
Inside the band there are the speaker bits that fit over your ears and a power pack that rests at the back of your head. Each piece can be moved around inside the band and its easy to maneuver the speakers for maximum ear coverage. The headphones are encased in some soft pads which make them unobtrusive. The battery is detachable and charged via microUSB cable. It's wrapped in a soft silicone and you can tell that everything has been done to make the headphones as comfortable and soft as possible. AcousticSheep claims 13 hours of battery life. I was always able to make it through the night – and then some – before needing a recharge. The battery pack also houses the buttons for pairing and skip/pause.
I can definitely see a use for the SleepPhones outside of the bedroom. They'd be great on a plane or car trip. Normal earbuds can get uncomfortable with extended use but the SleepPhones don't suffer from that problem.
BAD STUFF (hint – there's not much)
I try to find flaws in every item I review because it's easy to just gush on a product. That was tough with the SleepPhones. The closest thing I found to a problem was with the wires that connect the battery pack. They're pretty thin and I could see them being a point of failure after long-term use. Other than that, I don't have any concerns with them.
CONCLUSION
You won't confuse these with premium sound headphones but that's not really their purpose. They should be comfortable enough to wear to bed, last through the night, and deliver the audio that you want to sleep to without disturbing your spouse. AcousticSheep has delivered on all three counts. As a result, they do the job they say they'll do and they do it well. The price is a little steep at $100 for the Bluetooth version but not astronomically so. You can buy them directly from the manufacturer at sleepphones.com. If you like to fall asleep to music or ambient sounds you will likely enjoy using the SleepPhones.