Microsoft Store opens directly above Apple in Nashville mall
TL;DR Paul takes a field trip to a Microsoft Store opening and brings back slides to show you. Would you like some fruit cake?
Yesterday I could have done something productive, but as many people in my life know I'm generally drawn to free t-shirts like a fish to fish food. I am also pretty much down with allergies for the past couple of days. As such, and having a ticket from Nashville's Adventure Science Center to come and join them for the opening I wandered down to the event at Green Hills Mall.
My initial impression of the second floor Microsoft store location was that it needed Triumph, the Insult Comic Dog on the big banner covering the opening saying "hey Apple, I like your store's locations, for me to poop on".
There were about 85 people in the general line, and approximately 80 in the various groups that were there getting grants from Microsoft for various local tech-related events. My ticket said 9:30, MS event started at 10ish, and the curtains were pulled back at about 11.
I figured this was the closest I was going to probably get to CES style tech grandeur for the next year or so and talking to the people in line was entertaining at least. I hadn't particularly planned on purchasing anything but someone caught a live stream I'd set up on Facebook and asked me to pick up an XBOX One for fifty off, so because of that and also having to take a work phone call I looped through the line and the store twice (I should have been mad, but was enjoying it).
The deals were set up so that you can a lanyard, then were hit up by a sticker lady in line who asked what you wanted to purchase, if you were in line and you had a sticker you ended up getting said device. No huge rushes until the end of the line when they let people pick up quantities unbecoming anyone wanting to do anything but resell the items.
I picked up a NuVision 8″ Windows tablet for $49, an XBOX One (for a friend, I'm already entrenched,) for $199, and a copy of Titanfall 2. Watched some of their VR demos and 8?screen XBOX One S racing which nobody was flocking to (potentially due to mass line / everyone being in everyone's way.)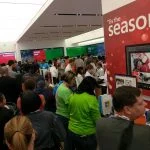 I heard that due to my showing up the science center got an extra $2K on their grant for reaching some arbitrary number (my accomplishments in science to date include just showing up!)
Be interesting to go back when I can actually see the place and not be contemplating how to get out without being crushed to death every 10 seconds.
And end home movies