MOCACuff Wrist Blood Pressure Monitor Review
The MOCACuff is the latest device from MOCACARE aimed at empowering the public to take responsibility for their own health. One in three American adults has high blood pressure and only about half of that number have their blood pressure under control. Heart disease is the number one killer in the US and is responsible for about 800,000 deaths per year. Also, 1/6 of all healthcare spending in the US goes toward the treatment of cardiovascular disease. With that in mind, MOCACARE is releasing the MOCACuff this December. It's a compact, FDA approved, wrist-worn blood pressure and pulse monitor that connects to your smartphone. I put it through its paces over the weekend and compared it head-to-head against an experienced nurse's blood pressure readings. Keep reading to see how it fared.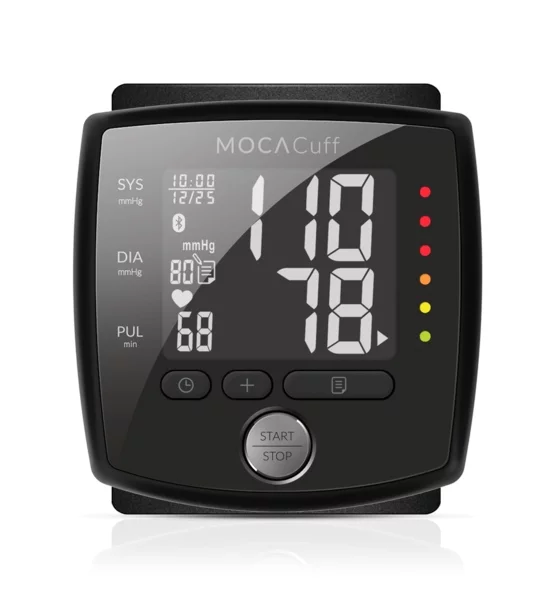 DESIGN
MOCACARE's website describes the MOCACuff as sleek, simple, and smart. While it is compact, sleek isn't the first adjective that comes to mind to describe the MOCACuff. The device is a 2.91 x 2.93 x 1.2 inch box that straps to your wrist. You wouldn't want to wear the MOCACuff around all of the time but as an occasional wearable it work fine.
The device is made of heavy-duty plastic and seems quite durable. I dropped it a couple of times from 1-2 feet off the ground and the unit took it like a champ. If you've ever had your blood pressure taken you'll be familiar with the strap on the MOCACuff. There's a hook inside the strap that helps hold the device in place and it's secured to your wrist with a hook-and-loop fastener (think Velcro).
The face of the MOCACuff is dominated by a large monochromatic LCD. It's relatively large and easy to read indoors and out. There are helpful markings on the front to identify the systolic, diastolic, and pulse readings as well as a scale that indicates your blood pressure category. It follows the American Heart Association guidelines for categorization.
There's a large start/stop button that also serves to wake up the MOCACuff. There are buttons for setting the time, connecting to a smartphone, and viewing the on-device history. It's very simple to use and is typically a one-button affair after initial setup.
The MOCACuff runs on two AAA batteries (included in the box) so there's no need to worry about recharging the device or an internal battery going bad. The batteries should last for approximately 200 measurements. I think I'd prefer an internal battery but I can understand why easily replaceable batteries were chosen. MOCACARE also includes a case in which to store and transport the MOCACuff. The case is soft to the touch but rigid, sort of like a mini suitcase. It'll keep the MOCACuff safe inside a bag or purse.
APP
I need to preface this section of the review. I tested the MOCACuff with pre-release version 2.0.0 of the MOCAheart app for Android. As of this writing, the Play Store version is still 1.3.1. I suspect the bugs I ran into will be resolved by the time the updated app hits the store.
The MOCAcare app generally works well. It's well ordered and modern looking. Animations and transitions are smooth and stutter-free. In fact, I never ran into any problems with the actual running of the app. No force closes, crashes, non-responsiveness or any other negative behavior.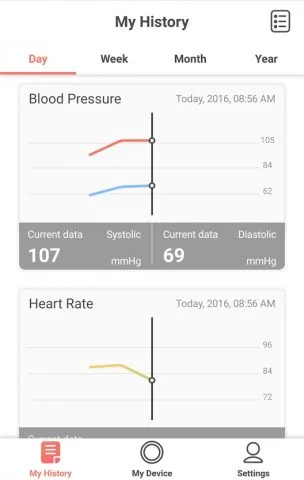 The MOCAheart app handles the connection between your phone and MOCACuff. It uses Bluetooth 4.0 LE (compatible with iOS 8+ and Android 4.03+) and connected almost instantly to my Moto Z. In fact, the connection was so quick and seamless I initially thought something had gone wrong and the device wouldn't pair. Kudos to the developers for making the connection process so easy. Bluetooth as a technology is great but it doesn't always result in as smooth an experience as MOCACARE has delivered. Reading data quickly syncs between the MOCACuff and the app and several readings can be stored on the MOCACuff between syncs (no data on exactly how many can be stored but I had 13 unsynced readings on the MOCACuff at one point)
The app does a great job of tracking and displaying your readings history by offering graphs for blood pressure and pulse as well as the raw data. The data can be graphed per day, week, month, or year. One thing that's missing is the ability to export your data. You will setup a MOCACare account which does keep track of your info but the ability to dump to CSV or similar would be nice to have. There is the option to share data between accounts using the integrated HIPPA compliant messenger but I didn't have a chance to try that. It basically shares screenshots and text.
When setting up my account I noticed a couple of bugs centered around height and weight entry. These are pretty minor and I would expect they'll be resolved by the time the app launches formally in December. Take a look at the screenshots below and you'll see that I'm 6'20" tall and can't quite pick the precise weight I want. These issues should be easy to fix.
RESULTS
MOCACARE makes a big deal in their promotional materials about the accuracy of the MOCACuff. The device has received FDA clearance in the US and is CE-certified for Europe. My mother-in-law has been a nurse for 30+ years and worked everywhere from a cardiac ward to home health. She agreed to do some testing to verify the accuracy of the MOCACuff. She used a traditional upper arm manual cuff – the sort you'll typically see at your doctor's office.
We compared her results with the MOCACuff. I wasn't sure what to expect going in but was pleased to find only about 5% variance between the manual and automated readings. I took multiple measurements across several days and all seemed within a reasonable tolerance. Since blood pressure readings often vary by small amounts between measurements I believe MOCACARE's accuracy claims. Of course, you'll need to be sure you are following the MOCACuff instructions in order to see accurate results.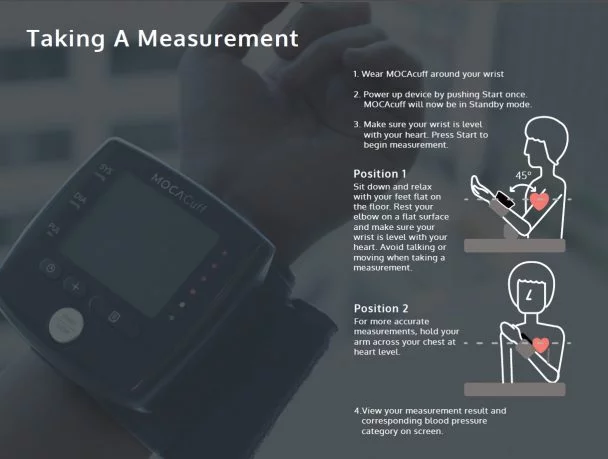 CONCLUSION
The MOCACuff is an accurate, inexpensive tool for tracking your cardio health. If you suffer from high blood pressure or have some other need to monitor your blood pressure you won't go wrong with the MOCACuff. At only $69 ($49 if you pre-order and use the code CUFFLAUNCH) it's a real bargain. Similar but bulkier products go for $70-$140 on Amazon.