The Connected Home – Wireless Thermometers
Wireless devices are everywhere. These devices send, receive, and track data at previously unheard of levels. Our phones track our movements. Our watches track our steps. Our cars record and report on our driving habits. The possibilities are staggering. One are that is growing is environmental monitoring. Today I'm taking a look at wireless thermometers from SensorPush and Sen.se. Both are unobtrusive solutions for recording temperature (SensorPush also does humidity) that work silently to make your life better.
[This is part of a series on
The Connected Home
. To see other articles in the series
click here
.]
SENSORPUSH
The SensorPush Wireless Thermomter and Hygrometer is a compact plastic (40mm x 40mm x 16.5mm) device that fits just about anywhere. There are hundreds of potential uses – monitor your refrigerator, check the effectiveness of your heating/cooling system, keep track of your humidor, monitor an incubator, and many more. It runs $50 on Amazon with Prime shipping.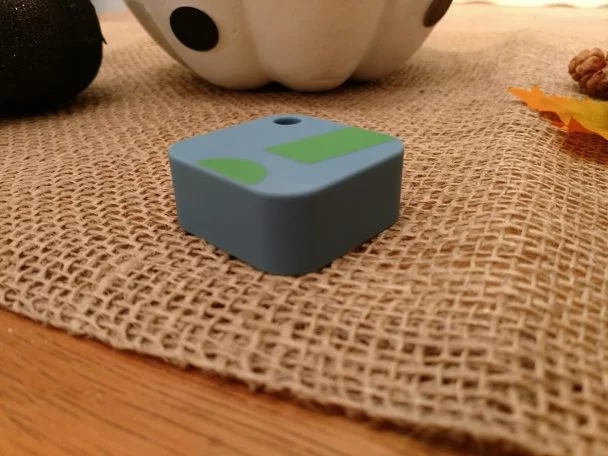 The thermometer runs on a standard CR2477 "watch" battery. SensorPush claims a year of battery life but, obviously, I haven't been able to test that. I have been using it for over a month and it is still going strong. It connects to your Android 4.3+ or iOS 8+ phone via Bluetooth 4.0 LE. It's not a constant connection but the sensor is constantly reading its environment. The SensorPush can measure temperatures from -40F to 140F and humidity levels from 0% to 100%.
I've been using the SensorPush in one of the drawers of my main refrigerator. I get a solid connection even with the fridge drawer closed. I've set high and low ranges for the temp and could set humidity alerts as well. The alert feature is quite useful. There are some in my house that don't always remember to close the refrigerator properly. I was recently working in the garage when my phone went off to tell me that the temperature in the refrigerator was high and rising. I was able to fix the problem and keep my food safe. I might not have noticed the open door for hours if it hadn't been for the SensorPush alert. That really sold me on the usefulness of devices like this.
Thus far I've been quite pleased with the SensorPush. It's ability to connect to my phone even from inside a metal box and to alert me when there's a problem are fantastic. I love the portability of it. It's easy to move from location to location. And the app is top notch.
THERMOPEANUT
The ThermoPeanut is a cute wireless thermometer from Sen.se available for $30 from Amazon. It's $20 less than the SensorPush device but doesn't have the hygrometer. The ThermoPeanut comes with adhesive backing that allows you to stick it anywhere. There's also a keyring holder that makes it a portable sensor. The ThermoPeanut measures temperatures from -5F to 140F. That matches the SensorPush on the high end but doesn't meet it on the low side.
Like the SensorPush it connects to your smartphone via Bluetooth 4.0 LE. The ThermoPeanut measures the temperature every 15 minutes and has alert capabilities when the temp goes out of range. It runs on C2032 batteries with an advertised life of up to six months. Many of the reviews on Amazon (32% are 1 star) complain about problems connecting and battery drain. I didn't have either of these problems. My Moto Z connected to it right away and the battery has been fine (admittedly I'm only one month into testing).
Just as with the SensorPush I've set the ThermoPeanut up inside a refrigerator. It connects to my phone from inside the fridge with no problem. I've setup temp alerts and have been notified when there's temperature fluctuation. This particular refrigerator is in the garage but I can connect to it from inside the house. I've been pleased with the connectivity the ThermoPeanut offers. The app provides historical graphs and data. It's slick and well done.
[note: the app screenshots below are taken from the ThermoPeanut website. Unfortunately I deleted my app data before capturing my own screenshots.]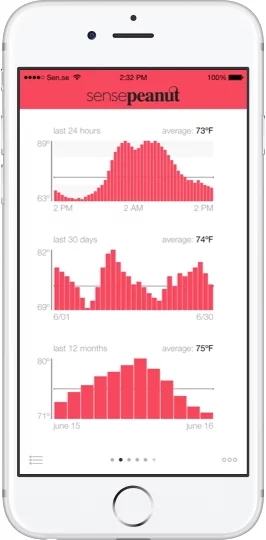 The ThermoPeanut is a good value at $30 if you are only looking to monitor temperature and if you don't need to use it in extremely cold scenarios. I live in Florida so I'll never see environmental conditions outside the sensor's range but it could be a problem in certain freezers.
CONCLUSION
Both of these wireless thermometers are excellent products. Choosing between them is really a matter of looking at price vs. features to find which fits your needs better. I like the easy portability of the SensorPush and the ability to measure humidity may be important to some. The ThermoPeanut is well priced and easy to "set and forget." I'd like it if the ThermoPeanut matched the SensorPush's operating range. You'll pay more for the SensorPush but you get more (wider range and hygrometer) but if you are interested in only measuring temps the ThermoPeanut will probably meet your needs.