Omaker M6 Stereo Bluetooth Speaker Quick Review
I recently had the chance to review the surprisingly powerful Omaker W4N miniature Bluetooth speaker. I liked it and so was pleased with the chance to cover the Omaker M6, a followup to last year's M4 speaker that Paul reviewed. Omaker is back with another water resistant speaker that promises stereo sound. It's available for $33 from Amazon. I really like this speaker. Find out why below.
DESIGN
The M6 is a fine looking speaker. It's a mostly rectangular rounded black box. The speaker is constructed from heavy duty plastic and metal. It feels solid – like it might take a beating, though I didn't subject it to one. There are large easy to press buttons on the top that control volume, power, play/pause, and connection mode. There's also a convenient loop so the speaker can be attached to anything with a hook or line. The bottom has grippy feet to keep it from sliding around. The M6 weighs less than a pound which makes it extremely portable.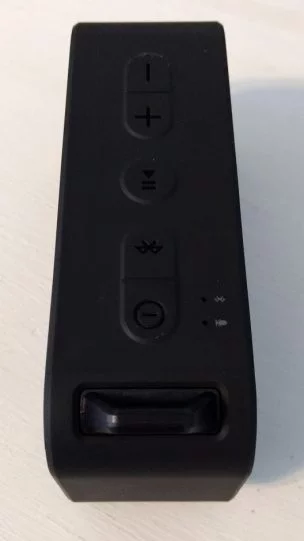 The speaker supports aux-in, Bluetooth, and microSD connections. All of my testing was done via Bluetooth but it's nice to have options. The microSD slot could be particularly useful in scenarios where there is limited or no connectivity.
The M6 is IPX5 rated. That means it isn't protected against particles like dust but it can withstand a stream of water, like spray from a garden hose. It isn't submersion rated so you won't want to drop the speaker in the pool but it is nice to know that some level of protection theoretically exists.
AUDIO
I really like the sound that the M6 produces. To me it is a nice full bassy sound. It's great for personal listening and gets loud enough to provide background audio for most parties or gatherings. It reminds me a lot of the sound that the Amazon Echo produces. You can easily get about 10 hours of listening time in before a recharge is needed. Omaker promises 12 hours at 80% volume and, based on my experience, I believe them.
One audio feature I couldn't test is what Omaker calls TWS, or True Wireless Stereo. Apparently, you can pair up two M6's and use them as left and right speakers. This is actually a pretty appealing feature and would be a nice setup for an office or garage.
CONCLUSION
The Omaker M6 is a good speaker for $33. I'd really like to experiment with the TWS functions and will report back if I decide to pick up a second speaker. It provides rich sound at a good price with decent-to-good battery life. Bluetooth speakers are a dime-a-dozen these days. I don't know if this is the best one out there but it certainly isn't the worst and is a pretty good value for the money.