Omaker W4N Portable Bluetooth Speaker Review
I recently received the Omaker W4N Portable Bluetooth Speaker for review. It's a tiny little speaker for tiny little money that promises "big sound" and up to 12 hours of playtime. Does it deliver? In a word, yes. In more words, read on.
PHYSICAL
The Omaker W4N is small 2 inch cube that weighs in at 3.5 ounces. It's dense in a good way and feels like a really solid product when you're holding it. All of the edges are covered in a soft touch rubbery substance that protects the speaker from every day bumps and bruises. The corners all feature the same covering but are also reinforced. The speaker charges
One corner has a loop for attaching the included carabiner hook. The speaker can then be easily attached to any backpack, bag, or just about anything. It's designed to be durable and used both indoors and outdoors.
Omaker designed the speaker to withstand a 10 foot drop. I never dropped it from 10 feet (why push it, right?) but I did do some drop testing from 4-5 feet and it held up well. No breakages or cracks or any visible damage. I tossed the unit around quite a bit and it never suffered any ill effects.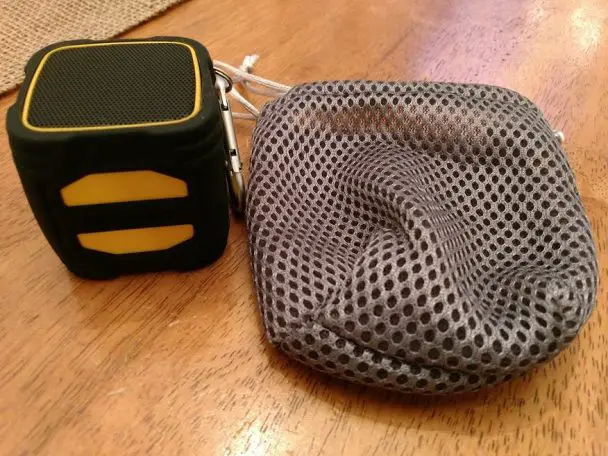 SOUND
The W4N delivers surprisingly well on Omaker's "big sound" promise. Sound is generally rich and full. At max volume things do get a little fuzzy but at any setting under max the speaker is clear.To me this device sounds like a mini Amazon Echo. If you've used the Echo then you know the sort of sound to expect from the Omaker W4N. It's not as good as the Echo, mind you, but it has a similar "resonance".
One unusual feature is the absence of a feature. There is no volume control on the W4N. It's basically all volume all the time and the only way to control the volume is on the source device. This isn't really an issue unless you've been using another Bluetooth speaker and your phone or other source device is already set to max volume. That can give your ears a nice jolt if you aren't expecting it.
MISC
The speaker is charged via Micro USB. Charging cable is included.
Omaker includes a convenient mesh carrying bag. Nice for times when you don't want to use the carabiner.
The battery is 1,050 mAh. Plenty of juice to last 10+ hours.
Review unit is black and yellow. Also available in black and white.
CONCLUSION
At $17 with Prime shipping the Omaker W4N is a great deal. It's small enough to keep with you and tough enough to take to the park or beach. The sound is good – especially so when the size and cost are considered. It's a great value and a good product. I think it would be a welcome stocking stuffer this Christmas.