OWC miniStack External Harddrive Review
OWC recently announced and we are fortunate enough to have been sent a sample for the miniStack  Although I am not normally one for apple products I do have an older(Late 2012) Mac mini that gets used for various projects including acting as a web server and currently network storage for other macs at my office. They're flexible little machines that I've also seen used in distributed render farms or as deveopment systems(ESXI runs on them as well I've even used it on this one)
This slideshow requires JavaScript.
Most external drives strive to be as small as physically possible usually little more than a drive wrapped in a plastic(perhaps metal on higher end drives) shell with a USB to sata bridge, OWC takes a slightly different approach to their aesthetic benefit with the miniStack of matching the form factor that apple has used with the Mac mini for the past several generations resulting in a shared footprint that simply makes the mini look a little taller, honestly this is great and makes it blend in seamlessly, one or two mini stacks would be almost unnoticeable in most cases. In the end if it wasn't for the missing apple logo the miniStack looks like it belongs as a first party product OWC did a great job on the design.
Performance
Performance wise the OWC miniStack is impressive but a bit of a flashback at the same time(it's been a while since I looked at a HDD as a performance choice) I took a minute before testing to open up my demo unit and was surprised to find a Toshiba manufactured drive, the 1-3TB models use DT01ACA series drives and OWC's PR confirmed that the larger 4-6TB models use the similar MD04ACA series drives, The choice of a single drive vendor although not required limits validation requirements and guarantees consistent performance, As the miniStack ships in a drive free option I did take time to evaluate it with an over provisioned Samsung 850 evo(500gb drive configured for 400gb capacity) to see how it would perform in such an instance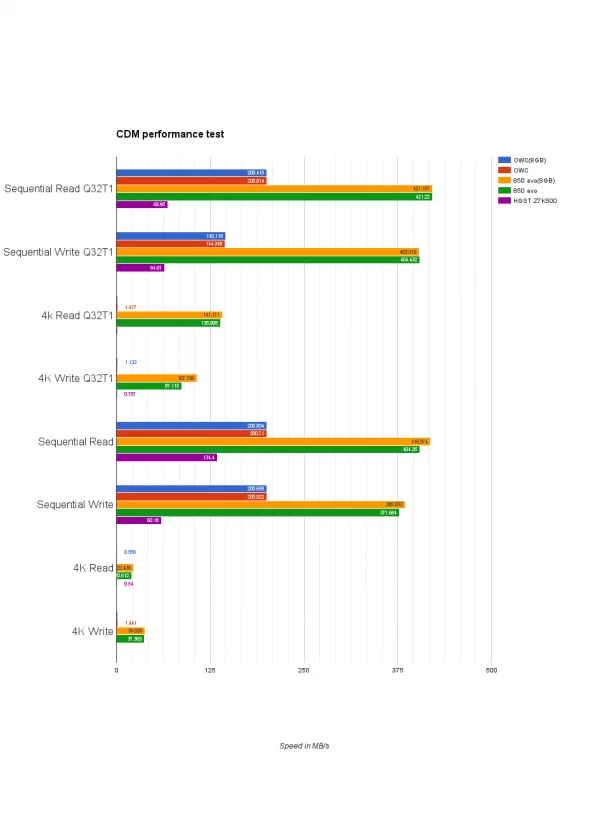 Starting with crystal disk mark I see solid performance in the sequential tests I'd expect to see a platter based drive excel at, it's no contest between it and the SSD but that was to be expected, one result I want to highlight is the HGST Z7K500 that is a 7200rpm 2.5 inch drive falling far short of what the Toshiba drive was capable of and while 3.5 inch 1tb drives may seem a bit silly in the era of dense 2.5 inch options(I have a 4TB 2.5 inch drive on my desk) the performance is vastly superior and appreciated when not limited to a mobile power budget. An important number to recognize here is 125MB/s, that is the maximum theoretical transfer rate on gigabit Ethernet(there aren't any mac mini's with 10GBe although I'd love a thunderbolt to 10GBe adapter) and in the use case of network storage sequential reads and writes above this are an excellent target which the OWC miniStack more than exceeds.
But wait! Crystal Disk Mark is a windows benchmark that's true and I did testing in macOS as well using black magic designs disk speed test where the miniStack has an impressive showing for a platter drive hitting 2k DCI across the board and prores422 HQ up to 2160P30, this would fit in well with professional workflows especially if used as a pair of drives for Source>Destination(Simultaneous read and write always has a performance impact) we do see slightly lower results for the read and write speeds under macOS which may be due to differences in drivers or OS support for the format used.
On the note of formats the same chart I used in my review of the C20c applies here, for my evaluations I used exFAT as the drive was moved between windows and macOS however as it's intended for permanent instillation with a system I would advise using HFS+ or NTFS depending on the system it stays attached to(I have seen server 2012 R2 running on a mac mini…).
| | Fat32 | ExFat | NTFS | EXT3 | EXT4 | HFS+ |
| --- | --- | --- | --- | --- | --- | --- |
| Maximum File Size | 4Gb | 16 EiB | 16 EiB | 16 GiB to 2 TiB | 16 GiB to 16 TiB | 8EiB |
| Maximum Volume Size | 512 MiB to 8 TiB | 64 ZiB | 16 EiB | 2 TiB to 32 TiB | 1 EiB | 8 EiB |
| Name length limit | 255 characters | 255 characters | 255 chars | 255 bytes | 255 bytes | 255 UTF-16 characters |
| Windows | Yes | 7 and higher natively, XP and vista via patch | Yes | Partial | Partial | Partial |
| Linux | Yes | FUSE based due to liscensing | Yes with ntfs-3g | Yes | Yes | Partial |
| OSx | Yes | 10.6.6 and above | Yes with ntfs-3g | Partial | Partial | Yes |
| Android | Yes | Yes(5.0 and higher tested on htc m8/10) | Yes(5.0 and higher tested on htc m8/10) | Yes | Yes | Unknown |
Final thoughts
Overall I'm impressed if it wasn't for the missing apple logo I might mistake this for a first party product, the finish is identical to the mac mini and it blends in seamlessly when installed, Performance is excellent for a platter based drive and the choice of a single vendor should ensure consistent performance for all of the pre assembled models. I do wish that a shorter usb 3 cable had been included although my attempts to find one to suggest have been thwarted so it my simply be cost prohibitive to source a custom length cable(a 6″ cable would limit clutter). Going forward I hope to see more iterations on this design, physically there is room for a pair of 2.5 inch drives which would be excellent for a all in one redundant storage option, I would also like to see power/data pass through if a user wanted multiple stacks on a single mac mini. However all of that is room to grow in the future for what is an excellent premium product for professionals and home users alike.
The product is available from OWC directly at 77 for a bare enclosure and scaling up to 348 for a 6tb model(actually the best deal as 6tb 7200rpm drives are few and far between)