So CES 2017 had some neat stuff, here's some
I've noticed a trend with CES. I get overloaded, enthusiasm dies at 16 hours of looking at tech, and then it takes me a week or so to get interested in things again. Such is the case at the moment. Still recovering. I thought rather than try and tell you everything, I'd just point you to things I liked and if you have any questions such as why I liked them, feel free to ask.
I'll be adding some photos to this so check back if you're inclined until this line disappears.
Seen at Media Days
CASIO Android Wear watch that's upcoming.
Nonda/ZUS Car Kit
Inflatable Ski/motorcycle jacket (inflates when impact imminent, can be deflated)
Seen at Discover Blue
Over-switch devices that allow you to control light switches via Bluetooth (Switchmate)
EARIN (I really dig them, but really wait for the M-2 if you have issues with dropouts due to head shape – the M2s will be using a different tech)
Seen at PEPCOM
Laser 4K projection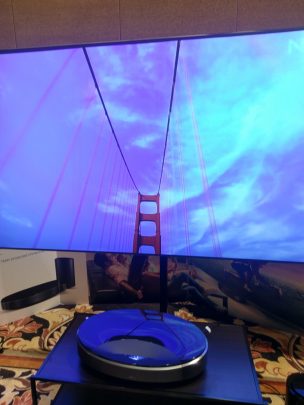 The fifteenth product called Qube, Cube, KuB, or some such. This one's lighting reimagined.
Facial recognition door unlocking
Hallmark / American greetings was giving out large boxes that said "Stylus" that contained a pencil. Their new product is someone you can email a letter and they'll handwrite it on a card and deliver it.
A rechargeable wearable breast pump from Willow
Seen at Sands/Eureka Park
Ellie one minute germ eradicator (baby stuff)
Brushies, an aftermarket toothbrush add-on that may raise a dumb toothbrush to smart level
Kid health and activity tracker watches
The world's first connected wall. This actually interested me greatly as I think we'll be seeing this everywhere. Basically it's a display with multiple NFCs built into it. You can see what you want to purchase, tap your phone in the area that it's displaying, and purchase.
Sense Home Kit – monitors all electrical usage in your house and can provide reports on what's using the juice by monitoring their startup signature and power draw.
The Clipaphone smartphone hat. I don't know why, this amuses me greatly and makes me smile every time I think that someone will actually use it.
Switchflip – it's an interesting idea to make outlet switch 1 control outlets 1 and 2 and hard to explain why you might need it but I think there's a very small market of people this will be a godsend to.
Babywatcher allows you to make your own ultrasound, much like Tom Cruise did, although you probably won't get the absurd tabloid coverage he did for having a home ultrasound machine and using it without medical supervision.
Tapplock – biometric ID in a lock. So once again robbers have a reason to cut your fingers off.
Reyedr – smart brake light for motorcycles that senses when you're slowing/decelerating and shows a light then as opposed to just when you hit the brakes. This allows cars to more accurately judge what's going on. Also will call for help if you impact.
There's a thing that will taste wine for you and tell you whether you'd like it – the problem I think with this is that once manufacturers start using this data and just printing it on wine labels there's no need for you to own the device. It measures three or four flavor directions.
There are three smart trash can options. Two of these scan barcodes and add to your shopping list. The third does that and tells you what parts of what you're throwing away can be recycled in your area (eg box of crackers the box can be recycled in your area but the plastic wrapping inside can't)
Seen at Showstoppers
Above: really neat Popeye statue at the Wynn
So I've been a Portal fanboy since I got mine and they were there and dammit they did not disappoint. From across the ballroom through the WiFi death that is CES/Showstoppers, their signal was good enough for anything I wanted. This was a larger area than my work test and they still came through with flying colors.
GoBe2 – forget about counting calories, this does it for you. You can read how on their site. It works with MyFitnessPal. Looks neat if it works.
The most interesting man in WiFi. I didn't get to play with the WiFi so I can't say whether it's Portal level, however I did learn from him he was never on Star Trek regardless of what the internet claims about him surviving an episode.
HTC VIVE. OK, yeah, you guys win. I thought it was going to be Occulus but daaaaaamn.
Seen at the LVCC
8K TVs… your 4K makes me laugh… ha… ha ha … ha. Ha ha ha ha. OK, seriously though Quantum dot on everything looks… slightly better. Maybe.
The laser keyboard finally exists with the ability to turn any surface into a touchscreen using a little device. Kind of neat.
myCharge has the next evolution of chargers coming out for USB C and pretty much everything. They've advanced, they have a couple of huge packs for the rugged outdoorsman who wants to power a 50″ flatscreen TV for five hours. Because you know.
Woosh! was back cleaning screens once again. Great product, even if they didn't give me a sample… rassafrassa.
JAM has Emoji shaped speakers, while not my thing they are cute and sound really good.
Seen at Sands floor 2
AmpliFi was there – same products currently on sale except you can now get them without the mesh antennas.
PicoBrew – for if you wanted to automate your two-gallon beer brewing process. This is not something I would want to do as I enjoy it from start to finish, but whatever brews your micros I guess.
Digit Grip – we'll be doing a review of these sometime soon. It makes holding a tablet easier.
3D pens are a functioning thing now.
SealShield – dishwasher washable keyboards.
Not sure where I saw it
BelleFox has an AI parental router that will not simply limit times on certain sites and types of sites, but let parents know what type of stuff their kid is into without getting an eyeroll when your kid asks you to explain what PewDiePie is.
Paul's CES journey by the numbers
Estimated distance walked / hours active
media day 2 / Pepcom: 9.4mi (7 hours active) 10am-11pm
Opening day / Showstoppers: 11mi (12 hours active) 10am-10pm
Day 2 – 7.4mi 10am-9pm
Inbound plane: baby right behind me 4.25 hours
Outbound plane: someone talking loudly about Charles Manson being his hero for two hours straight and another guy yelling "god bless Palestine" at him. Yes, people freaked.
Thanks Frontier!