The Connected Home – iHome Bluetooth Vanity Mirror
[This is part of a series on
The Connected Home
. To see other articles in the series
click here
.]
I'll be honest and admit that a connected mirror wasn't the first thing I thought of when brainstorming ideas for the Connected Home Series. I worried that it might be a gimmicky example of just shoving technology somewhere that it didn't belong. But after receiving the review sample from the folks at iHome and testing it out with my wife I am very impressed. The features that iHome has added to a simple vanity mirror really make this a better product.
[note: My wife was the primary tester of the iHome mirror. Many of the opinions expressed in this review come as a result of her testing. Thanks, Jenni!]
DESIGN
iHome offers several mirror options. There are two sizes, 6 inches and 9 inches, and two colors in each, white and silver nickel. The unit I received for review is the 9 inch brushed nickel version. It's quite attractive as a mirror. It looks like it will blend in easily with any setup. My wife uses it on a vanity but it would be just as "at home" on a dresser or in a bathroom. There are several control buttons on the base. They take care of power and media playback. The buttons are large and easy to press – which comes in handy while you are in the middle of getting ready and your hands are full.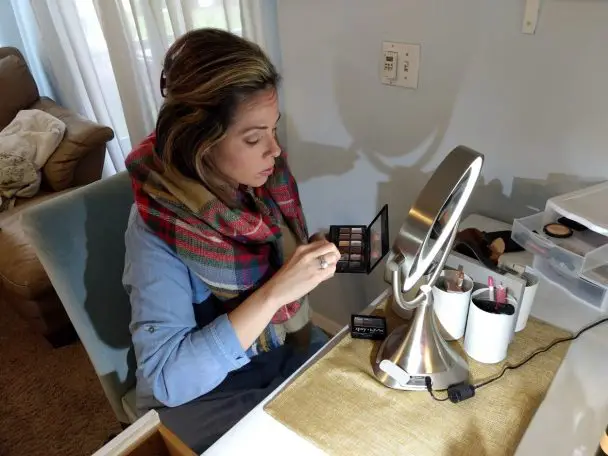 The mirror itself is clear and blemish free. It's rimmed by an led light that provides ample illumination. It's bright enough to be functional in a dark room. Apparently it is important to have as much light as possible when getting oneself ready so this is a nice touch. The mirror swivels through the horizontal plane and is workable from many different heights. It's reversible (hence the double-sided moniker) with one side @ 1X magnification and the other at 7X.
The unit seems well made and sturdy. It's heavy enough to stay in place. Everything about the design and build says quality.
FEATURES
The primary driver behind buying a mirror from iHome are its connectivity features. iHome does not disappoint, for the most part, with the double-sided vanity mirror. The biggest draw, of course, is the Bluetooth connectivity. The mirror has a speaker and a microphone built into the base. It can be used for audio playback as well as for phone calls. The speaker is probably the weakest component of the mirror. It's just OK. I'd give it a six on a 1-10 scale. It's plenty loud but is a little tinny and sound isn't full and bassy. My wife differs from me on this, a bit. She loves the speaker and uses it everyday without complaint. It gets the job done but it isn't spectacular. In addition to Bluetooth there's a 3.5mm AUX port for connecting an audio source.
The mirror is powered by a battery which should deliver about four hours of life. It makes the mirror portable. That's nice for when you might need to move around the house but, for the most part, my wife just left the unit plugged in. The unit shuts off after 25 minutes of non-use which is a nice touch. This is the kind of thing that's easy to forget to turn off so I really appreciate that feature. There's a standard microUSB port for charging.
CONCLUSION
My wife loved using the iHome mirror. It's a solid piece of kit that she found to be well worth the premium over a standard mirror. It's available from Amazon for $144 for the 9 inch version or $100 for the 6 inch model. iHome also sells it directly from their own website but it is currently listed as sold out. If you can accept that it is not a top-of-the-line speaker I think you'll be happy with it.