EARIN M-1 True Wireless Earbud review
The EARIN M-1 is a set of two individual earbuds that are not joined by a cable running behind your head and sound really really good. Unfortunately they're not without their problems, but you might not mind as they're mostly fixable with an app update which will hopefully be forthcoming.
While I usually lead with the bad and why you should flee, we're going to reverse that as I've thoroughly enjoyed these.
EARIN M-1 sound
First off, the sound is really good when you adjust the gain in the app. It didn't rock me with bass, but the bass was acceptable and the perfect fit in my ear really went a long way to making me sit and listen to several albums with these. They actually reminded me of a set of extremely good over the ear headphones I used to listen to music with when I was younger.
If you're looking for a fine reproduction of audio, these are it. If you're looking for monster bass and screwing your eardrums up, probably not going to be your cup of tea.
These can get loud and you can take them out and realize you've been hurting your ears, so beware.
EARIN M-1 app fail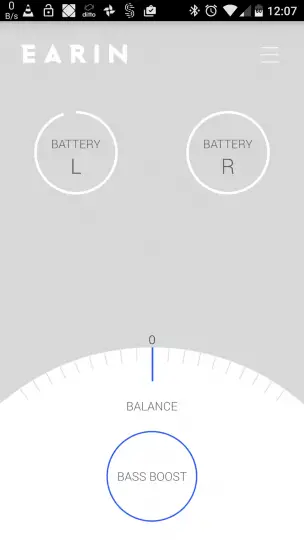 I had several failures initially because the buds were not charged. We'll talk about that in a minute as it could be an issue but probably only for me. On charging them they worked out of the box, the left one connecting to the right by itself and my phone only having to connect to the left one.
On a side note, my phone has only ever seen the left one, some reviews indicate the right one will show up if it's removed by itself. Had I not left them at home I'd be testing this out.
The volume was a little too low on initial pairing, and the bass was a little meh. I went into the app to fix this and while the earbuds are connected and working fine the app failed to find them. I eventually had to reboot the phone, pull one earbud out to pair, and then managed to get in to adjust the gain, balance, and bass boost.
This was a pain, however it seems once it's done it's done. You shouldn't really need to adjust it in the app after it's right.
The app is also extremely limited in what it does. L/R balance, bass boost, and gain. For some reason it needs to log into a social media account. Not particularly pleased with it. It also shows estimated battery levels, but that requires it to connect.
The app reviews tend to indicate this is typical.
EARIN M-1 meat shield fail
Having played with a few earbuds that claim to be completely wireless I've noticed a lot of them fail on the right ear. The EARIN M-1s were similar in that respect. I can put them on wife, babies, two sides of a watermelon and no issues. Put them on my size XXL head and interference can be had by standing near a wall, putting my hand over one ear, etc.
They do recover gracefully and quickly, but with the XXL head I think I have a little more skull and 1980's metal in my mouth than the average bear. I think with how seldom it does pop out if you just had an XL or smaller you'd probably be set.
On the thing that does concern me – if the phone is in my back left pocket the whole shebang will cut out depending on how I move. Front pocket, right rear pocket, arm, shirt pocket, no issues. Direct line of sight through my chest cavity and it's failing. I don't generally have that with other earbuds.
EARIN M-1 vs headbanging
Survived. I couldn't shake them out accidentally. That impressed me.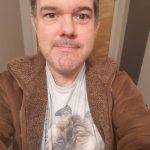 Above: Paul Erin with in-ear AERIN
Battery life, charging issues, koalas
They claim a battery life of three hours per session and then about three session charges available in the capsule. The capsule they're stored in charges them up for you, and you just charge the capsule. With a wire. Making these not truly wireless.
This is where I ran into an issue. I plugged the EARIN M-1 capsule in for a charge, the red light on top and the red light on the front lit up, and I assumed things were underway and good. They weren't. Evidently the light was blinking about once every 15 seconds to indicate that it was incompatible with my USB charger.
As it was a Qualcomm Quick Charge 3 capable charger I would almost give it a pass, but this is the only device that's ever had that issue. I charged relatively quickly off of my computer and the things have functioned perfectly so far. I'm at 6.2 hours or so adding up what I know I've listened to since I decided to full charge.
Contents
Charging/carrying case, USB cable, two earbuds, some ear fittings. Box.
Wrap-up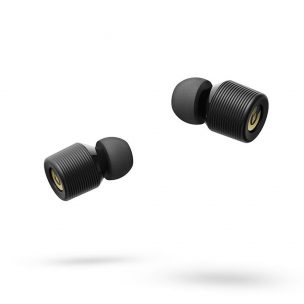 These are very good. I would buy them for the hardware and sound. The Android software needs serious work. It's not right. It's also fortunately not required after you get it to your liking.
EDIT notes: I had the wrong link and thought the pricing was $250. I was wrong. Well, it was right for the seller I was linking to.
The price is close to where I'd want it. While most things about this feel premium, I'm a cheapass. I'd buy at $80, but these are currently about $140.
As these things go, the price will probably be what I'd consider reasonable within a week or two of publishing this especially as I believe they have an announcement coming up at CES.
Good, pricy, needs app work, may have issues with XXL noggins.