The Connected Home – Lyric Round WiFi Thermostat Review
[This is part of a series on
The Connected Home
. To see other articles in the series
click here
.]
I live in Florida. As a result air conditioning is VERY important to me. As I write this on February 8 parts of the country are gearing up for heavy snow storms and freezing temperatures while we're facing highs in the mid-80s. It gets hot here. So you can imagine my excitement when I was given the opportunity to review the Lyric Round WiFi Thermostat from Honeywell. The Lyric is one of Honeywell's offerings to take on the likes of Nest and EcoBee. It weighs in at $199 and has an impressive feature list – Apple HomeKit and Samsung SmartThings integration, geofencing, notifications, and more. How successful is it? Read on to find out how it worked for me.
DESIGN
The Lyric Round is a fine looking thermostat. It's simple enough to fit in with almost any decor but also has an elegant and sophisticated look. There's a lot of white space (even more if you use the optional backing plate) that really focuses your attention on the main display.The face of the unit is polished glass and it has a nice shine to it. Honeywell has definitely placed an emphasis on the thermostat's looks and it's paid off. It'd make a nice addition to any home.
There's a circular display in the center of the face that typically shows the current temperature, a smaller display that indicates whether the unit is cooling/heating and what the target temp is, and two buttons to either side of the display. It's all touch screen – there are no physical buttons to press. The whole unit lights up when the integrated motion sensor detects movement. That's a nice touch for times when you need to adjust the thermostat in the dark.
The target temperature can be set manually by rotating the edge of the Lyric Round. There's a good bit of resistance to the dial. It feels like just the right amount. Not too much so that it's impossible to turn but not too little such that a shoulder brush is likely to move it. There's an audible click when the dial rotates and an ambient light as well.
The overall package is sharp. The display is bright and clear and the white and silver theme are classic.
INSTALLATION
I've installed several thermostats over the years so I decided to install the Lyric Round myself. If you aren't comfortable doing that a professional should be able to take care of it for you. The connection ports on the Lyric are well marked and easy to access. The wires plug into a snug connector which is much better than the screw wire posts I've seen in some thermostats. The installation manual has easy to follow instruction guides and, at least for me, it was a simple wiring transition from my existing unit to the new one.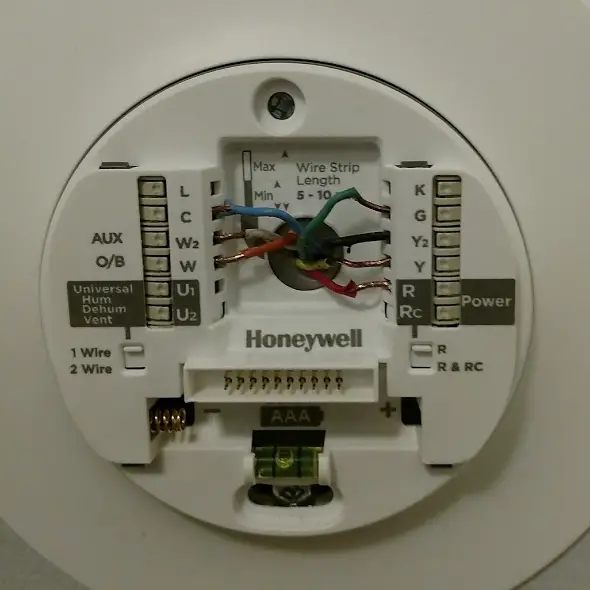 Getting the wiring right was only half the battle, however. Once that's done there is an on screen setup. This is where things went slightly astray for me. You need to know exactly what sort of heating/cooling unit you currently have. I chose the wrong settings which resulted in a blowing air handler but no cool air. A quick call to Honeywell support sorted things out and it's been working great ever since.
APP
Since this is a smart thermostat the mobile app is where the Lyric should really shine. Unfortunately, it's a bit of a hit and miss situation. Setting up an account is simple for one user. Trying to add a family member account is just broken. The idea is that different family members have different accounts and can manage multiple devices. In practice that never worked and I was forced to use the same account on all of our devices. It works, just not like the designed.
Once your account is created managing the desired temperature is simple. There's a rotating dial that allows you to set your target temp. You can easily switch between heating and cooling. Just set the target and let your AC handle the rest. The app also reports on the outside temperature and the inside humidity (very important in FL). There are options to schedule temp target changes. The options are pretty comprehensive and I had no trouble setting up a schedule. The app can be configured to send you notifications based on temperature and humidity.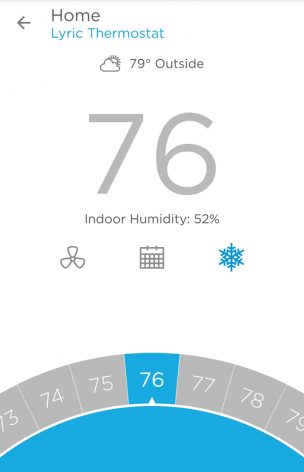 Since the Lyric is WiFi connected all of the settings can be changed from anywhere with internet access. One nice bonus is Alexa integration. Just add the Lyric skill to your Amazon account and you can use Alexa to set the temperature. A simple voice command like "Alexa set the thermostat to 72 degrees" is all you need. All of this works great and is the reason to buy a smart thermostat.
The big let down, other than the family integration failures, is geofencing. The app should monitor your location and, once you're within a certain distance of your home, kick the air or heat on. This was unreliable for me. Too often the app wouldn't realize I was near home or would think that I'd left when I was just sitting in my living room. I had to disable this feature. It sounded great in the documentation but was a failure in practice.
PERFORMANCE AND CONCLUSION
Apart from the geofencing and family issues the Lyric Round works great. I love being able to monitor and adjust my home temperature from anywhere. The Lyric Round looks great and functions well. At just under $200 it's a little pricey and doesn't deliver on all of its promises. It is, however, cheaper than the Nest or Ecobee3. I love using it and would be happy if the geofencing and family features weren't even mentioned in the product specs. It's available from Amazon or Home Depot (for 50 dollars more!).