Mushkin 256Gb IMPACT Flash Drive review
This slideshow requires JavaScript.
Alongside the diminutive atom that mushkin sent us we we're also sent the larger and more imposing sounding IMPACT. This is an interesting drive it's quite unassuming but claims some of the highest performance numbers i've seen out of a flash drive before. It's available in a range of capacities(64gb-256gb) and the unit we have in for review is the largest in the series. The drive ships in a fairly standard blister pack with some marketing related to the Reactor which we've already reviewed. not much else which is unfortunate considering it's impressive specifications, the specifications do vary based on size and are summarized in the table below. All capacities include a 2 year warranty per Mushkin's webpage.
| Capacity in GB | Read speed(MB/s) | Write speed(MB/s) |
| --- | --- | --- |
| 64 | 400 | 105 |
| 128 | 400 | 210 |
| 256 | 400 | 310 |
Size
This slideshow requires JavaScript.
Physically the impact is quite unassuming beyond it's bold markings. The drive is light in hand with what feels like an aluminum construction outside of the end which has a loop for a lanyard and is a clear plastic with a red LED under it that blinks during transfers. For a drive of it's capacity and claimed performance this is quite a refreshing surprise.
Crystal Disk Mark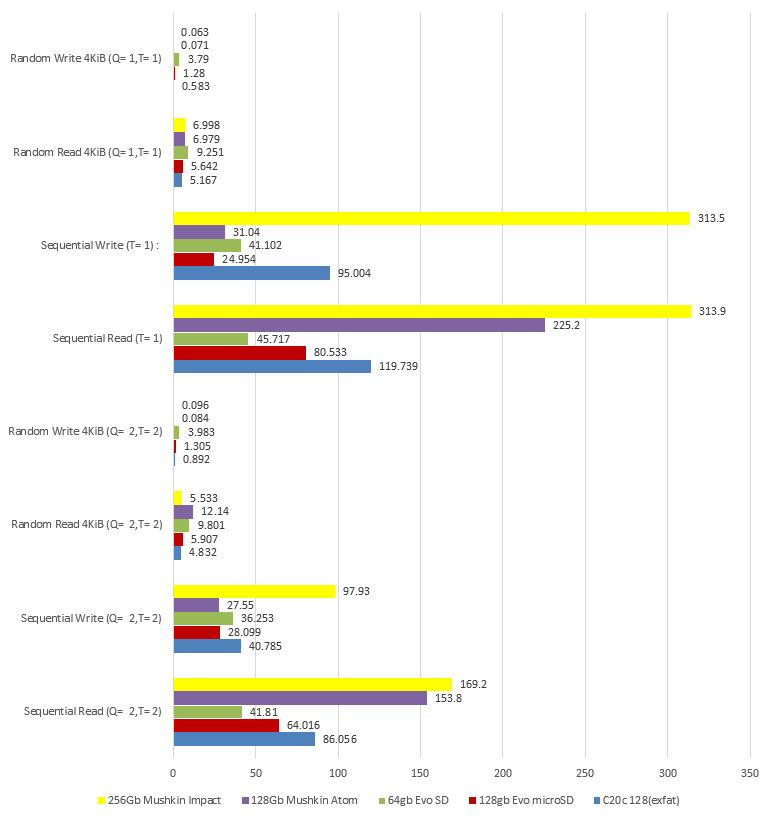 The sequential performance on this drive is absolutely outstanding and only even approached by the other mushkin drive in this test for the multi threaded sequential read and entirely unparalleled in the single threaded tests. Although performance comes a bit short of the stated sequential read in the specifications the IMPACT still posts a healthy result of 313.9MB/s not something to complain about by any measure for a flash drive. Random performance however is a bit anemic it appears that the design has traded small transfer size performance almost entirely in attempt to push the limits sequentially
ATTO
With such a poor showing in the random transfers I decided a look at ATTO which tests across multiple transfer sizes was prudent. It reveals a few interesting things one of which is that the drive is dependent on transfer sizes above 64kb for write speeds to approach anything close to what we saw in our testing, and that given the right circumstances nearly 400MB/s read and write speeds are possible. This is encouraging as it's likely ATTO that mushkin used to settle on their marketing numbers although the exact test scenario is unpublished.
Format
| | Fat32 | ExFat | NTFS | EXT3 | EXT4 | HFS+ |
| --- | --- | --- | --- | --- | --- | --- |
| Maximum File Size | 4Gb | 16 EiB | 16 EiB | 16 GiB to 2 TiB | 16 GiB to 16 TiB | 8EiB |
| Maximum Volume Size | 512 MiB to 8 TiB | 64 ZiB | 16 EiB | 2 TiB to 32 TiB | 1 EiB | 8 EiB |
| Name length limit | 255 characters | 255 characters | 255 chars | 255 bytes | 255 bytes | 255 UTF-16 characters |
| Windows | Yes | 7 and higher natively, XP and vista via patch | Yes | Partial | Partial | Partial |
| Linux | Yes | FUSE based due to liscensing | Yes with ntfs-3g | Yes | Yes | Partial |
| OSx | Yes | 10.6.6 and above | Yes with ntfs-3g | Partial | Partial | Yes |
| Android | Yes | Yes(5.0 and higher tested on htc m8/10) | Yes(5.0 and higher tested on htc m8/10) | Yes | Yes | Unknown |
Once again the default file format however leaves something to be desired, especially with larger files such as long videos FAT32 falls short fortunately reformatting a drive is trivial in windows and most other modern operating systems, this does not make sense for any drive in the IMPACT series and is a very odd choice.  I would encourage mushkin to start shipping all variants of the IMPACT as ExFat although this is a minor inconvenience at worst.
Conclusion
What can I say, the IMPACT is fast, light and unassuming in size in any scenario where random data isn't a primary concern. Other than the edge case of running an OS from the drive this is likely as fast as anything is going to get without being a proper SSD which is an impressive feat. This Performance level does seem to carry a premium with the drive coming in at 135.99 at the time of writing, higher than other race to the bottom 256gb flash drives although skimming through their specs most of those are targeting 100MB/s reads, not 400MB/s.