ADATA Ultimate SU800 256GB 3D TLC SSD Review
The Adata Ultimate SU800 is one of the first drives available using the new Micron 3D nand. This new nand launched with the crucial MX300 series(which we are trying to get). It uses a unique 384Gbit die capacity. Although Crucial used this increased capacity for slightly larger than standard drives. Adata has instead taken this extra capacity and used it all for more SLC cache on the SU800.
Our Test System and Procedure
Our test system isn't going to set any records for cpu capability. But it's sufficiently equipped for SATA based ssd testing. The platform is a gigabyte Z77 motherboard equipped with an i5-3470. Intel SATA6 ports are used in testing both as they offer consistently impressive performance regardless of generation as well as being the most commonly available port for most users. The system is running windows 10 Professional and was under no load(AV disabled) for all tests. Testing will consist our standard set of tests which we outlined previously. The Test system was recently upgraded with both a hot swap bay for faster testing as well as a bump to 16Gb of ram.
The SU800
The SU800 ships in a retail friendly package that easily grabs the eye. Although little performance information is printed on the package some key details are. Support for trim and information about available software which are included. The package does include a plastic shim although I've yet to find a use for these in real world applications. Also included is a warranty card, The drive has a standard 3 year warranty. The drive's chassis is primarily plastic which will reduce it's ability to dissipate heat something TLC memory traditionally produces in excess but the new 3d process help limit this. Unfortunately the drive's plastic construction also renders opening it irreversible and we don't want to destroy the drive. As our first taste of 3d nand the SU800 is of particular interest and I expect to see it's nand/controller combination in use on many drives going forward.
| Capacity | 256GB |
| --- | --- |
| Controller | SM2258 |
| Firmware | P0801A |
| NAND | Micron 1st Gen 384Gbit 3dTLC |
| Sequential Read | 560 MB/s |
| Sequential Write | 520 MB/s |
| 4k Random Read | 90,000 IOPS |
| 4k Random Write | 80,000 IOPS |
| Temperature range | 0-70°C |
| Dimensions | 7mm X 69.85mm X 100.5mm |
| Endurance | Unlisted (2million hour MTBF stated) |
| Warranty | 3 years |
Temperature
Early on in testing I checked the drives temperature. Although some of the extended load scenarios that we use for testing are atypical loads I'm still concerned to see 63C. This is very close to the drives 70C maximum operating temperature. In our test rig the drive is located a fair distance from other temperature producing components. However in laptops or SFF cases this is not always the case and can be a point of concern for throttling.
Adata's SSD toolbox is simple but effective. It has a quick view of the drive's health when looking at it it also offers some basic diagnostics and alerting ability. The utilities section contains most of the unique first party features. These include the ability to update the firmware as well as Secure erase options. Tools such as the secure erase are limited to boot utilities as they don't work inside windows. Adata also includes a license for Acronis True Image to assist with migrating from an old drive.
Atto isn't showing many surprises at first glance. We're seeing reads at the manufacturer spec with the larger transfer sizes hitting 561MB/s at peak. We don't however see writes reaching the promised 520MB/s instead falling just a bit short at 515MB/s. Overall This is good performance for such a small drive and likely in large part thanks to it's SLC caching layer.
Stacking up the SU800 we've excluded non SATA drives from the chart for clarity. Stacked up like this we can see that all the drives are capable of reaching impressive reads although the peak performer at our desired 128k transfer size is the Mushkin Reactor. At smaller sizes the SU800 reach higher thresholds faster than anything we've tested sofar even if just barely. Write speeds assisted through the use of a massive SLC cache are impressive outperforming anything we've tested so far.
Trim is a requirement for maintaining the performance of any modern SSD and informs a drive which blocks are no longer in use by the file system allowing them to be flushed during garbage collection, as SSD's have program and erase as separate operations, this helps maintain performance by avoiding degradation as blocks are used. Fortunately most modern operating systems include support for this command as do most ssd's at this point.  As expected the SU800 comes back with full support of the command ensuring consistent performance as it ages.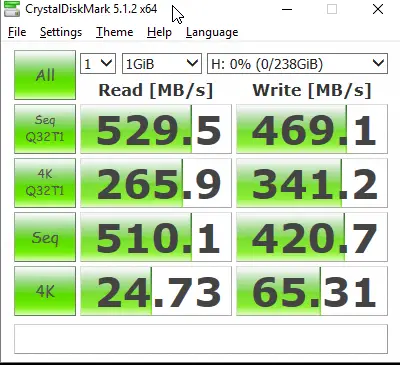 Crystal disk mark is our second test and our first glimpse at random performance. Overall this lines up well with what we saw in atto and writes look to be solid taking advantage of the SLC cache.
Bringing in other SATA drives we've tested we see some impressive results. Where the Ultra II was able to take the edge off of TLC memory's performance the SU800 pushes that even further. the Q32 Write speed is the fastest we've seen out of a SATA drive yet. However the SU800 does seem to rely on a deep queue depth in order to compete with the other drives, at a QD1 we see it falling behind the MLC based reactor although still coming ahead of the Ultra II.
Anvil is as thorough as ever and gives us a rather comprehensive breakdown of the SU800's performance. Results are mostly in line with our earlier findings although at 431.16 MB/s is a bit lower than expected. Lets take a look at how it stacks up against other drives.
Bringing the comparisons together in charts We can see that the SU800 is on good footing as far as response times are concerned. Using similar controllers the SU800 trades blows with the reactor through most of the data types. An impressive showing for the new 3D TLC nand.
AS SSD utilizes incompressible data exclusively in its testing and also reports access times, something missing from most of our other tests and these come back at reasonable levels of .064 and .045ms . The reported performance once again shows a bias towards read speed over write. AS SSD also includes a convenient file copy benchmark showing us what we can expect when moving a variety of data types around on the drive itself, these results are quite good showing a competent controller capable of handling mixed read/write scenarios.
It's the simulated tests that show the greatest strength of the SU800. Just like the Ultra II it's able to move data around the drive at impressive speeds. Stacking it up against the other drives the new nand and new controller are clearly an improvement from older drives.
In PCmark we see some solid results all around but the workloads are showing very small differences between drives. The takeaway here is that for average workloads the drive is going to perform well.
That SLC cache
Using IOmeter we wrote Sequential data as fast as possible for 5 minutes to test the size of the SLC cache present in the SU800. Adata has taken all of the extra capacity afforded by the non standard 384Gbit micron 3d nand and devoted it to SLC cache. At 141 Seconds write performance finally drops to the native TLC write speed. 57.9Gb of data was written during this time period putting the cache at nearly a third of the drives capacity.  Native performance of the TLC however hovers between 25MB/s and 125MB/s this is not a drive I would use for exporting large 4k video renders as performance would suffer post buffer.
Our custom consistency test bombards the drive with 4k random writes at a queue depth of 32 until it reaches what is referred to as "steady state" at this point we observe how the controller and nand act under their worst case scenario(dirty nand and no time to recover). This test is run for two hours which is more than sufficient to push a drive like the SU800 into steady state. We see steady performance rather quickly after what appears to be the SLC buffer is full. Lets take a look at it next to the other drives.
Stacking it up it looks like the SU800 has raised the bar for TLC memory increasing both average and minimum performance compared to the Ultra II. It still can't compete with the raw performance of an MLC drive however falling short of the reactors average performance.

Taking that impressive average and dividing by standard deviation however is a different story. The SU800 is the least consistent SATA drive we've seen to date making it's performance more unpredictable in heavy load scenarios. I do think trading some of the drives massive SLC buffer for over provisioning could help the SU800 in this particular workload.
Pricing
At every capacity except the 1Tb price point which is dominated by the Reactor we see excellent pricing for the SU800. It is cheaper than the Ultra II the most popular capacities and will likely be quite popular.
Closing thoughts
Over all I'm left walking away with the SU800 as a bit of a mixed bag. The choice of a plastic shell mixed with high density nand leads to temperatures higher than I'm comfortable with and I wouldn't recommend it for use in a small form factor system or laptop that could make things worse due to proximity of other heat producing components. Price wise the drive is an excellent value at 256Gb and 512Gb capacities and even offers the mostly abandoned 128Gb capacity although I would expect lower performance out of such a small drive. Beating the Ultra II on price, as a boot drive for a desktop I'd have no issue recommending the SU800 although I hope to see a metal cased version or other adjustments to keep it's temperatures in check in the near future.
Do you think one of our tests needs to be tweaked? Or did we completely miss something that you're looking for when buying a drive? Let us know in the comments below or on Twitter, or Facebook. And don't forget that you can support us on Patreon to help us continue to bring you high quality reviews as well as access to. early news and input on reviews to come.