Asus ZenWatch 3 Review – Spoiler: It's My New Favorite Smartwatch
Asus has long been one of the leaders in the Android Wear smartwatch scene. Their ZenWatch and ZenWatch 2 were excellent devices for their times and well priced to boot. The ZenWatch 3 is the newest entry in the ZenWatch line and it follows in it's ancestors footsteps. It is a fantastic Android Wear watch and a bargain when compared to competitors but it is missing some key features like NFC and a heart rate sensor. It can be had for only $229 from Amazon and other retailers.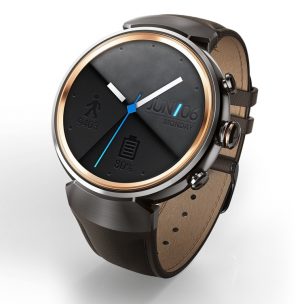 DESIGN
My review unit is the dark gunmetal version with the dark brown leather strap. It's also available in silver and rose gold. At first I wasn't sure what to make of the ZenWatch's looks. The dark gunmetal body has copper colored accents around the screen, on the crown, and sandwiched between the front and back of the watch. In photos it looked a little sketchy but in person the look is quite good. It reminds me very much of the HP Spectre x360 laptop.
The screen is an excellent 1.39 inch AMOLED display @ 400×400 resolution. It's plenty bright and crisp with a pixel density of 287 ppi. The watch is IP67 rated to withstand dust water immersion. The body is nicely rounded – no hard edges like the Moto 360 or Huawei Watch. There are three buttons that protrude from the right side of the body. The back of the watch is metal – no heart rate sensor here – with a recessed connector for the charging unit. The charger is a rounded magnetic disc like some other watches but the connectors on the back of the watch are recessed to guide it into place.
The shipping band feels like high quality leather. The back of it is soft against your skin and the outer portion is nicely colored and durable. There's an easy clip connector for attaching and detaching the band. Unfortunately, where the band connects to the watch is unique which means finding alternate or replacement bands is iffy. You could potentially modify another watch band to fit and there are a couple of options on Asus' website but I have yet to find any third party bands for sale.
SOFTWARE
The watch currently ships with Android Wear 1.5 but Asus has promised an update to Android Wear 2 soon. I won't go into a review of Android Wear here. If you've used an Android Wear device before then you know what to expect. There are a few Asus specific apps available like a flashlight, fitness manager, ZenWatch Manager, and more. There's also apps to configure the buttons on the watch and to modify Eco mode. Eco mode is basically a quick airplane mode designed to save battery. By default it is assigned to one of the side buttons.
There's also a watch designer app that allows you to customize the watch face. It's nice that Asus included this and some of the face options are excellent. Others are much more meh but its a nice option to have from the OEM. You'll want to download the ZenWatch Manager app on your phone. It allows you to configure and customize your watch's setup.
Android Wear is Android Wear. There's nothing really different about it on the ZenWatch 3. It does what I want my smartwatch to do – provide notifications and media controls. You'll need to decide whether or not Android Wear meets your needs.
PERFORMANCE
The ZenWatch 3 is running on Qualcomm's Wear 2100 platform with 512 MB RAM and 4 GB storage. And it is fast. It is the smoothest experience on a Android Wear watch I've had to date. Navigating through menus and lists is stutter free. There's little to no hesitation when launching apps. It's an all-around quick little watch. Other watches I've used in the past (*cough* Fossil *cough*) are not up to snuff. It's a pleasure to use one that is.
The watch can make and receive calls thanks to its internal speaker and microphone. That's fine and sounds OK but it isn't something I use on a regular basis. I just don't see much reason to make phone calls from my wrist.
CONCLUSION
I gave it away in the title, but the ZenWatch 3 is my new favorite watch. It's design is eye-catching and performance is top notch. It is missing a couple of big features like a heart rate sensor and NFC but those trade-offs are worth the reduced cost, in my opinion. If you're in the market for a new Android Wear watch you can't go wrong with the ZenWatch 3. If you're interested you can pick one up from Amazon for $229 with Prime shipping.