iHome Zenergy iZBT5 Review – Another Bluetooth Speaker, But Different
There's a lot of competition in the Bluetooth speaker market. You can just look at the pages of Pocketables to see lots of examples of speakers vying for your dollars, pounds, and Euros. Some of them are great, most are mediocre, and a few are just awful. In a crowded market like that, manufacturers attempt to distinguish themselves with more unique features like portability, durability, waterproofing, etc. Enter the iHome Zenergy iZBT5. It's a compact, triangular, glowy speaker and relaxation device in one that's available from Amazon for $70. iHome is marketing it as a relaxation device endorsed by "sleep expert" Dr. Michael Breus.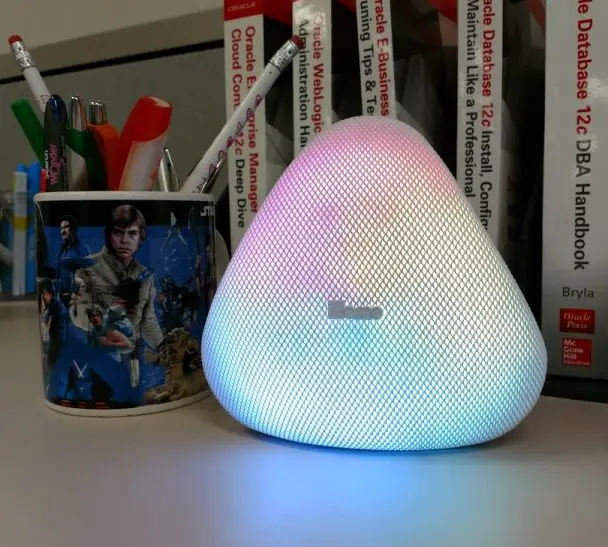 FEATURES AND DESIGN
The iZBT5 really packs a lot of features into its tiny body. iHome markets it as a light and sound therapy device and to that end has built in six distinct relaxation sounds (zen, heart beat, ocean, storm, nature, white noise) and six color patterns (breath, calm, energy, aurora, glow, one-color). These light and sound patterns can be activated and used independently or in tandem. They're controlled by buttons on the back that allow you to cycle through them and adjust their intensity. There's also a sleep button that will shut the device off after 30/60/90 minutes of runtime. The buttons themselves are nice and clicky and using the Zenergy iZBT5 in this way can be very satisfying (except I find the heart beat sound to be Edgar Allan Poe creepy).
The speaker is covered in a soft-touch material on the back and a plastic grill on the front. It has a nice heft to it – not too heavy but just heavy enough so that it doesn't feel like a toy. There are non-skid pads on the back and bottom so that it can be safely used lying on its back or standing up without fear of it sliding around. iHome also includes a wrist strap that you can add to the speaker for enhanced portability. The iZBT5 will also act as a speaker phone and has aux-in for wired sound.
iHome also provides an app to control the iZBT5 but, frankly, it's buggy and not worth your time, at least for Android. It's confusingly laid out, hideously ugly, drops connection, and just leads to frustration. It's exactly the opposite of what you want to deal with when you're trying to relax and the app's 1.5 star rating is justified. Therefore, my advice is to skip the app and just use the on-device buttons to control the speaker.
PERFORMANCE
As a pure speaker for music the iZBT5 is nothing to write home about. It's right in the middle of the pack for sound quality. It does get quite loud, which is nice when using it in large spaces or outdoors. The built-in sounds are quite good. The audio quality is high and satisfying. The light feature is pretty cool, too. The lights can get pretty bright or very dim depending on your preference. I like to have them on while the speaker is sitting on my desk whether I'm using the speaker feature or not. The internal battery is rated at up to 10 hours. I never used the speaker away from power for long enough to push 10 hours.
CONCLUSION
In summary, the iHome Zenergy iZBT5 is a Bluetooth speaker that's a little different from the rest. The primary selling points – the relaxation sounds and lights – are pretty awesome if you're into that sort of thing. The actual speaker takes a back seat to the relaxation features and that's OK on a device like this. Sure, you could just play relaxation sounds from a connected device but, for me, having them built in was a convenience that made me more likely to use them. Do the therapeutic elements make it worth the $20 or so premium the iZBT5 demands? In certain scenarios it does. You can pick one up for $70 from Amazon if you're interested in trying it out.