JBL Everest Elite 300 Bluetooth Headphones Review
Bluetooth as an audio delivery system gets more important all the time. Devices (iPhone 7, Moto Z, etc) are being released without 3.5 mm headphone jacks pushing users to wireless solutions. Last year I had the chance to review the Sony MDR X650BT headphones. I really enjoyed using them. They were comfortable and had a nice bass-y sound. At only $99 they are a great bargain. The $250 JBL Everest Elite 300 headphones are a step up in class and price. Are they a step in in quality as well? Keep reading to find out.
THE GOOD STUFF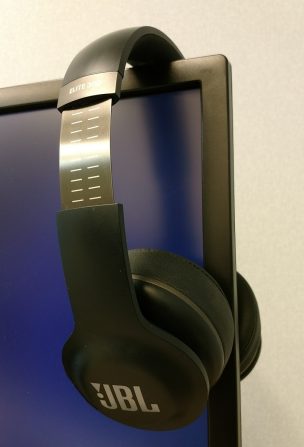 JBL has made some comfortable headphones. I mean REALLY comfortable headphones. The cushions that fit on your ears are incredibly soft. It's like wearing your most comfortable pillow on your ears. There's also some nice padding on the arm that connects the two speakers. The arms extend to fit big heads (like mine) and the speakers fold up to form a compact package. I enjoy wearing The Everest Elite 300's. Kudos to JBL for delivering such comfortable headphones.
The unit I received for review is all black. It's a very understated look – definitely office appropriate – and suits me just fine. There's also a white and gold version for something a little flashier. The buttons for power and volume are low profile. They're easy enough to find by feel but don't protrude and won't get caught on clothes or chair backs or anything.
The real star of the show should be sound quality when reviewing headphones. And in this case it is. Combine the excellent speakers with active noise cancellation features deliver a pure sound to your ears. These things sound great. The ANC really cuts down on ambient sounds. Putting the Everest Elite 300 headphones on without any audio makes you feel like you're in a vacuum. They really do a nice job of isolating you. These are not bass heavy headphones like the Sony X650BT's I referenced earlier. The sound is clear and not muddled. They're probably the best sounding Bluetooth headphones I've used.
One great thing about these headphones is their integration with the My JBL Headphones app. My JBL Headphones allows you to do things like configure the equalizer or modify ANC settings. It also allows you to check the headphones' battery level, change the one programmable button (either ANC on/off or ANC ambient awareness), and update the headphones' firmware. I really appreciated being able to customize the way the headphones sound at a global level.
The Everest Elite 300 also has an integrated microphone so you can use it to make phone calls or issue voice commands to your phone. I mainly used these headphones in an office setting so this isn't something I did a lot of but the few times I tested it it worked well.
THE BAD STUFF
The headphones only get about 8-10 hours of usage over Bluetooth and with ANC turned on. If you don't want to use Bluetooth you can connect the headphones via a 3.5 mm cable. JBL includes one in the box. This will give you and additional 2-3 hours of battery life. Compared to other devices that get 20-30 hours the JBL underperforms. Of course, ANC is what is killing battery life. You could run these headphones without it enabled but that defeats their purpose. From my perspective 8-10 hours is fine. I use them at work, mostly, and can charge them at any time since they continue operating while charging. For others, this may not be enough. That's about it for the bad stuff.
CONCLUSION
The JBL Elite Everest 300 is the nicest headset I've had the opportunity to review. The sound is great. They are super comfortable with little in the way of ear fatigue. They look sharp and can be personalized with the help of the JBL app. I definitely recommend them. You can pick them up from Amazon for $250 in black or white versions.