Seagate Ultra Slim 1TB Backup Plus Review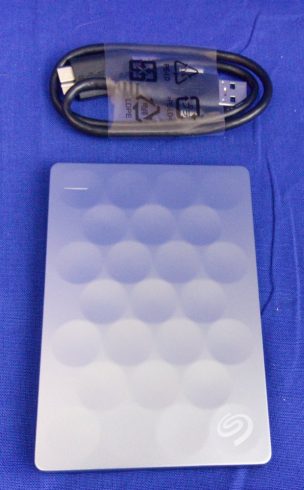 World Backup Day is coming and in light of that Seagate sent us their sharp looking Ultra Slim 1Tb Backup Plus to review. A few month's ago we looked at another drive from Seagate the 1Tb Seagate Duet. A lot of this review is going to feel like deja vu as internally both drives use the same  st1000lm035  a 7mm 5400rpm drive. Unlike the Duet there is no companion app this is pure and simple storage. There is an inclusion of 200Gb of microsoft onedrive storage by registering the drive however.
The Drive users Shingled Magnetic recording(SMR) which can have an impact on performance. This shouldn't interfere with the normal use of the drive and is several generations evolved from it's initial debut. SMR is an alternative to the Perpendicular Magnetic Recording (PMR) technique that has been in use for some time. The difference being that PMR lays down tracks on the hard drive parallel to each other, in contrast SMR lays the tracks down overlapping with each other reducing the track width to that of the read head(which is smaller than the write head) For more information on SMR please visit storage review.
Physical Overview
This slideshow requires JavaScript.
Physically although the cover has changed the backup plus is virtually unchanged from the duet. The thickness is identical to the duet although the covering and package are different. Packaging wise as this is not an amazon exclusive these drives have a box designed for retail shelves. The package is well labeled calling attention to the offering of 200gb of Onedrive storage. It also mentions the availability of seagate dashboard software. Per seagate the dashboard "This software allows the user to perform backups, adjust drive settings, and share (upload) content to social media sites." Registering the drive in this software is required to claim the Onedrive storage although using it after that isn't required.
Performance Testing
A lot of these results look like Deja Vu. There's a good reason for this since drive used the same internals as the seagate duet. There is some variance but that could be chalked up to test to test run variance. Speeds are as before good for a backup device but not a drive I'd suggest using for a working space for media.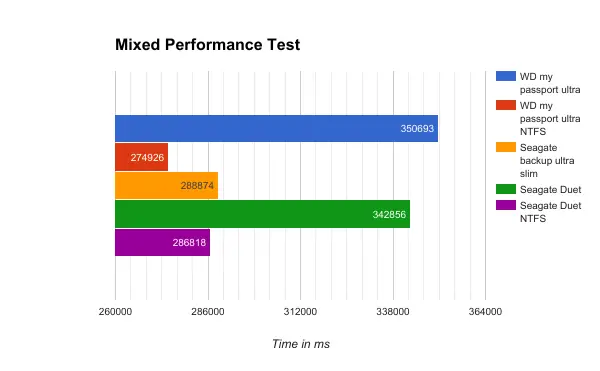 Our mixed data performance test has changed a little since the last time we used it. The data set still totals 25.4Gb and contains a wide variety of file types and sizes. However the test is now performed in powershell and takes advantage of the Measure-Command and robocopy functions. As such it was rerun on all available drives(I don't currently have the 4Tb backup plus on hand). During testing I noticed an anomaly. The Ultra slim was reporting much faster times than all of the other drives. Some investigation turned up this as a result of using NTFS for the ultra slim which is it's default filesystem. Testing the other drives again with NTFS showed similar results for their performance. Performance for the ultra slim was on par with the duet when using the same file system turning in a 90MB/s average when using NTFS.
A quick discussion on filesystems
| | Fat32 | ExFat | NTFS | EXT3 | EXT4 | HFS+ |
| --- | --- | --- | --- | --- | --- | --- |
| Maximum File Size | 4Gb | 16 EiB | 16 EiB | 16 GiB to 2 TiB | 16 GiB to 16 TiB | 8EiB |
| Maximum Volume Size | 512 MiB to 8 TiB | 64 ZiB | 16 EiB | 2 TiB to 32 TiB | 1 EiB | 8 EiB |
| Name length limit | 255 characters | 255 characters | 255 chars | 255 bytes | 255 bytes | 255 UTF-16 characters |
| Windows | Yes | 7 and higher natively, XP and vista via patch | Yes | Partial | Partial | Partial |
| Linux | Yes | FUSE based due to liscensing | Yes with ntfs-3g | Yes | Yes | Partial |
| OSx | Yes | 10.6.6 and above | Yes with ntfs-3g | Partial | Partial | Yes |
| Android | Yes | Yes(5.0 and higher tested on htc m8/10) | Yes(5.0 and higher tested on htc m8/10) | Yes | Yes | Unknown |
Unlike the duet which is sold as a drive for both macOS systems and PC's alike the ultra slim is intended for use with just PC's. As such it uses NTFS as it's default filesystem which offers a much smaller cluster size. Since one cluster is the smallest amount of data that can be written by the filesystem at one time this. The effect of this is that ExFAT with 256Kb clusters takes more time to handle the smaller files(of which there are several thousand) in our mixed performance test compared to the 4Kb cluster size used by NTFS. It is possible to format ExFAT with a smaller cluster size manually although windows only allows a 64Kb cluster size at minimum on a 1Tb volume.
Closing thoughts
Taking a look at the drive performance is at the same acceptable level that it was with the duet. Although cloud storage is a nice added bonus it's not a requirement for every drive and for users not interested in the amazon cloud platform the Seagate ultra slim makes for a very attractive package. With the additional one drive storage the ultra slim comes in at 69.90 for 1Tb. The 2Tb model comes in at very attractive 79.99 model.