iHome iB88 Splashproof Rugged Bluetooth Headphones Review
Hot on the heels of my recent reviews on some JBL Bluetooth headphones I'm back to review a new product from iHome, the iHome iB88 Splashproof Rugged Bluetooth on-ear headphones. The iB88's claim to fame is its iP65 rating and rugged design that makes it splash proof, sweat proof, and dustproof. And it's $70 price point. Keep reading to see how it fares.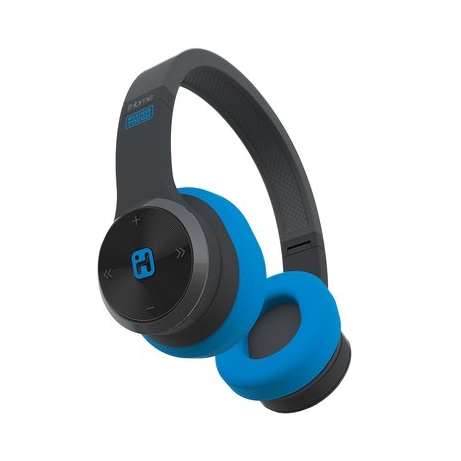 AUDIO QUALITY
As I've said before, audio quality is the place to start when considering a new pair of headphones. The iB88 comes in right about where you'd expect a $70 set of Bluetooth headphones to be. They sound decent, not great, but good enough. They are definitely not as full as the JBL Everest Elite 300s I reviewed recently, but with the price difference you cannot expect them to be. The iB88 gets plenty loud and there is surprisingly little distortion even near max volume. The sound will not blow you away but they are good enough to use day-to-day.
BUILD QUALITY
This is one area where the iB88 headphones shine. The headphones feel very solid. I've been using these off and on for about a month and they've held up just fine. I keep them in my laptop bag which gets tossed around quite a bit and I've had no issues. The band is covered in a soft soft-touch coating. It is nicely tensioned and holds the headphones snugly on your head. There's a microUSB port for charging and it is covered by a rubber flap to seal out moisture.
The material covering the ear pads is fabric – not leather or leather-like. At first, I was slightly put off by this but I've grown accustomed to it. The one negative about the ear pads is that they can get dirty. This hasn't really been much of a problem for me since I mainly use them in an office but it could be more of an issue if you use them outdoors frequently.
The controls for volume, play/pause, and skip are all integrated into the right earmuff. They're part of the plastic panel rather than distinct buttons. This makes for a clean look while reducing the opportunities for water and dust to infiltrate the headphones.
Overall, the headphones are nicely constructed and solid. I have no problems with the build materials or quality. I can confirm that they stand up to light splashing or rain. The iP65 rating is one of the primary draws to these headphones and it's nice to see that they live up to their billing.
BATTERY
iHome states you'll get 18 hours of continous use out of the battery and that dovetails with my experience. I can go three work days without needing to recharge. That's about 16-18 hours of use. There's no active noise cancelling or other battery-draining features that detract from the unit's battery life. I'm pleased with three days of usage.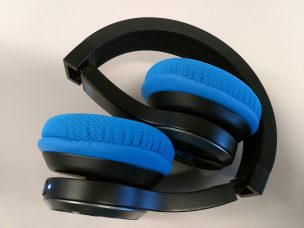 CONCLUSION
For $70 you're getting a decent set of headphones that are comfortable to wear and have the added bonus of being splash and dust resistant. These aren't high-end JBL or Bose headphones but they aren't priced as such. They are plug-and-play simple and work just as advertised. The blue accents give them a nice look without being garish. I have no problem recommending them. You can only buy them on iHome's website right now but I'd expect Amazon availability soon.
TIP – you can save 20% now at iHome's website by using the promo code BUNNY. That code will expire soon (not sure when) but there's almost always a discount code available on ihomeaudio.com.