Sandisk Connect Wireless Stick Review
As I eluded to in a deals announcement previously we have SanDisk's Connect wireless flash drive in for review. This is a slightly different take on mobile storage than some of the drives we've looked at from Lexar or Olala. The drive has a built in battery and wireless adapter to communicate without requiring a physical connection.
The stick itself
This slideshow requires JavaScript.
The test sample we were sent is a 64gb unit. It is physically larger than a standard flash drive although not absurdly so. The physical size is on par with the mushkin ventura which we looked at previously. The packaging is simple and clearly designed for retail. It includes all the information a prospective purchaser could be interested in save for usb performance information.
Wireless usage
This slideshow requires JavaScript.
Connecting the flash drive to a phone using wifi is an easy enough proposition. All you need is the requisite app from SanDisk and a fully charged stick. Charging the stick is easy enough any USB port charges it in a few hours. Setting up the app is easy and it's free on the play store. Taking a look using inssider we can see that the stick is 2.4ghz wifi only(you can also see my access points). This should ensure broad compatibility with phones but is limiting performance wise to ~7MB/s with a single wireless n spatial stream. Moving data to and from the stick is quick and reached what looks like this maximum when moving jpg and dng files in both directions.
Wired performance
Testing the device attached to a PC yielded some surprising but sensible results. Sandisk does not label the package declaring that the drive is USB 2.0 only however the performance testing revealed as such. Thinking on this for a minute it's actually quite reasonable as USB 3 has been known to interfere with 2.4ghz signals which it uses for wifi. PC testing was run on a thinkpad S1 yoga as all of our USB testing is done.
Crystal Disk Mark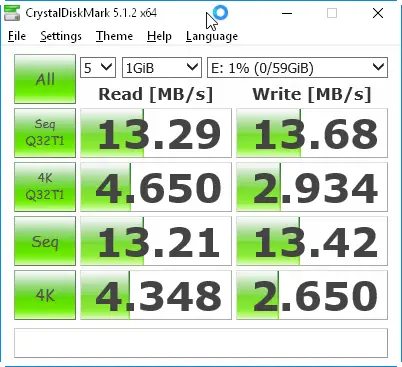 Starting with crystal disk mark we see a bit of a suprise after all the usb 3.0 products we've tested. 13.x read and write performance isn't something we're used to seeing in but considering the wireless first design of this drive it's a valid compromise.
ATTO
Atto echoes the results we see in Crystal disk mark. Performance scales up quickly only requiring a 16Kb transfer to approach steady performance. This is encouraging as transfers over wifi are likely to include a variety of small photos in normal usage.
Closing thoughts
In a vacuum the wireless stick is a marvel of ingenuity. Wireless connectivity takes the risk of damage(even the smallest hang off the phone precariously) out of the equation entirely. Combined with well planned out software and reasonable performance this is a great device. The problem lies in the state of current technology, with usb 3.0 and 5GHz wireless AC available to us this could be a much faster device. At 37.99 for the 64gb model we reviewed and 83.69 for the 200gb model these are still a compelling purchase for those who need extra storage on the go.