Zagg Slim Book Pro keyboard/case review
The Zagg Slim Book Pro is a Bluetooth keyboard and tablet case fitted for the 9.7″ iPad Pro or the iPad Air 2. It's usable as a keyboard for up to three different devices and can switch between them with the press of a button.
You need a keyboard (or Paul does)
If you've ever wanted to sit down and type an email on a tablet or your phone you probably realize rather quickly that you can use text to speech or a keyboard a lot quicker than getting distracted by trying to figure out how predictive text turned "buffalo" into "downswestman2~!".
I've found neither my iPad nor my Android a particularly joyful experience to attempt to do any real text work on, or at least my work has to be segmented down to the single sentence I'm attempting to hammer out in spite of the best efforts of autocorrect, ambient noise, and random lags.
The lack of responsive feedback, or at least keyboard response also throws me on screen typing, although I did learn to type back when that involved mechanics and force and paper.
A note on the review: I tested this as a keyboard on multiple devices (Apple iPad 2, Android HTC 10, and Windows 10,) and then passed it to a friend who tested it in both keyboard and case functionality on the Air 2. Using it as a keyboard review is me, case was, and is still being tested by a friend.
You want the Zagg Slim Book Pro as your keyboard
As a keyboard it's about 2/3rds the space of a full size, and about 90% the size of my laptop keyboard. This takes some getting used to when attempting to touch type, however not too huge of a hassle when coming off of a glass typing field. The keyboard can magnetically detach from the case, or you can leave it attached if you want your setup to feel a little more laptop-y.
Switching between devices involves pressing a button. There'll be a brief delay in it working on said device but I believe that's other-device delay and nothing to do with the keyboard. "Oh, hello, you're there… one second, yes, you're my keyboard, connect!"
The groovy texture works pretty well to let you know when your palm is positioned and the J & F have the standard ridges for correct finger placement, but the sizing difference did keep me looking down to see where I was occasionally.
I think given a couple of weeks I'd have been proficient on this but as it stood I wouldn't say I got quite to 80% of normal keyboard speed (which is still about 140% faster than I can input text on a screen.)
The hinge of the keyboard can fold back to become a kickstand for the keyboard, and the case backing has a wide-footed fold-out kickstand to position your tablet however you desire. You can stash an Apple Pen back there as well.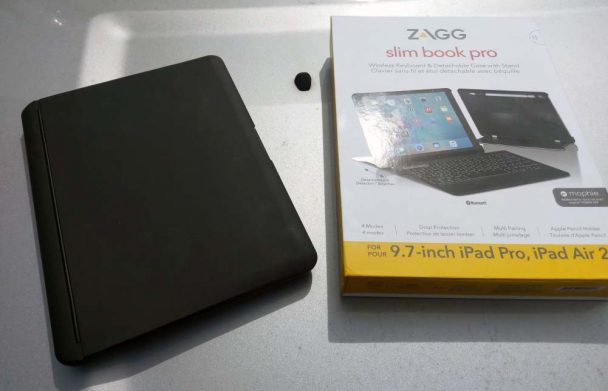 The case adds a layer of protection to the edges of the iPad Air 2 or Pro which should protect it in the event of a drop, however I wouldn't trust it to protect against your clutzy friend. It doesn't feel like battle armor, it's thin and sleek.
The rubber back of the case will initially attract any dust in the room on unpacking, but its magnetic attraction to dust appears to disappear after I'm guessing a slight static charge goes away.
Overall I liked the Zagg Slim Book Pro keyboard. It's a bit of an investment, but if you've got any serious content creating to do or need to haul your Apple Pen around safely it's probably worth it.