Add Windows Hello To Your PC With The PQI My Lockey
Many modern laptops and desktops offer the security and convenience of using Windows Hello biometric security. Windows Hello is Microsoft's label for Windows 10's non-password authentication. It allows for the use of fingerprint, iris scanning, and PIN login to any Windows 10 machine with the right hardware. But what if you have an older machine? Enter PQI and their My Lockey fingerprint reader USB dongle. It's a tiny add-on that turns any PC into a Windows Hello compliant fingerprint secured machine.
DESIGN
The My Lockey is a tiny little fingerprint reader. It only extends about 10 mm from the body of your device. It's only about the size of a US quarter. If you've used a Bluetooth mouse/keyboard with a USB dongle then you're basically familiar with the size and shape of the My Lockey.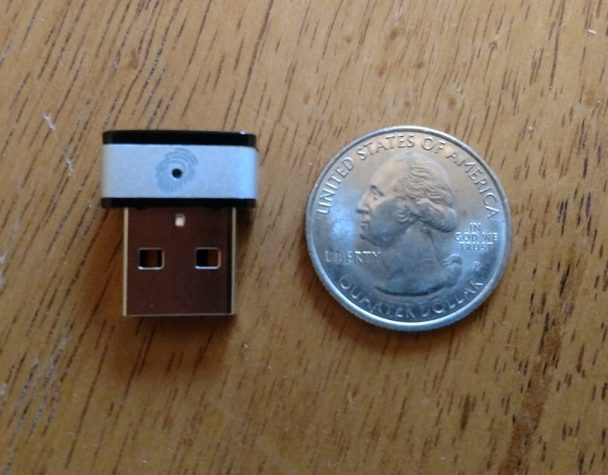 The actual unit is black and rimmed with an aluminum band. There's a screen printed fingerprint on the top side and the PQI logo underneath. In the center of the printed fingerprint is an LED that lights up when the reader is ready for use. The actual sensor on the side is slightly recessed. There are no sharp edges to be found.
The look perfectly matches my MacBook Air – almost like it was made for it. It seems silly to say but the fact that it's a smart looking device made me enjoy it more. I mean, if you are going to leave this thing plugged into your laptop all the time it should at least look good, right?
PERFORMANCE
So the thing looks good and is small enough to be unobtrusive. But how does it work? In a word – amazingly! This thing is fast to the point of ridiculousness. When you plug in the dongle Windows will automatically install the drivers for you. You can also grab them from PQI's website. Once you've gotten the driver installed you'll need to add a fingerprint. Access Windows Hello via Settings > Accounts > Sign-in Options > Add Fingerprint. The process of adding your fingerprint is basically the same as on any smartphone. Lift and touch your finger until the software tells you to stop. You'll also need to add a PIN as a backup authentication method. But that's it. Setup takes about two minutes from start to finish.
Now the next time you're at the Windows 10 login page you'll notice the My Lockey's LED glowing green. Touch it and voila – you're in. Login takes less than one second. It's incredibly fast. The underlying hardware is from Synaptics and it really screams. I can't overstate how fast and seamless the login process is with the My Lockey.
CONCLUSION
PQI has a winner here. The My Lockey only costs $35 on Amazon and works very well. Skipping the password entry screen seems like a small thing but it's one of those things that just makes the whole experience better. It's a great product at a great price. Highly recommended.