ANNKE I61DQ IP Camera ProHD 1080P Wi-Fi Security Camera review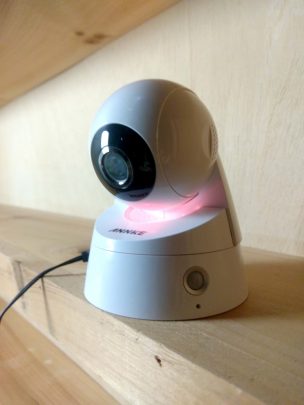 The I61DQ 1080P IP camera is a really good piece of hardware with way too many pro-grade features packed in with an interface that once set up is remarkably useful.
This review is going to be a little bit different than the usual as I'm going to throw it out there that the hardware is great and worth it right at the top and then you can read some of what made this review run six and a half months.
The video, nighttime and daytime, is similar to other 1080P IP cameras out there. I'd venture to say it's better than the IP cameras of two years ago, but I guess that's to be expected.
They have a tech that more accurately identifies humans in the field of vision for nearly no false alarms if you want to enable it, it's not enabled by default.
The impressive features list
Use included power supply or power over ethernet (should you have a POE switch)
H264 video
SD card storage up to 128GB
WPS setup
iOS/Android/Windows
Intelligent bandwidth-saving data encoding
355 degree pan, 110 degree tilt* (couldn't find the tilt specs, guessing on this one)
1920×1080 resolution (low noise)
10 meter effective IR range
Operating temperatures go from -22F to 140F making it useable nearly any time (this is an indoor/no water camera however)
Wall mountable
FTP, MicroSD, Computer recording
Find the camera through most any router, firewall, connection type with their P2P Annke View app
Web/app interface
Wire ports on back to trigger other alarm systems
Multi-cam view in app
The initial setup
The app is pretty straight forward in what it says to do. Turn on the IP camera, go into the app, run the setup, connect to a 2.4gHz network, enter the password for the app to send to the camera, should connect you.
I tried this on two Portal routers with shared 2.4/5gHz name, a Netgear with a devoted 2.4gHz channel, two unknown open 2.4gHz routers in my building. The Android-based app setup simply did not ever work to connect to WiFi. I could connect via ethernet no problem however.
Once connected to a LAN line I was able to go into the IP with a web browser and connect to the WiFi. This really shouldn't have been the setup method. I'm not happy with that, however it's my belief this was a translated app from the iOS app (more on why I believe that later.)
Not impressed with the ease of getting this onto a network – it should have been app-doable with no issues and no ethernet cable (included with it,) required.
First uses of the I61DQ IP Camera
I set this up the night before the family went off to Oregon for a Christmas vacation. The idea was to watch my living room so I could make sure the cat was ok (kitty door, enough food for a month, friends dropping by to play with him,) and that nobody had broken down my door. Also to test the camera.
I'd added the Annke View software to my daughter's iPad and to my HTC 10 and it was pretty much the same software, just different square black devices it was on.
This worked great for two days. I'd remote in and see my cat enjoying life without us. Have a little homeowner relief that we hadn't been broken in or that a pipe hadn't burst as it was now like 2 degrees and my Nest was informing me that heat was on in the ECO threshold.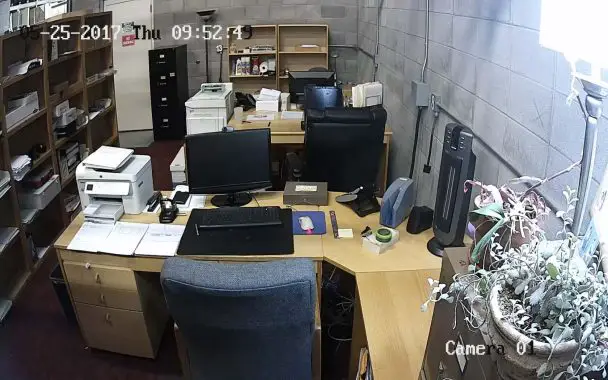 Day three came and the Android app informed me that I was going to have to give it a validation code. This is a six digit code that's on the side of the camera that's used in conjunction with your password to create a situation where nobody's going to randomly get into your camera even if they know you still use Passw0rd12E for everything.
This was a problem because I was literally over 2000 miles away.
I checked the iOS app and it was chugging along perfectly. The iOS app never has asked for the code other than on initial connection. I spent the remainder of the vacation occasionally checking in on the iPad 2.
I shot my second message to support asking how I could extract the code from my iPad 2 to put into my phone, or to simply report that there was an issue with the Android app, I got a response indicating I should go to the camera, look on the side, and enter the code. Yeah, 2000 miles.
Subsequent uses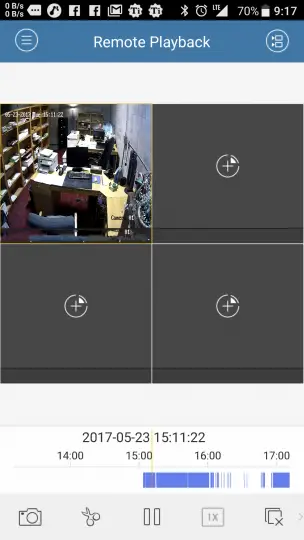 The Android Annke view app kept losing the code. I had a series of Android-side issues with it and was informed it was probably time for a factory reset of the camera. That appeared to fix the losing of the code (which may have been the camera challenging my Android to a duel.) It didn't fix anything with connecting the IP cam to a wireless network. This still required either iOS (untested,) or a web browser.
I shot the Annke support an email at one point mentioning that I did not have access to the install disk that had shipped with it and was unable to locate the camera on my work's DHCP scope. I wanted the search tool, they sent me instructions on how to download the Android app I already had. Not the issue. Facepalm.
I finally got the install disk/search tool at this link. I informed Annke that their website doesn't list that and you have to locate it via Google. Seriously, you go to their website, choose the camera and files download and all it is is a manual that will reference needing the SADPTool.
So what can it do, why should I read further?
Pretty much everything an IP camera can do, this does very well. I will take exception with any of these IP cameras claiming you can speak over them. That just never works well, and was the case with this (and every,) IP camera.
You've got your standard pan/tilt, they claim it can be a POE IP cam although I did not test that as I had no free POE ports wired up, very good night vision, ability to trigger an alarm system, shoot email alerts, record to SD card or FTP video off the camera, there're really neat continuous recording options in which you can see via a little bar where there actually was motion detected, it can pretty much whip any pan/tilt IP camera I've run across.
It's got the ability to be found most anywhere in the world without having to know your home IP or do port forwarding which is useful.
Unfortunately on the PC side it uses a plugin that requires crappy browser technology. It can work with a modern browser, but in 2016/17 it was shipping with an ActiveX component that I'm pretty sure is modified Shenzhen IP camera control code.
Things I was impressed with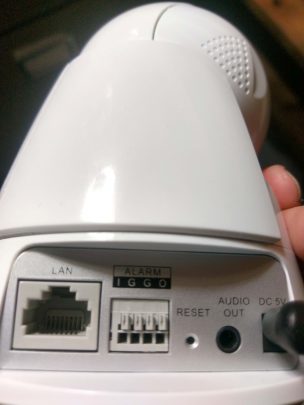 The Android app remote DVR off of SD card is pretty nice. It's pretty much the same thing the web version is, I think they got that done better than any implementation I've seen before.
The P2P app (finding your camera anywhere in the world and just connecting,) works well. It's the second fastest I've seen.
Their PIR tech does seem to minimize false alarms.
So get it/skip it? Ease of setup?
I'm impressed enough with the camera that I didn't outright dismiss it when the Android app was failing to work or when I was having problems getting it connected. I think their software needs some work and probably is getting it.
This will take some work to configure it like you want it to be configured. You're going to need a computer or a web browser to configure how you want it to work though. It's not as simple as saying "record any time there's movement and notify my cell phone," it's more along the lines of: on this schedule, use this mask (draw mask overlaying all visible area,) if anything goes above the sensitivity threshold record, send an email to this address.
And this is three or four different locations.
It's a lot of features packed into a little piece of hardware, and the complexity that it's able to accomplish can throw a new user for a loop if they're wanting to venture beyond the simple.
Confused?
I have no complaints about this other than the Android app connection issues and the use of ActiveX for the full web experience. The camera does too many neat things but sacrifices user friendliness by presenting the user with page after page of options that can only be accessed via the web interface.
Pro 1080P camera, home price tag, an app interface that's trying to take a pro camera and shoehorn into a home market.
If you're technically inclined, it's great. If you want a baby monitor, it's overkill although a lot cheaper than anything with "baby" in the title. If you want it to work simply by installing a piece of software, maybe wait a bit till the next Annke view software update.
I'm pretty impressed with it though.
You can get an ANNKE I61DQ IP Camera ProHD 1080P Wi-Fi Security Camera for $79.99 on Amazon