How to Send Text Messages With Windows 10 and Android
Microsoft's Windows 10 "OS to end all OSes" continues to add useful features. One of my favorites is the ability to send and receive text messages with a little help from Cortana and Android. In this article, I'll cover how the few steps required to setup your devices and get this working.
WINDOWS 10 PREREQUISITES
It's pretty simple but there are a few prerequisites. You need to be running the Windows 10 Creator's Update (version 1703). You'll need to be signed in with a Microsoft Account and have Cortana enabled. I also recommend syncing your contacts to your W10 machine. I keep all of my contacts in Google Contacts so I added my Google account to W10 (Cortana > People > Settings > Add Account).
ANDROID SETUP
You'll also need to install Cortana on your Android phone and sign in using the same Microsoft Account. Open Cortana's settings menu on your phone. You're looking for the "Sync notifications" option. Choose it and then ensure that "Incoming message notifications" is turned on. Grant Cortana any system access it requests and you're good to go on the Android side.
SMS NOTIFICATIONS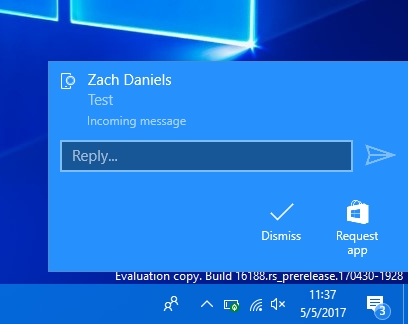 You should start to see incoming text messages show up on your W10 machine at this point. They'll show up in the notification area. The great thing about it is you can reply right from the notification. Just type in your message, click the send arrow, and away it goes. Response time is great. It generally takes only a couple of seconds for new messages to arrive from the phone or to send from the PC. I've got to say that I'm pretty impressed and slightly surprised that Microsoft has put together a system that works so well.
SENDING TEXT MESSAGES
You can also send SMS from W10 without just responding to a notification. Click in the Cortana box, type SMS, and then choose 'sms > Send a message'. Type in the phone number or the contact name (you did sync your contacts to W10, right?) then key in your message and send. Cortana will funnel the message through your Android phone within seconds. The solution is pretty elegant and quite reliable. The only issue I've seen in my usage was once a double message was sent. Other than that its been aces. Give it a try yourself.