Jabra Speak 710 speakerphone/wireless speaker review
The Jabra Speak 710 is a wired or wireless, mono or stereo speaker with an omnidirectional microphone designed for HD voice and conference calls. It's also a pretty good music device, but I'm gathering that's not the crowd it's aimed at.
Who is the Jabra Speak 710 for?
Anyone who needs a high functioning portable speakerphone that works with your cell phone, laptop, desktop, Skype, Hangouts, GoToMeeting, or most modern voice/video platforms right out of the box with little to no configuration needed.
While most of these types of devices are Bluetooth speaker first, then they threw in conference call ability with a mic, this doesn't appear to be the case with the Jabra Speak 710. It feels like it was designed as a slick looking and functioning business tool and yeah, you can use it to rock out as well.
The Speak 710 has capacitive touch zones for power, mute, volume up and down, battery indicator, Bluetooth on/off/pair, link button (to pair with another 710 to make it stereo,) answer and end call buttons, power, and voice assistant.
The only potentially negative comment I have on these buttons is they require looking at, you can't feel your way to which is the right button. Probably not an issue for most but figured I'd mention it. If you're fumbling blind at the speaker you're as likely to hang up as hit mute.
Each Jabra Speak 710 is one mono speaker, so to get the stereo effect you will require two and that can be pricy. We're just looking at one single 710 today as Jabra doesn't love us enough to send two to say "look how easy it is to press this button and pair the left and right together". But yeah, there's a button to pair on a second speaker and you just press it on both speakers and one becomes right and the other left.
The speaker has a three foot or so USB cable wrapped around the base. This is both for charging and plugging it into a computer which with both charge and default to being your computer's microphone and speaker. You can change that in Windows settings or Skype settings if you want. The Jabra Speak 710 is significantly better than most laptop speakers, and certainly every laptop microphone I've encountered.
If the computer you're using with it to needs to be more mobile or doesn't have Bluetooth, there's a Bluetooth (or similar,) dongle on the back of the Jabra Speak 710 that you can pop out and pair. The dongle on the back of the device is a Jabra Link 370 pairing device and works even on machines that don't appear to support a Bluetooth stack/dongle out of the box (eg: Windows Server 2012 R2 which is what I tested with it).
I paired to my phone and made a few calls. I'm not particularly a fan of speakerphones over cellular networks to begin with, but this didn't jar me as much as trying to yell at a box that is dropping half of what I'm saying and the network dropping another third. Then again, the cell towers in my area could be getting better, who knows. I didn't feel disconnected talking on this one.
Volume was loud enough for a conference room, It seemed to be filtering out the background AC and hiss that accompanies my office all the time fairly well.
As a mono speaker it performed pretty good for music. Bass was a little on the light side, midrange and treble seemed just about perfect. As a conference call mono speaker turned music player, there's not anything I've heard better. That said however, there are plenty of better sounding mono speakers for music I've run across, although they don't have the crisp feel of this on speaking.
The Jabra Speak 710 HD Voice technology is what I'm guessing really puts whoever's talking there front and center. It really does make it sound like they're almost in the room.
On the flip side, I can tell you that in a server room with an AC blowing and a switchrack with multiple fans going, it's not going to work magic. It's good, but it's not that good. Extremely loud environments it doesn't pull the voice out of the background and make it great. I don't think many speakerphones are designed with that in mind however. That's the only time I felt like it was simply better to put the phone to my head.
Jabra Speak 710 features
Connectivity modes
USB cable
Bluetooth 4.2
Jabra Link 370 adapter (like Bluetooth but evidently not)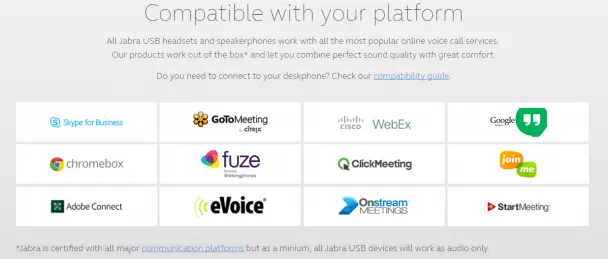 Audio
360 degree omnidirectional microphone
HiFi grade speaker
DSP that claims it eliminates echoes or distorted sounds
Jabra Speak 710 specs from the data sheet
298g/10.51oz
35″/90cm USB 2 & Bluetooth
Bluetooth 4.2 / BTLE
Up to 100 ft range
Paired devices: 8
BT Profiles: Headset profile v1.2 , hands free profile v1.6, A2DP v1.2, AVRCP v1.5
PC USB Jabra Link 370 dongle: USB BT audio device/HID dongle. Bluetooth® 4.2 – Bluetooth® Low Energy (BTLE)
10 Watt peak output
2 Watt RMS
Music mode freq range: 150Hz-20KHz
Conference mode freq: USB 150Hz -20KHz, BT 150Hz-7KHz
+70dB 150Hz-7KHz omnidirectional microphone
Charging: 5v/500mA for about 3 hr
480 day standby
Up to 15 hour battery life
In-room coverage for up to 6 people
Paul always complains about something
In fairly loud white noise environments the DSP works so hard at making the noise go away it can muffle the people who're trying to yell over it. While this is expected, there doesn't appear to be a way to modify the DSP to not work so diligently.
So if you're holding your meeting in a wind tunnel, server farm, etc, this might not be the ideal speakerphone, but then again what would be? I'd just really like the ability to tweak the DSP settings, and there doesn't appear to be any way via the instructions that are included.
And just because I'm OCD, the way the USB cable slightly hangs out annoys my aesthetic sensibilities.
Little things worth mentioning
Battery indicator indicates with lit-up lights around the circumference of the Jabra Speak 710.
You can connect multiple devices at once (my PC and phone are both connected, if I get a call the PC mutes).
Options that are not available at the moment do not light up: EG you're not using the microphone, mute isn't backlit. Hang up and Make call change colors to red and green when the phone is active.
Wrapup
Half the people who will impressed by this product are not going to be the ones looking at it. You'll sound great, they'll sound great. It reminds me of some higher-end wired/installed conference call systems I played with a couple of years back.
Excellent speakerphone, good music player, sleek design, impressive battery life.