JAM Xterior Max Bluetooth speaker/charger review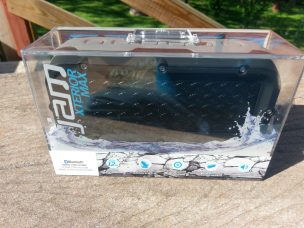 The JAM Xterior Max is a tiny boom box that brings a big sound and works either via a standard headset jack or wirelessly via Bluetooth. In addition the Xterior Max can charge your cell phone while you're streaming music as long as you've brought a cable along.
The Xterior Max is waterproof (3.3 feet claimed, handled a half day with two kids and a garden hose in my testing,) loud enough to be heard anywhere in the neighbor's yard (they got to rock out to a Trolls Soundtrack party,) screw-mountable in case you want to take it on a bike or mount it on a tripod, and can play up to 12 hours at a shot depending on connection method, volume, etc.
IP 67 rated means you're probably not going to have problems with water or dust intrusion.
Unfortunately they don't list the dB or frequency response anywhere meaning this becomes entirely subjective as I don't have measuring tools for this. It's more than loud enough for about three 14×14 rooms in a house to have coverage, doesn't have enough bass to kill anything, sounds very clear at higher volumes.
It's a pretty sweet speaker, however I noticed I didn't have a very long range I could get from it with my phone before it started cutting out. The max I managed to get away from it was probably 22 feet. Not sure if this was testing environment, case on my phone blocking signal, the random goat infestation near the tree blocking WiFi, or what.
Now, 22 feet is good, but I've done better with other JAM Audio products before.
I think poolside this would handle most music needs, but it doesn't appear to float so you might have to go diving for it if it gets dropped in.
It reminds me a lot of the original HMDX JAM, then double the size, throw in a brick battery to extend the play time, and make it look tough. I mean it feels tough, it looks tough, my 4yo didn't break it, it probably is tough.
For the weight it's a little heavy for camping, but otherwise nearly perfect. I don't know what the battery is but you can drain it pretty quickly when you put a nearly completely dead phone on and stream the Trolls Soundtrack out in your backyard for four hours, so I'm guessing in the 4000-6000 mAh flavor.
If you like it, get it. Personally I'd weigh the pros and cons here and think that their equally good sounding non-waterproof JAM Classic comes in at about a fourth of the price and a significantly reduced weight and think "how many times am I actually going to drop this in the water?"
As a 44 year old father however, my general intent in speakers is not to bring the party these days, and it's been a long time since I overnight trail hiked or did anything that could crush a speaker, so there's that.
JAM Xterior Max Pros
Good sound
Can charge your phone while you play
Loud enough for most outdoor party needs
Not going to blow up when you leave it out and it rains
Bike or tripod mountable
Cons
Price is about twice where I think it needs to end up
Range?
Weight
It's a good speaker, not aimed at me at the moment. I can tell you when I was 20-something I would have loved it with a passion though.
You can get the JAM Xterior Max at Amazon for about $82 as of this writing.