JBL Flip 4 Waterproof Speaker Review
I've had the chance to review a couple of JBL headsets recently and really liked them so when they offered to let me trial the new JBL Flip 4 Bluetooth speaker I was eager to see how it would perform. We've reviewed quite a few Bluetooth speakers here at Pocketables. We try to be a little selective and look for units with unique features, exceptional quality, or value. The JBL Flip 4 is one of the more expensive speakers I've tested in the last year at $99 but it does have a nice feature set and sounds great. I'll detail it out below, but the Flip 4 is an excellent portable Bluetooth speaker.
FEATURES AND DESIGN
JBL has packed the Flip 4 with most of the features you'd want in a portable Speaker. It's waterproof, supports multiple device streaming, has a 10-12 hour battery, acts as a speakerphone, AND can connect to up to 99 other Flip 4s for simultaneous music playback. That's all packed in a cylindrical casing that's covered with soft-touch rubber and fabric (think ballistic nylon as seen on Motorola devices). Each end of the speaker has a bass radiator that just vibrates away while you listen to music. There's also a dedicated button for launching Siri or Google Assistant. It's an attractive package that's available in seven different colors.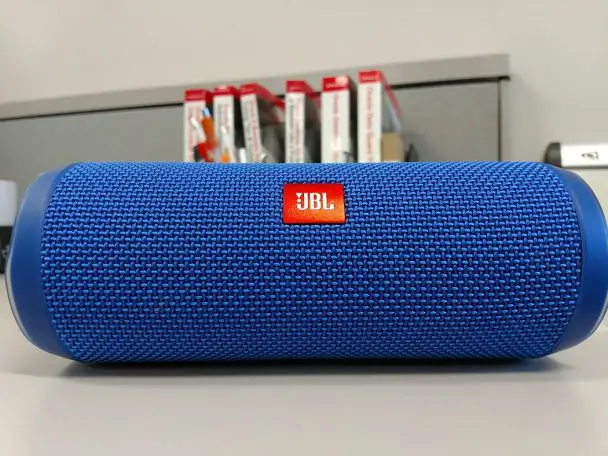 The Flip 4 supports Bluetooth 4.2, has a 3,000 mAh battery, and has two eight watt speakers. It can connect to two source devices simultaneously, though only one can play music at a time. And the speaker gets really loud. But not at the cost of sounding muddled. Sounds are rich and full. It really is an excellent speaker. JBL definitely had outdoor use in mind when designing the Flip 4. It's ideally suited to lounging by the pool, a cookout at the park, or taking with you to the beach.
The big draws are the IPX7 rating and the JBL Connect+ compatibility. The Flip 4 can handle submersion in fresh water at up to 1 meter depth for up to 30 minutes. JBL actively advertises the Flip 4 as pool safe. Just be sure you close the rubber seal on the charging port before you take it underwater.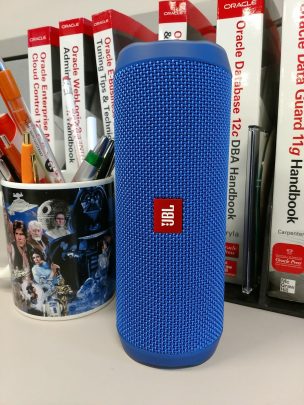 I wasn't able to test JBL Connect+ but it seems like the real deal. Basically, get a bunch of JBL Flip speakers and daisy-chain them together so that you can play music on up to 100 devices simultaneously. At $99 a pop it's not cheap but compare it to what you could spend on a solution from someone like Sonos and the value prop starts to become clear. JBL is all-in on the Connect+ feature. In fact, they recently set a Guinness World Record by playing audio to 1,000 Flip 4's simultaneously.
CONCLUSION
JBL charges a pretty penny for the Flip 4 but you get a lot for your money – excellent sound, waterproofing, JBL Connect+. If you can afford to buy two or three they'd make a great addition to any party or gathering. I'm giving them a recommend, with the full understanding that they aren't cheapo speakers. If interested, you can pick some up on Amazon today for $99.