Monster Vision VR 360 degree camera review
The Monster Vision VR 360 degree camera is is a wearable/mountable device with two cameras that stitch together an immersive Facebook 360 or YouTube 360 video that you or your friends can look around with a headset, or scroll around with a mouse.
The device has a fairly rugged body, however the lens glass is not replaceable as far as I can tell. Mine survived a fall directly onto one of the lenses though so it's not a death sentence if it drops.
It comes with a 16GB memory card, records at around 1920×920 resolution at about 12000kbps for 30fps/~85MB per minute, so the 16GB limitation hasn't been an issue.
Monster Vision VR 360 in action
Above- YouTube 360 video – you'll need to position it/swipe/mouse to point forward and rotate correctly. We'll get into that in a bit. It's 1/2 my issue.
I recorded several videos, however my life is pretty boring and unless you want to watch me driving and talking to a four year old the above video is the most interesting of the ones I've recorded.
Monster Vision VR contents
Highlights include a mini tripod, remote-control wristwatch, handlebar mounts, suction cup and 3M grabber mounts. There's also a Micro SD to SD converter and a Micro SD to USB stick which is all cool and good but you can simply mount the camera as a drive and copy data off as well.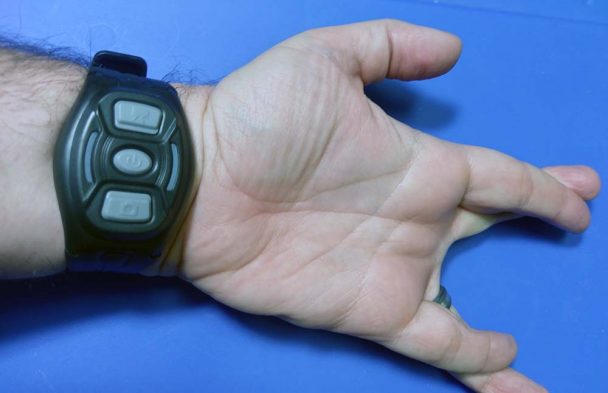 The software (it's not all in the camera)
The camera makes a raw recording at 1920×960 that looks like this: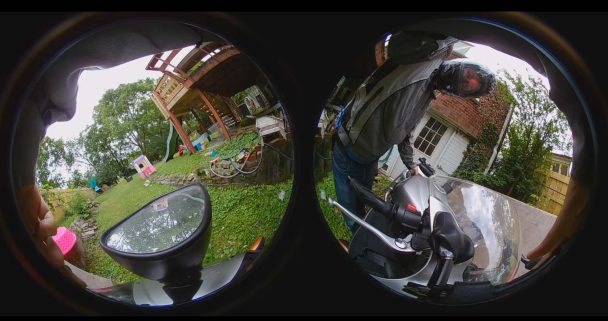 You'll need to have a PC, Mac, Android or iOS device come and stitch that into a Facebook/YouTube-360 compatible movie. You can also just watch it on the Monster Vision VR player.
To convert the video on a PC you go into the Monster Vision player, then click what appears to be a reload icon.
From here you can correct the pitch/yaw/orientation of the camera however it's pretty hard to do this. It's not particularly evident what you're seeing. I don't know how to describe trying to orient this in the software other than a bad dream in which you are trying to get something straight but the entire world is melting into whatever spot you're looking at.
You can also do the conversion on an Android or iOS device, however these are pretty big files and converting takes space. The Android app also managed to bomb out when it filled up the internal SD without informing me things went south.
Correctable stuff though.
About that resolution…
You may have figured this out by now, but when you're recording video at 1920×920 and there're large black areas around the fisheye you're losing a lot of pixels. My guess is the effective resolution post-pixel stitching is about 1600×720 which is still pretty much up there for a picture.
Unfortunately this isn't a picture. This is a 360×360 view. This means at any one time if you've got a 180 degree field of view by 180 degrees you're looking at an image that's effectively 800×360. Less if the field of view is less (which is likely.) That's a lower resolution in front of you than a 640×480 photo.
If you're a pixel snob, you'll notice.
The world is also being placed into view by a fisheye camera. This looks fine until something gets close to the lenses and then it's distorted and Monstrous.
About that color reproduction
I'm not the guy to comment on color reproduction, but the day was not dim, the green was lighter.
I can see what's happening – in the fisheye views things are being stretched to turn into the 360 degree views. Stretching is losing vibrance. Stitching is losing something (sharpness?) That's correctable by a software update however so let's hope that happens.
Who's this good for?
Skaters, skiers, bike riders, people really into VR, Uber or Lyft drivers who want to record both passengers and traffic (it can take larger SD cards, charge while recording, be activated by the touch of a button on the camera or on the watch).
What does Paul have against this device?
I'm a little bummed the software to stitch the images isn't built into the camera. Perhaps it's not included to increase battery life, but it seems like it should be an option.
Lenses do not appear to be replaceable. Scratch it and kiss your Monster Vision goodbye. It survived a drop onto concrete though so maybe that's not a particularly big worry. I'm not inclined to test that though.
Windows and Android software need some work. Choosing how to re-orient the camera in the event that it was mounted at an askew angle is difficult.
Watch is darn cool, however there's no feedback on the watch that the camera has received the command. Like am I recording my sick moves with a cam mounted on my helmet or am I going to break something and not record it?
Monster Vision VR availability
The Monster Vision VR 360 camera is available from Monster Digital for $249 and Amazon for $193.99