Silk Innovation iPhone Case Review Double Shot
Case reviews aren't something I normally do on Pocketables. I don't typically use a case on my phones and I don't normally carry an iPhone, which is where most of the cool cases hang out. That said, I got the chance to try a couple of iPhone cases with my wife's new iPhone 7 Plus and, as cases go, they're pretty good. Well constructed and well conceived. I'll be taking a quick look at the Silk PureView clear case and the Silk Vault Armor wallet case from Silk Innovation.
SILK INNOVATION PUREVIEW
The PureView (no relation to Nokia's Lumia cameras of years past, apparently) is definitely the less interesting of the two cases I'm covering today. In many ways, it is your garden variety TPU case, albeit with absolutely none of the rough seams or edges you typically find on super cheap TPU cases. There are a couple of other features that set it apart, as well. First, the back is a harder plastic material. This helps keep the case from over flexing and bending out of shape. The plastic back blends perfectly with the rubber "bumper" to form a cohesive unit. It feels great in the hand and is no threat to slip out of your grip. It's easy to hold on to and quite comfortable to hold.
The second unique feature is the air pockets at each corner of the case. In theory, the little air chambers on the corners will absorb and distribute shock in the event of a drop. This will hopefully keep your delicate iPhone screen from spidering or shattering. In practice, I was too much of a chicken to put this to the test. There's no way I was going to drop my wife's phone to test whether the air pockets have any impact. So, I'll just have to trust Silk Innovation on this one.
In all, the Silk PureView is a nice step up from the cheapest of iPhone cases. It stands out with nice build quality in a market full of cheap $5 cases. You can pick one up from Amazon today for $10 for the iPhone 7 or 7 Plus.
SILK INNOVATION VAULT ARMOR
The Vault Armor attempts two things. The first is to provide protection against drops, bumps, and scrapes. I did not drop my wife's phone for obvious reasons, but the case seems like it will provide ample protection. It is constructed of sturdy, thick plastic on the outside and a softer, more rubbery material on the inner layer. It's a dual layer case, but not like any other dual layer I've used. The two layers are fused together. What I expected was to apply the rubbery inner shell first, then the hard outer shell afterward. This one just fits on as one piece. Once applied, the phone seems pretty well protected (again, I didn't do any drop testing).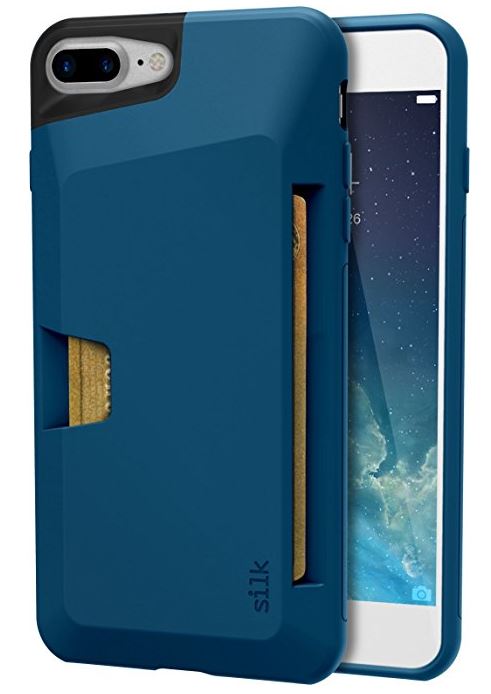 The second thing the vault does is hold credit cards and the like. There's a hump on the back of the case that has a slot that will hold 3-4 cards or a combination of cards and cash. I was worried that the slot wouldn't be secure and the cards would slip out but they are held in snugly. There's a thumb hole that allows you yo easily access your cards by pushing them out of the slot. In all, the card slot is well implemented and secure enough to trust. I never had any cards fall out or anything.
The Silk Vault Armor offers good protection for your iPhone while also giving you a convenient way to carry your ID and credit cards. It's great for traveling. The Silk Vault Armor is available for $15 from Amazon and comes in black, grey, purple, and blue (I received an olive green one for testing but I don't see that color on Amazon).
CONCLUSION
These two cases are pretty high quality. They fit the iPhone perfectly and seem to offer adequate protection without breaking the bank. It seems that Silk Innovation has hit the sweet spot between price and performance. Both cases include a plastic screen protector, increasing the value proposition further. Check them out if you are in the market for a new iPhone case.