1TB Mushkin Reactor Review
Today we are looking at Mushkin's impressive 1TB Reactor. This is a drive that we've mentioned in almost every SSD review. This will in many ways look like our first SSD review. The 1TB model was initially the only size available and has long been a popular recommendation for technical sites ours included.
Our Test System and Procedure
 Our test system isn't going to set any records for cpu capability. But it's sufficiently equipped for SATA based ssd testing. The platform is a gigabyte Z77 motherboard equipped with an i5-3470. Only Intel SATA6 ports are used in testing. This is done because they offer consistently impressive performance regardless of generation and are a commonly available port for most users. The system is running windows 10 Professional and was under no load(AV disabled) for all tests. Testing will consist our standard set of tests which we outlined previously. The Test system was recently upgraded with both a Syba hot swap bay for faster testing as well as a bump to 32GB of ram courtesy of Ballistix.
The Reactor now at 1TB!
This slideshow requires JavaScript.
Packaging is as industrial as minimal as ever as we've come to expect from mushkin. This plastic clamshell plus info card seems to be the standard for mushkin packaging allowing them to easily adjust for capacity.  Taking a look in the drive we're greeted by some suprises as well as a return of an old friend. The SATA connector itself is the same of ingenuity we saw on the 512GB model. It manages both cost reduction and increased durability by using the PCB itself as an edge connector.
| Capacity | 256GB | 512GB | 1Tb |
| --- | --- | --- | --- |
| Controller | SM2246EN | SM2246EN | SM2246EN |
| Firmware | O1026A | O1026A | O1026A |
| NAND | Micron 128Gbit 16nm MLC | Micron 128Gbit 16nm MLC | Micron 128Gbit 16nm MLC |
| Sequential Read | 560 MB/s | 560 MB/s | 560 MB/s |
| Sequential Write | 325 MB/s | 460 MB/s | 460 MB/s |
| 4k Random Read | 71,000 | 71,000 | 74,000 |
| 4k Random Write | 73,000 | 75,000 | 76,000 |
| Temperature range | 0-70°C | 0-70°C | 0-70°C |
| Dimensions | 7mm X 69.85mm X 100.5mm | 7mm X 69.85mm X 100.5mm | 7mm X 69.85mm X 100.5mm |
| Endurance | Unlisted (1.5 million hour MTBF stated) | Unlisted (1.5 million hour MTBF stated) | Unlisted (1.5 million hour MTBF stated) |
| Warranty | 3 years | 3 years | 3 years |
The table shows some very solid stats all the way around. There is an apparent weakness in sequential write but it's important to note that the reactor doesn't utilize a SLC buffer. Mushkin still does not provide an official number for endurance however I stand by my initial estimates. Based on drives using the same controller and nand combination we estimate a 576TBW endurance for the 1TB Reactor. This is reinforced by the lack of any indication of wear on the drive despite completing our entire test process.
Looking at atto we're off to an encouraging start. Mushkin rates the 1TB reactor for the same 460MB/s write we saw on the 512GB model. We're reaching that with the 128Kb data size which is excellent. The 560Mb/s read is a bit more elusive for the 1TB drive, it comes cose peaking at 555Mb/s close but not quite. 555 isn't quite 560 as promised but hitting within 1% of your rated performance is more than acceptable for anything mass produced.
This slideshow requires JavaScript.
Bringing in the rest of our drives as comparisons we see a very impressive showing on both fronts. Write speed scales quickly and is consistently higher than the 512GB model we tested. Reads follow a similar profile at most sizes. Compared to the TLC drives we've tested we don't see the same top end write speeds. However with the reactor not using a SLC cache this isn't a surprise. The trade off is that the MLC reactor will sustain it's performance till it's full.
Trim is a requirement for maintaining the performance of any modern SSD. Trim informs a drive which blocks are no longer in use by the file system allowing them to be flushed during garbage collection. Because SSD's have program and erase as separate operations, this helps maintain performance by avoiding degradation as blocks are used. Fortunately most modern operating systems include support for this command as do most ssd's at this point. The 1TB reactor just like it's smaller sibling has no issue with trim ensuring consistent performance for its life.
Crystal disk mark is an excellent basic benchmark covering both sequential and random data at multiple queue depths out of the box. Performance here echos what we saw in ATTO sequentially with a healthy 525.5 MB/s read and 455.5 MB/s write. Random performance looks excellent scaling well to deeper queue depths. Lets take a look at it next to some other drives.
This slideshow requires JavaScript.
Although the write speed chart is dominated by SLC cache wielding TLC drives the 1TB reactor shows a healthy comparison improving places it's smaller sibling had struggled with. Reads rival other drives in the test suite typically coming between the smaller reactor and TLC drives. With more nand to manage this is likely an artifact of the SM2248 having to work harder to keep up than it would have otherwise.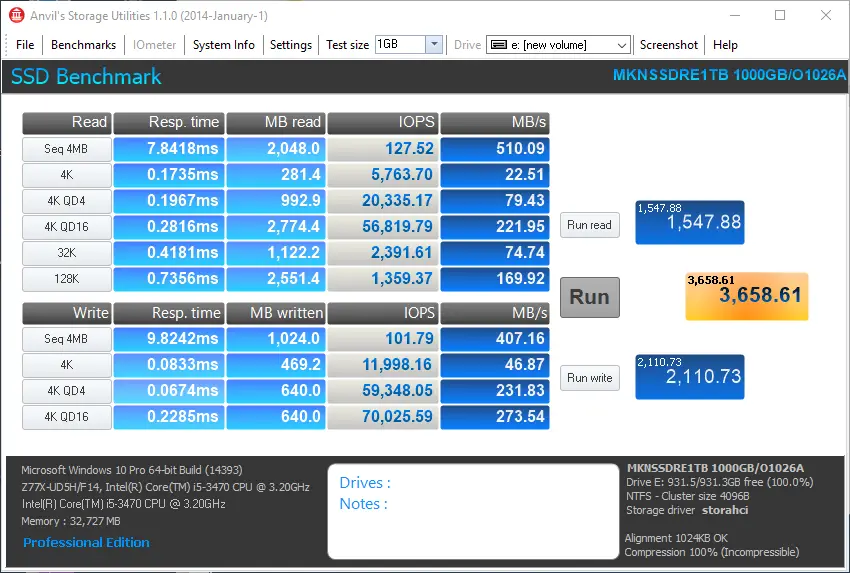 Out of all our pre built benchmarks anvil offers the widest variety of test data. the 4k QD16 write reaching 70k iops is of particular interest approaching the rated specification. Otherwise everything falls in line with what we've seen so far with CDM and ATTO.
This slideshow requires JavaScript.
Stacked up with the other drives produces a comparison like we would expect. The controller has to work harder to manage 1TB worth of nand than it does 512(which was sufficient to use all 4 channels) however it still shows the same strengths and weaknesses  with some of the variability of being a different drive.
This slideshow requires JavaScript.
As usual AS SSD returns some different results than Crystal Disk mark due to it's choice of data sizes. We get our first look at response times with .065 and .051 for reads and writes respectively being good times for a typical SSD.
This slideshow requires JavaScript.
Against other drives in our test suite the 1TB reactor actually pulls a few firsts for a MLC drive. In the copy benchmark which moves data around on the drive we've traditionally seen TLC drives lead the charge here. The reason for that was their SLC caching algorithms. New data is written to cache first which helps immensely when doing a simple copy test. With its large capacity the 1TB reactor was able to pull ahead, by a significant margin in some of these tests.  the rest of the test suite puts it in the middle of the pack, trailing where caching can help other drives and coming out ahead where it can't.
This slideshow requires JavaScript.
Quickly approaching an award for our most redundant benchmark is PCmark. It continues to show small variances between SSD's. We're seeing detailed scores at are generally sub 1s slower than the other drives which will rarely be tangible in normal usage. Unfortunately the standard suite used by PCmark isn't enough to tax most modern drives. It would require a truly stand out drive(in either direction) to produce an interesting result.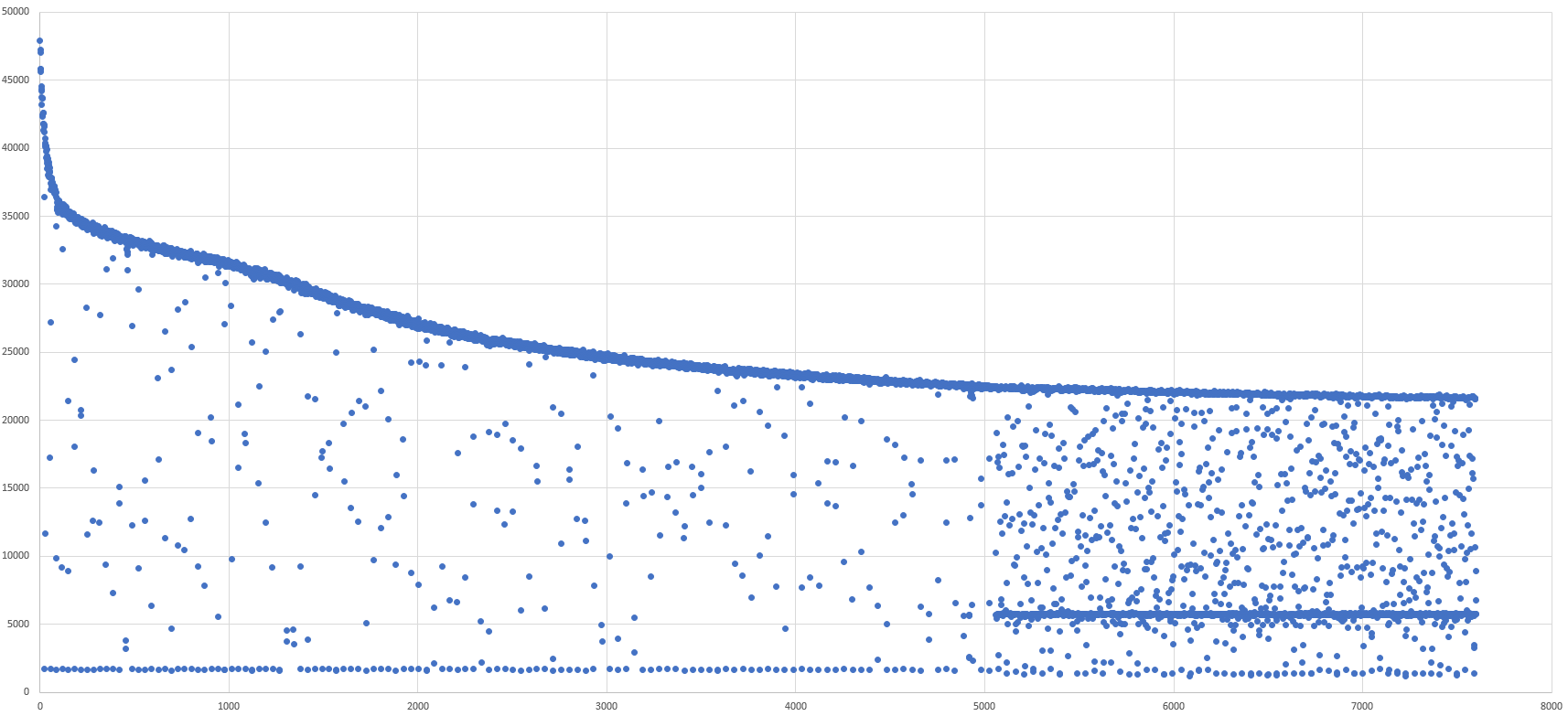 Our custom consistency test bombards the drive with 4k random writes at a queue depth of 32 until it reaches what is referred to as "steady state" at this point we observe how the controller and nand act under their worst case scenario(dirty nand and no time to recover). This test is run for two hours pushing the drive into steady state performance. The chart for the 1TB reactor looks almost like the one for it's smaller sibling. There's a performance floor at just above 1300 iops and the same bistable over 5000 to over 20000 bouncing once things have settled out.
Unsurprisingly the reactor at 1TB sets a new record for the 600 second average. Beating out the previous record holder it's smaller 512GB sibling by more than some of the other drives in our test suite have reached is nothing short of an impressive feat. Lower minimum performance over is an oddity but the drive still surpasses any TLC drive we've tested to date.
With more nand to work with a score of 1.7 on our consistency chart is a healthy improvement from the 512GB model we tested previously. The ultra II still holds a higher score for consistency but it also underperforms both reactors for it's average performance.
Pricing has moved around a bit since our last update. At 1TB the mushkin reactor now feels a bit more competition from the Adata SU800. Depending on your workload the SU800's massive cache might be enough to mask TLC performance, otherwise the reactor is the better choice. We do have a new item on our price chart, a 2TB model. This was introduced during the writing of the article offering even higher capacity at almost the same price ratio as 1TB drives. The 256GB drive seems to have dropped in price as well but at that size I'd expect it to struggle to keep up due to a lack of available chips to reach the controllers full performance.
Closing thoughts
1TB and now 2TB capacities are the best strengths of a drive like the Mushkin reactor. Although mushkin hasn't been immune to the nand shortage they've managed to keep the price of the reactor low at 279.95 it's an excellent deal. It may not offer the absolute maximum performance of some drives like samsung's 850 series(something I hope we'll review soon) but considering their pricing it's feasible to purchase an NVME drive plus the reactor.
Do you think one of our tests needs to be tweaked? Or did we completely miss something that you're looking for when buying a drive? Let us know in the comments below or on Twitter, or Facebook. And don't forget that you can support us on Patreon to help us continue to bring you high quality reviews as well as access to. early news and input on reviews to come.