HTC U11 battery, signal, camera, more days with it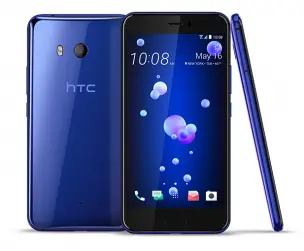 I'm not going to attempt to quantify what day of testing I'm on. I sat it down for most of the weekend and started playing with it again yesterday and here're the things I've found.
Battery
On Friday at about 6pm with ~90% battery remaining I placed the phone on LTE only and stuck it on the testing bench (dresser,) to do a slow discharge test (forgot about it for a day, had an event, didn't want to risk breaking HTC's phone at an all you can drink event).
Sunday at 6:20pm I fired it back up and the battery was at 39%. So in 36 hours we lost 51% of the battery. This is with Facebook chiming every time I got a notification and very little screen on time (I think I saw the screen turn on once, but I really was not paying much attention).
That gives a non-powersaver Facebook-installed battery life of about three days without doing much.
I will stress without doing much.
I decided to record some 4K video test footage and take about 12 RAW photos and do a 1-minute hyperlapse video (which I can't post right now because I left the phone at home) – approximately 10 minutes of screen/camera on 4K/processor use I'd taken it from 39% to 19%.
While 20% battery use in 10 minutes still gives about 50 minutes of full action use, it seems like if you are a heavy media creator you're going to be wanting to lug around some spare battery packs.
HTC U11 Camera/video
Here's a link for the YouTube video in case it doesn't show.
So, video recorded in 4K. Uploaded to YouTube, 1080P is the max it's showing. I'm sans-phone today so I can't verify on anything except the photo backup which says… 1080P. That's odd. I'm pretty sure I checked 4K just because that's what I'd check.
Update: Found Dropbox copies, video is definitely in 4K. This is not HTC's issue and may be a setting with YouTube.
4K version of the video is here or below
On Google Photos which backed up each video I took yesterday they're all maxed out at 1080P. I know at least one of them I'd checked 4K. The above video I specifically had set 4K 3D audio acoustic focus.
Something's afoot, I'll mess with it when I get home. Either Google's universally downsizing my videos or the HTC camera is not capturing in 4K.
Here's a picture of Hammy the cat taken in RAW format. Same at the photo to the left but probably 100% more DNG. According to Google it's the .dng file. You should be able to download and view it if you want to count the 12.1MP
I found that most camera options were a little snappier than my HTC 10. It's definitely a better feeling camera, and the addition of Hyperlapse is going to help some people create some very entertaining fast moving videos.
Hyperlapse is neat. I forgot to bring the camera with me today. Just believe me it's kind of neat. You can play with it on your phone now free. You'll love it for three days and then abandon it as a neat gimmick.
Hyperlapse is no longer neat. It's been three days.
Radios, speed, etc
I used an app called LTE Discovery. It appears in all cases that the HTC U11 is beating my HTC 10. This is reflected in speed tests that are usually 50% faster and in dB levels that are 11-22dB stronger.
I verified that towers are the same. The U11 appears to be connecting to fewer towers. I'm not sure if LTE Discovery is capable of detecting the CAT 16 that's coming or what, but the current Sprint service is noticeably and demonstrably faster with the U11.
I'll qualify that with "against my HTC 10." Which could be defective, have firmware that needed updating, etc etc etc.
Boot speed
It reminds me of when HTC rolled out Fast Boot, not to be confused with Fastboot, or fastboot. This however is just a fast boot.
That RAM tho
Here's something I did not know. The 64GB version the the phone comes with 4GB of RAM. The 128GB version comes with 6GB of RAM. Unfortunately the 128GB version doesn't appear to be available in the US. Just the dual-SIM versions of the phone that exist in China, Taiwan, Malaysia, Singapore, India, Hong Kong, Russia, Saudi Arabia, Philippines.
Sad. Moar RAM the better, especially considering how bloaty developers are making things lately.
Overall at this point
Am I going to get it? No. My Pocketables millions don't afford me the budget to get it. While it feels better in my hand as far as size goes, looks better than my 10, and seems to perform all around about 20% better on everything, I'm still pretty happy with the 10.
That may change in the next week, we'll see.
Here's a link that will make Paul some money if you use it to purchase an HTC U11 thing.