JAM Levity mid-air floating speaker review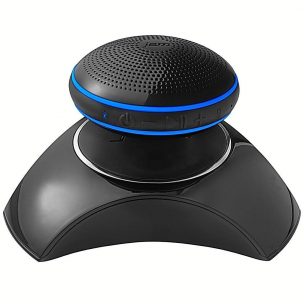 The JAM Levity product description is something out of the back pages of comic books from my childhood – a speaker that floats and rotates in mid air with pulsing light that rotates around the speaker.
It's a JAM speaker, so let any doubt that it sounds nice fade away. It's a little on the light end of JAM products as this thing is mostly gimmick and when it works it's a gimmick that gets a lot of attention.
The floating part is a portable speaker, battery, and the LED light show so you can make it look like a UFO. The base is a powered black piece of plastic with a motor inside that rotates a magnet at a decent enough rate of speed to provide stability to the floating speaker, which presumably has a magnet of the repellent nature.
You can take the speaker and put it on most metal objects with a little iron in them. I can slap it on a metal trunk I have, the speaker, the dishwasher, and basically bring the magic of a floating speaker to the dull realities of most non-floating ones.
When it works, the JAM Levity is entertaining for kids and adults and babies can't wait to knock it down and make you balance it in mid-air again.
When the JAM Levity doesn't work
Evidently with great comic-book inspired tech come great real-world inspired problems and I have a couple of issues that the JAM techs ended up having me ship stuff back to look at.
The first Levity I got worked great for about 10 minutes and then the speaker would start wobbling, progressively getting worse until it would crash and magnetically lock itself into the base. I provided JAM with the video of how this death wobble would start, how to stop it (put a minor weight on the speaker so one side was heavier).
I shipped it back for them to look at it and was given a second one that clicked as the magnet spun. I managed to fix this with a technician's tap, but while clicking the death wobble from the first would start.
In both cases I think the issue involved the motor inside the base not spinning fast enough. Both cases I was offered a replacement. So you might want to keep the packaging until you're sure that it's worked for a couple of days.
That said, review units may be different stock. I don't know.
JAM Levity specs
6 hour playtime
Speakerphone (just like you're talking to a floating human head)
Base USB-Out charging (to recharge floating speaker)
Bluetooth (I see no version listed)
Floats on a powered magnet
Should I get it?
Do you want a beacon to toddlers to attempt to knock it over? Do you like floating things? Did you always see that ad for that floating orb next to the x-ray specs and think you'd love it if they just stuck a speaker in it? Then it's for you.
What would make the JAM Levity better?
I've had this going on three months now and what really would make it shine is if the speaker unit could charge wirelessly from the base unit. Like the unit would dock or lower to wireless charging range and either physically recharge or use Qi charging.
Then you could leave the thing on all the time and not have to break the magnetic illusion as you pop the speaker out of the air, turn it on, and replace it.
Where can I get one?
Currently $53.30 on Amazon, or a lot more anywhere else I check.