Low-cost thermal cooling of high-value assets
Okay, so this isn't really pocketable… though you could stuff it in some cargo shorts pocket, but I am not sure why you would want too. That said, lets all do a 10 second thought experiment, how many of each of the following are within 10ft/3m of you?
x86 Computer
Arm computer/boards
Network gear
Li-Ion batteries
Chargers
Okay, now how many things are currently actively charging? Okay, now think about thermal inefficiencies, and.. doh… we went over 10 seconds.
So instead just lets consider the fact that heat is an issue to most of us, particularly at the beginning of June in the Northern Hemisphere. My "office" is hard to cool; laptop, servers, Pis, screens, switches, routers, APs. Two Li-Ion Chargers running, two NIMH chargers running; a giant APC UPS (I just did a battery swap, that will come in a post soon).
While it is a largish space, it's mostly void, and the windows are on one side, the west side, the long side, and close together I do however have doors on opposite ends of the room! One exterior door faces west with the windows, and the other enters the house to the east.
Here presents itself a massive cooling opportunity! I will not admit the fact that the expensive of the time I invested in running Fakespot on dozens of products likely far outweighed just buying a 5-star unit for $50 from Amazon. But I did it; and I am going to save you the agony! It was agony, most products come out with 1 star and Ds or Fs even with hundreds of reviews!
That said, this is what I ended up with: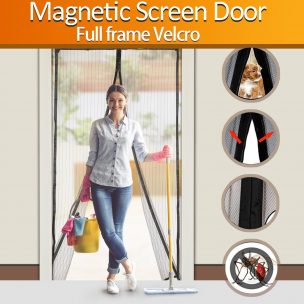 Yes, they have a typo (swen/sewn) in every image and the copy is littered with others as well, however here is their "A / 90%" Fakespot Review! AND here is the real kicker:
It's $16.99 (as of writing) and it's da[r|m]n good!
The velcro is good velcro, and they don't short change you either, I ran the whole frame butting the verticals against the top horizontal, and ended up with almost exactly 4″ of extra velcro on the roll, a nice perk, having baby proofed and found the 3m double sticky tape runs out half way through.
The Packaging is clearly not $50 level, but hey for under $20 I'm happy!
The opportunity: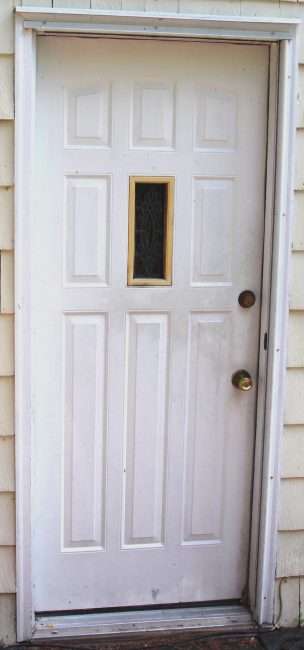 All taped out:
Installed! And clearly Labrador approved!
Really what is a bigger endorsement of good air flow than a Labrador retriever on the final day of May lying clearly in front of it!
Yeah, so it's gadget related rather than being a gadget itself, but think of the cost savings, efficiency, and the fact that you're paying less than 2/5 ths of the neighbors magnetic screen door! The magnetic bars are about 6″ long, very strong, maybe not rare-earth strong, but very very strong, and while it doesn't audibly "snap" shut, you can certainly see the inertia of the magnets and then the impact as they connect. So far the lab has stayed on the inside of the door and not tested the magnets, but I've had it up for about 12 hours now, and the temp in the office dropped from 77F to a current 64F; admittedly it's 62F out right now, but still, with the windows, the hardware, the dog and me, we'd still be well above 74F+ right now without the screen door!
We don't give ratings, just recommendations. So I am going to stamp this one Labrador Approved and leave it at that.