Moo.do Keeps Your Emails, Calendar And To-Do Lists All In One Place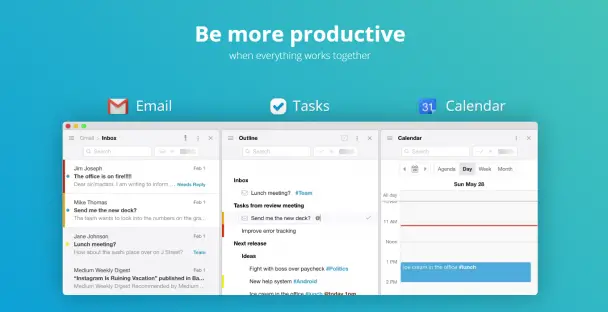 Despite its cutesy-sounding name, Moo.do is a seriously useful tool for boosting productivity. The idea behind it is to connect a variety of services under one banner, making them all work more efficiently and collaboratively.
With Moo.do, you can tie your email, cloud storage accounts, task lists and to-dos and calendar together. As part of the app's seamless nature, all panes are integrated, which means you can drag and drop windows, events, tasks and more — even across separate services.
Want to create a custom email reminder for an event coming up on your calendar? No problem! Just drag the pane from the calendar window over to your inbox and configure the parameters. It's that simple.
What else can Moo.do provide, and just how powerful is it?
Combine Your Efforts
Whether you're a marketer, content creator or entrepreneur, you've probably been frustrated at some point by the lack of online task management tools. There is no single, comprehensive solution, which forces you to use multiple platforms for email, tasks, files and scheduling.
Why is shortage of task management tools such a bad thing? Well, did you know multitasking can decrease productivity by as much as 40 percent? No one wants that.
Yes, there are apps that incorporate features from one platform or another, but again, finding a comprehensive solution has been tough … until now.
Moo.do combines various email, messaging, file storage and task-based platforms, but more importantly, it puts them all into view simultaneously. This means you don't have to keep multiple browser tabs or windows open, and you don't have to swap back and forth between different applications or websites. It's all in one, convenient location. This also eliminates the familiar scenario, usually made up of 16 to 20 steps, of working across various platforms to accomplish one task — like updating a to-do list from your email.
That alone makes all the difference when you're working across platforms.
Comparable tools — like Workflowy — lack the feature set that Moo.do has. Though some may find the added functionality distracting at first, we find it's very organized and robust. This is because with Moo.do, you work with more of a natural flow across multiple panes instead of a single, nested list. As long as you prioritize your tasks, you'll be just fine.
Keep in mind, Moo.do is a separate and fully fledged app, but all your data remains stored via your Google account and Google's servers. This is a good thing, as Moo.do does not retain any of your sensitive data or lists.
Moo.do also includes cross-platform support, including Android and iOS apps, a Chrome browser extension, and, of course, a web-based app. You can swap seamlessly between them so long as you sync up your data when making changes.
You can even use the mobile app offline if you store content or files locally as needed, though only a single document can be stored at a time — meaning you can only access one document while working offline.
Premium vs. Free
Moo.do — including its mobile apps — is a free service with no ads or data tracking whatsoever, although the free version is slightly limited compared to the premium one.
As you'd expect, the free version is lacking some features, like the option to have multiple workspaces open at once, browse select day/week/month views, sync Moo.do tasks with Google Calendar and more. In addition, you only get up to two days of offline data sync at a time, compared to 30 with premium.
But, is it worth paying for? Do you even need to?
At $5 a month or $49 for the whole year, you can easily justify the cost of premium, especially if Moo.do ends up being a tool you use regularly. You're better off starting with the free version, getting to know the toolset, and seeing whether or not you stick with it. If you do, great, but if you don't, you haven't wasted any money on something you won't use.
As for whether or not it's worth the price, we feel it is. But there's nothing forcing you to pay if you don't want to. Yes, there are limitations to the free version of the app, but it won't lock you out of the tools and functionality in any way.
The support for multiple simultaneous workspaces is worth the premium cost all by itself. It broadens your management and organization scope and boosts your productivity even further.
In the end, it's totally up to you what version you stick with.
Download Moo.do for iOS (Free) or Android (Free)