SANDMARC Kickstarter project clips on cinematic camera filters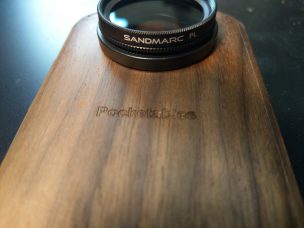 SANDMARC is a company known for their GoPro and DJI gear and accessories and now they're launching a product that brings something that's been missing in smartphone photography forever – the ability to add, change, and stack filters.
If you grew up working with 35mm cameras, or have lived with a DSLR and love the potential but hate lugging camera gear around, you've probably resigned yourself to capture first and filter later if you've got a good enough image.
Photoshop can do wonders, and if you don't want to carry around lenses, filters, and $3500 worth of product that's what you've been stuck with.
Unfortunately what happens quite a bit of the time is you've got an image that requires extensive modification because the smartphone camera compensated, or couldn't capture the range and now there's a big relatively undetailed space, etc.
So SANDMARC made a clip-on, stackable set of high quality lightweight filters so you don't have to go into Lightroom or Photoshop or do anything but clip them on.
The official list of phones that the SANDMARC filter clip supports are
Everything iPhone
Samsung S8, S8 PLus, S7, S7 Edge, S6, S6 Edge, S6 Edge Plus, Note 5
Google Pixel, Nexus 6P, Nexus 5
LG G6, G5, G4, G3
Moto G5, Moto X, Moto G
I've used it on an HTC 10 and an HTC U11 however the clip extends into the touch screen display area. Pretty sure this is saw correctable, but I'm reviewing what's out there and not my attempted modifications I may do later.
It should be noted that it blocks the laser auto focus on my HTC units, however they seemed to focus just fine.
They say a picture's worth a thousand words, however I'm attempting to present this KickStarter project on a bland day where I'm not out doing anything particularly interesting so instead I've cooked up a 4K video using the various filters
Would that I were today by a majestic waterfall, the beach, the sunset, could pick out colors and show how they are (sorry, colorblind,) etc. As it stands I have some 4K video of what the filters look like when placed on the phone.
It was overcast, hazy, humid, and altogether not a majestic day. I couldn't see the screen very well due to the glare. Overall difficulty: at least it wasn't raining.
So yeah, there you have it. I'll be posting some photos over the coming days with their lenses as I manage to venture further away from work than the parking lot. For now you can visit their Kickstarter page and support the project and grab some early bird discounts based on what you contribute and what you want to purchase.
Their Kickstarter page has a bunch of before and after photos if you're interested, but here's one I stole from them: