Cansonic UltraDuo Z2 – a smart dual-lens dashcam initial review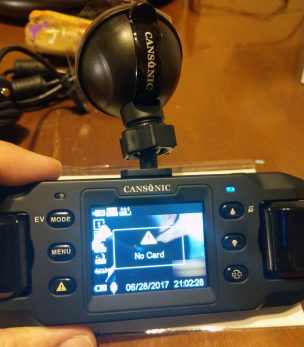 The Cansonic UltraDuo Z2 is currently on Indiegogo and 99% funded with 10 days to go. I got my hands on a pre-release version of the product and have been playing with it for the past couple of weeks recording the various crazy drivers in Nashville as they attempt to run into me, or kill each other.
The version I have of this came with some notes that the color of the recording light is going to be changed, there'll be different firmware, and a few other tweaks to the end user shipping product, so we'll call this an initial review and not a full blown end of the review. This is also the standard edition and not the commercial edition (different lens for passenger recording).
We'll start with that the Cansonic Z2 is an updated version of the Cansonic Z1 – a product which is currently rocking a four star rating on Amazon with one person complaining of a blown up Cansonic battery (although not in the Z1,) and one person claiming that it needs a GPS antenna to be useful.
The UltraDuo Z2 has two rotating lenses that you can point forward, backward, to the sides, or however you want depending on your parking/driving situation. One is a zoom lens and seems designed to look back through the rear window recording traffic behind you, the other is a wider-angle lens and does great for recording straight forward.
It records to a not-included Micro SD card and takes about 81.6 megs a minute video at 1080P per camera. This means you're gobbling up about 163 megabytes a minute on dual-camera operation. This will fill an 8GB Micro SD up in ~49 minutes so you do want to have some space.
You don't have to get a huge card though as the Z2 will loop back and delete the oldest videos. If you get in an accident you can just press the exclamation point button and your last few minutes of video will be saved into a non-overwrite directory of the Micro SD card. If you get impacted it will supposedly do this automatically.
Below are two videos of just driving. Make sure to crank on the resolution by clicking the gear knob if you want to see them in 1080.
Videos are saved in .MOV format (Quicktime,) and are a set length of 1,3, or 5 minute chunks – you decide. If you're driving for an hour and have it on 3 minute chunks, you'll find 20 videos for the forward facing camera, and 20 for the rear coming in at about 9.78 gigabytes.
While I stated above you don't have to get a huge card, larger cards will theoretically wear out less quickly just due to overwriting. Should be noted that the expected write cycle is around 100,000 operations so you should have a while before needing a new card. That said, most of these cards are not tested in a car in direct sunlight being written to at 163 megabytes a minute for hours on end.
If you want video off of the thing just attach it to a computer with the included cables, which are not the Micro USB that I'm used to – pretty sure these are the older thicker Mini USB that phones in olden times used.
Video on the 2″ screen defaults to picture in picture, but each camera is saving its own data and it doesn't matter which one you've chosen to look at or disable. You can view recorded videos in the event of an accident and you want police to see it. The rechargeable battery in the UltraDuo Z2 has more than enough life after unplugging to show a few minutes of video, or record a drive or two.
Critiques on the pre-release
I'm looking at a pre-release version, this isn't final, there's new firmware coming out, this is my first dash cam, yadda yadda yadda. Take this with a grain of salt.
I should probably stress that the file protection appears to consist of moving a file to a different directory on the same SD card and not doing something cool like copying it to internal memory as well. I'd like that data backed up internally as well personally in the off chance I get someone hitting me that might decide to confiscate my card.
The included power cord for autos looks like a little gas pump lever. It's pretty large. It's not pass-through meaning it takes up a lot of space and doesn't do anything other than power one device. I used my iClever nano charger so that I could do something other up front than power one device. Unfortunately using your own USB power source appears to defeat the auto-on/record functionality logic (hopefully resolved with the firmware update). I have to tap to start recording.
I don't see a way to default the connection mode to Dash Cam as opposed to USB File Transfer. Wouldn't be an issue for most, but plugging it into the car's USB port I've now got it into it and the car are attempting to exchange data. Two button taps and it's recording right. Not even an issue usually for me but I had to devote my nano charger to me and the wife's phones this weekend.
Data speed when connected in USB File Transfer mode appears to top out at 16MBp/s. This is slow when you're trying to view videos or copy them off. I mean, you can take the card out and slap it in a USB-2/3 adapter and read at 160MBp/s but that involves another step.
I really dislike the power threading options. Plug into a power port, thread your wire over to the side, snake up the windshield, come like a ninja across, and down. I'd really rather a larger battery and a solar panel on the front of the thing. I mean you can get a hardwire kit, but that's still going to involve a few feet of cable.
Support the Indigogo campaign, get cheaper equipment
The MSRP of this when it's released will be about $299 a pop (you know how MSRPs work, wait a bit and that's not what it'll be.) They've got some pre-release deals going that might interest you of $100 off on the Indiegogo special, $50 off on the pre-order special (why you would want that over the other one I don't know) and some two pack specials.