Lexar 256gb 1000x UHS-II microSD review
When we looked at the fastest card we've reviewed it impressed everywhere except capacity. With that said sometimes you need just a little more room and are willing to trade a touch of speed for it. To that end we have the largest microSD card we've tested to date. The lexar 1000x microSD card is a combination of speed and capacity like we've never seen before.
The 1000x Card Itself
The packaging is a nice professional looking despite being a standard blister pack. Unlike it's faster sibling it does not include a micro to full size adapter. Although it does include a  usb to UHS-II microSD reader a welcome addition considering my laptop's built in is limited to UHS-I. Testing is still done with our Lexar UR2 professional workflow reader although the included reader was checked and verified to run at similar speeds.
UHS quick note
Before delving into testing I want to take a moment to look at the UHS bus specifically, there are per the SD association four current SD buses of which UHS-II is the newest capable of up to a 312MB/s transfer rate. These aren't promises that cards are capable of reaching that(that's the speed grade rating which is separate) but a maximum a reader or device can utilize a card at, fortunately these are cross compatible with UHS-II readers working with all slower cards and faster cards and the cards working in older readers, This is important for setting expectations when looking at their use in something such as a phone, the HTC10, Galaxy S7 and other SD820/821 equipped phones are limited to UHS-I speeds.(sidenote snapdragon 800/810 were also uhs-I capable)
Testing
All benchmarks were run using a thinkpad S1 yoga with crystal disk mark 5.1.2 set to a 1GB test size, testing was moved from the internal UHS-I limited reader to a UHS-II USB 3 card reader(the reader used was a Lexar UR2 reader)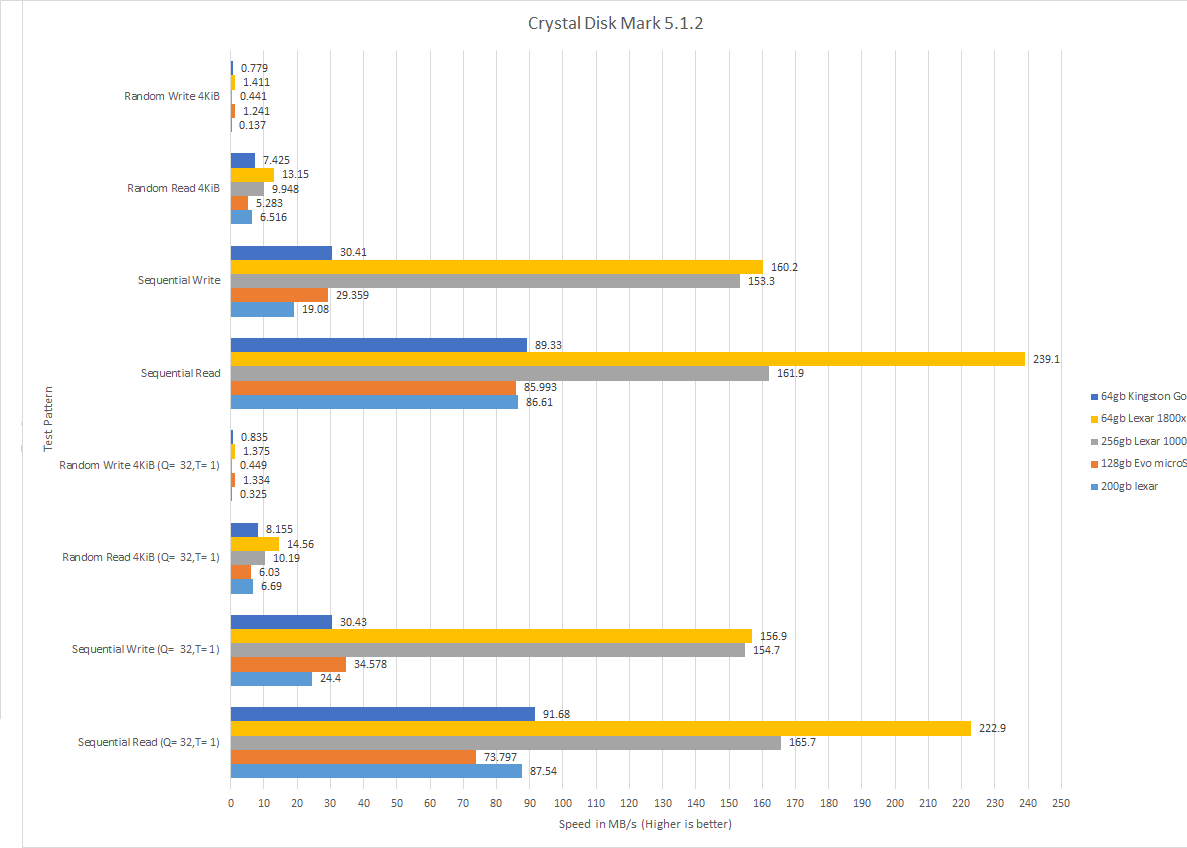 This chart is… exactly what we should have predicted. In some situations the lexar 1000x card comes close to the 1800x but it never beat it. Neither of them can be touched by the other cards in the test suite outside of the 4k random writes.  Some of these cards may look a little different than last time you saw this chart. The reason for this is it was rerun on all of them to correct some consistency issues. This is an impressive feat considering the massive capacity.
The Bus problem
Just as with it's faster sibling the biggest shortcoming of this card is at the fault of the devices it's installed in. Although still blistering fast it's limited to UHS-I when installed in a phone. The most recent generation(s) of phones running on SD800-835 are all limited to UHS-I speeds. It's still the fastest internal device I've seen at 86r/78w it's beyond capable for androids adopted storage. Photos were blistering fast and I was hard pressed to tell between it and the 1800x.
What about Lexar closing?
A few weeks ago Micron announced that it was going to close Lexar. I am personally very disappointed by this as they have made some of the finer memory cards we've tested here. However I find this no reason to ignore their products while they're still available. Per their PR contact "Lexar is still shipping products through September and will be fully supporting retail partners around the globe through the end of that month. Additionally, Micron will continue to support all Lexar product warranties per the published warranty terms."
Final Thoughts
With the 1000x microSD card Lexar is in a class of it's own. There are few cards in it's same speed class and only one I could find matching it's size. At 259 it's an expensive proposition but for anyone regularly shooting video and photos on a phone, or in need of massive fast storage it is the only game in town.