Lexar SR2 Professional SD card reader
In January we reviewed lexars excellent UR2 microSD reader. Following this and our review of  the CFR1 reader from lexar we have a third component of that system the SR2.
First Impressions

Lexar as with their other professional products makes an excellent first impression. Their packaging that lets you know this is a premium product. The SR2 is packaged using heavy cardboard adorned with gold trim and features the product prominently in it's artwork. The back of the package has some performance information telling you that the reader is UHS-II capable and utilizes USB 3.0 connectivity.
UHS-II again
We've mentioned this before but before testing I want to take a moment review some information on the UHS bus. There are per the SD association Five current SD buses of which UHS-II was the fastest until recently offering a 312MB/s transfer rate. These aren't promises that cards are capable of reaching that(that's the speed grade rating which is separate) but a maximum a reader or device can utilize a card at, fortunately these are cross compatible with UHS-II readers working with all slower cards and faster cards and the cards working in older readers. We two different UHS-II cards for testing this reader.
Testing the SR2
As with the microSD card reader all tests were performed by a Thinkpad S1 yoga running windows 10. We used our favorite lexar 1800x microSD in evaluation of the SR2. IOmeter will be used primarily in the evaluation of this reader.
IOmeter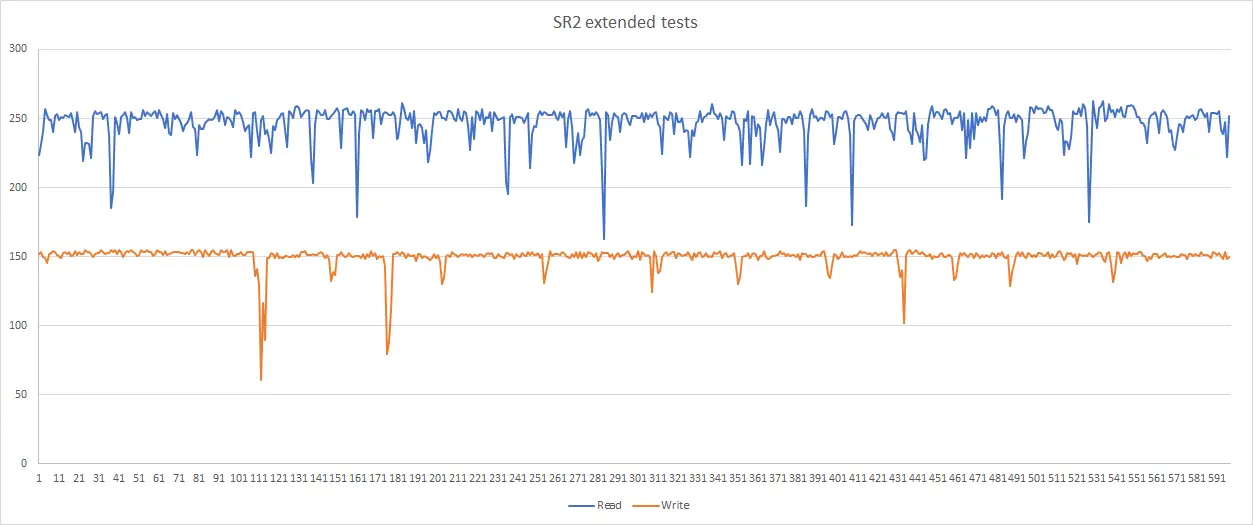 Using  IOmeter we see some very solid results. We focus on read speeds here as the primary application of a reader is to remove data from a card. In an extended 10 minute test there were periodic drops however reads never dropped below 150.
What about Lexar closing?
A few weeks ago Micron announced that it was going to close Lexar. I am personally very disappointed by this as they have made some of the finer memory cards we've tested here. However I find this no reason to ignore their products while they're still available. Per their PR contact "Lexar is still shipping products through September and will be fully supporting retail partners around the globe through the end of that month. Additionally, Micron will continue to support all Lexar product warranties per the published warranty terms."
Final thoughts
Although I wish lexar had used the space this reader takes up for a second card slot it is none the less impressive. Pulling data off cards nearly the interface limit is no small feat and speaks to lexar's engineering. Integration with the rest of the Lexar Professional line is also a welcome perk. At 30.46 on amazon it carries a premium over other SD readers although the integration with the rest of the professional workflow line will be worth that premium to many.
Is this the reader to get? Did we completely miss something that you're curious about with our testing? Let us know in the comments below or on Twitter, or Facebook. And don't forget that you can support us on Patreon to help us continue to bring you high quality reviews as well as access to. early news and input on reviews to come.