Make Your Android Phone Feel Faster In 30 Seconds
Android is great at a lot of things. It's customizable, extensible, versatile, and a whole lot more. One thing it does get knocked for is "feeling" sluggish. iPhone users, especially, complain that android is slow and not responsive compared to Apple phones. In some cases they're right. The wide range of Android hardware and software combinations inevitably means there are some dud phones out there. But, there's hope. Almost any Android phone can feel a little more spritely if you follow these simple steps.
ENABLE DEVELOPER OPTIONS
The first thing you'll need to do is enable Developer Options. That may sound scary, but it isn't really. Just stick to these instructions and you should be ok. To enable developer options find the Build Number in Settings. In most phones that's under Settings > About Phone > Build Number. Some manufacturers place the build number somewhere else but poke around in the Settings app and you'll find it.
Once you've located the build number simply tap seven times. You'll see a pop-up notice telling you that "You are now a developer". Once that's done you'll see Developer Options as an options in your Settings app. It's generally located near the bottom of the list.
CHANGE ANIMATION SCALE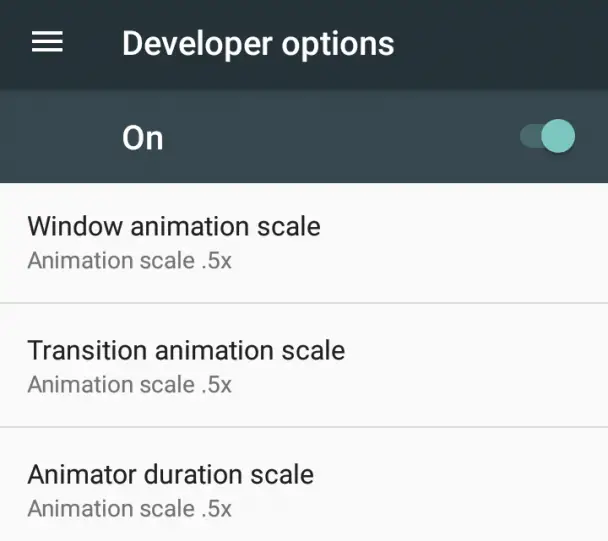 Enter the Developer Options section of Settings and scroll down until you see three animation scale options – window animation scale, transition animation scale, animator animation scale. Tap each one and change the animation scale value to .5x. What you are basically doing is changing the rate at which animations happen when opening apps, scrolling, swiping between launcher panes, and more.
On some phones you may also need to explicitly set the Developer Options to "on". If so, you should see a toggle to turn them on/off. Just ensure that the toggle is in the on position.
ENJOY
Once you back out of Settings you should notice that your phone feels snappier and more responsive. Swiping around and opening apps feels quicker with the lower animation settings. Your apps won't actually run faster, but getting to them will be quicker. It's a quick and easy way to make almost any phone more enjoyable to use. If you decide its not for you simply set the animation scales back to 1x or just disable the Developer Options toggle.