Full Throttle Remastered brings back Lucasart's biker adventure
Twenty two years ago in about the same area I'm in now, I started down the path of playing everything Lucasarts produced that would run on my computer. Unfortunately being a poor programmer employed in an arcade in Franklin, TN, and computers being very expensive and not always compatible, this wasn't a lot of games.
What did stick with me (besides my two Lucasarts shirts that fell apart a mere 10 years later,) and stuck on my shelf of fond memories of games that actually ran correctly, were the X-Wing vs Tie Fighter series, and Full Throttle. I'll be talking about the latter of these.
Full Throttle Remastered brings the game to modern operating systems (it's available on Steam and the App store at the moment, hopefully Android soon,) and lets you relive the detailed hand-drawn puzzle solving motorcycle-riding awesomeness that made 1995 a good year to play games in.
I'm going to point out right now this is not on Android yet. There are scammers posting apps called Full Remastered Throttle, Full of Remastered Throttle, and other similarly titled apps using screenshots from Full Throttle Remastered.
In other news, holy hell I'm old. Full Throttle was released April 20th, 1995 for MS-DOS, Windows 3.x & 95, and Mac OS.
I'm think I played this on a Pentium running about 60MHz, but it may have been back in the 386 days.
This game is from an era in which frustrating unnatural puzzle solving was the norm, and it brought a rich immersive soundtrack, animation, and story to a platform that really wasn't quite ready for it. I remember in the days attempting to properly time a punch or a kick from a motorcycle and just missing it because my computer was too slow to catch it while displaying the game.
I replayed Full Throttle through steam on my current system and expected to be a master of motorcycle fighting this time around. I was not. It's designed to piss you off and that's ok, it's not much of the game.
Full Throttled Remastered brings some developer interviews and concept art to the table, the audio sounds a lot better, although that might just be because those old computers didn't sound particularly awesome. There are settings for Remastered and original art, audio, and controls should you wish to really experience the struggle of 1995 gaming.
I thank the lord for the apocalypse
The soundtrack brought me back, The Gone Jackals may have not really entered the collective consciousness of non-biker gamers, but they provided the soundtrack to far far far too long of my youth.
It looks like the mini soundtrack that's included in Full Throttle is available on Google Play for $0.99 at the moment which is better than the $46.95 the CD is going for on Amazon.
Quick note here, it's $0.99 for the 11 minute soundtrack on Google Play, it's $9.49 on Amazon. Don't get it on Amazon.
No souvenirs, I'll have scars enough to remember this by
Full Throttle Remastered holds up pretty well in terms of story, but in terms of controls and scope of the universe it feels kind of dated. This isn't because the game wasn't designed well, just keep in mind the targets. 16 megabytes of memory, maybe an early Pentium, a CD drive going maybe 2X, 256 colors, and 33MHz were your targets. Hard drive space was critical, and optical storage was sooooo slewwwww.
This is when loading a screen of graphics was processor intensive and not something that doesn't cause the CPU to twitch.
So screens tend to be there longer to search around in than they would today, you're sort of discouraged from leaving or doing anything that would change a screen, transitions aren't seamless, and that's ok.
Unskippable cutsceeeeeeeeeeneeeees
Luckily there aren't too many of these, but they can grate on the nerves. Obviously after you've not managed to escape a falling fertilizer truck you want to go back and relive every moment that lead to this. As I couldn't take it any more I ended up looking up a solution near the end.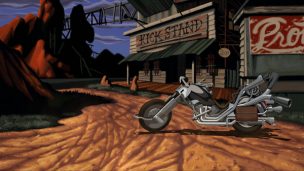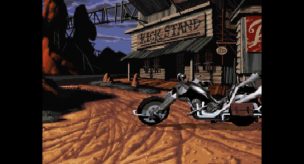 Nostalgia aside, should I get it?
A lot of great games have come and gone in the last 22 years. Full Throttle feels a bit dated. It's fun though and fits really well into being able to walk away from it and come back later as there are only a few things where you're actively engaged in a process.
I like it, but I'm nostalgia laden. I think modern gamers might feel like it's a slow moving stickman puzzle game.
You can get it on Steam, or in the App Store