Let's give Xfinity a better slogan than the Future of Awesome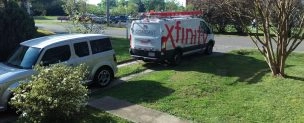 Yesterday I got treated to yet another seven hour outage on the Xfinity/Comcast business class. Sixteen people left the office because our backup 3mbit internet, which we keep because we know what Comcast does, can't handle their cloud-based app.
I threw my Sprint hotspot at the problem, but so did everyone in the immediate vicinity, and bandwidth went from 40mbit down to about 0.5 in the course of about an hour, it became unusable by the first gig.
This was 14 hours of my work dedicated to Comcast within that past 30 days (the other involved them upgrading the building's line, placing a node power generator in a phone closet, replacing and powering a node).
I spent most of the day on auto-response "no, we have no idea what the problem is, it's comcast, no there's nobody you can speak to it's a soulless machine, yes I know it's killing us, no I'm pretty sure they aren't in the least bit worried about us going to another provider as there are none within 5X the price".
I spent enough time on their websites and on hold to realize that they're not actually presenting the entire slogan… it's
Xfinity – The Future of Awesome, the Present of Hot Garbage
Xfinity – The Future of Awesome, oh you wanted internet with that?
Xfinity – Want to hear about that Mariota fight 14 more times before someone comes on and mumbles?
Got anything funny? We're running a contest – most upvotes on your comment gets an obviously counterfeit Marvel no-prize made by a cheap imaginary factory in Laos.
Make the people stuck with sub-par picture quality and sporadic internet service laugh.