A week with the Tinitell GPS watch for kids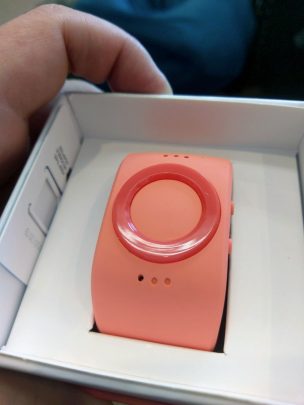 I'm still in the testing phases of the Tinitell and have had some roadbumps, figured I'd drop an update as my goals are now longer in-depth reviews of fewer, but far more interesting products.
As a refresher, Tinitell is a no-screen kid's wristwatch that has a phone, GPS, and will tell time.
My Daughter Maggie is four, she absolutely loves it. She's probably sold seven people on these by now randomly just showing them what it does. She's like the perfect product spokesperson and I really start worrying that my product blogging may have rubbed off on her.
The Tinitell is a little too large for her, and it's a little more complex than a four year old is ready for out of the box, but she's managed to figure out how to get it to tell time and to call me or her mom without much issue.
Being four she wants to call us when she's in the car behind us, and does not want to talk with us when she's, say 500 feet away in a park.
Initial setup
In the US the Tinitell is shipping with a Ting SIM installed and three months of free service. You'll need to activate the SIM in order for the watch to work. For this I recommend about 15 minutes alone as you'll need to set up a Ting account, or swap out the SIM with a T-Mobile one if you've got an account with them.
I forgot to get screenshots, but the Ting activation seems like it took about 10 minutes to get an account after I realized I'd typed the frekkin 20something digit sim number wrong.
Yeah, if you need glasses, the SIM # is on a card they include, it's small print, it's a lot of numbers. Then you're going to need the IMEI number of the watch – SAVE THE BOX, it's printed on the bottom of the box in much larger numbers than it is on the watch (if it is… I can't remember) – if you lose the box you can still pull the IMEI from the app if I remember correctly.
I made a call to the Ting number, answered it on the watch, and ended up having a rather lame conversation with myself.
The part where Paul runs into problems
On unboxing I noticed there was no charge cable. I'm told out of 11,000 Tinitell watches that shipped I'm one of three people who had this happen. I'm also the only reviewer who had this happen. Lucky me.
Oddly the PABY cable worked to charge it. Different cable, fortunately right pinouts while I waited the right cable to show. This cable has 4 point metal contacts with 2 magnets to prevent it from being plugged in incorrectly.
So, one packing error down.
The next error I ran into was the app was claiming the SIM was having problems initializing. As I was able to call it and see the GPS location this seemed odd. Tinitell support did something with Ting and that went away and the status says there's an IMEI issue.
I've been told the actual issue is the app has a slight bug and that if you can call and see GPS it's working and that a fix will be out soon.
The part where we lose the watch
Saturday was a long day. I was ferrying a friend, her son, my kids, wife, and a trunk full of kid stuff from consignment sale to consignment sale with a dance class thrown in.
Maggie wanted to wear the watch mostly because she wanted to be able to show her friend what time it actually was.
Yeah, it speaks the time in five-minute increments. She didn't care that it had a GPS, could call me, etc. She just wanted to tell the time.
I dropped the entire load of humans at the dance class and left to get gas. The car actually needed gas, I will preface this with my car claimed it has 31 miles left in the tank. I ended up in a line of cars which were backed up 8 deep due to the expectation that Hurricane Harvey was going to shut down the oil pipeline to Tennessee.
I'm not one of the goobers who was topping off, I swear.
30 minutes in a line to get gas, I head back, tackle a baby who's going crazy, and we wait for Maggie's dance class to end and headed out to the next consignment sale where I end up driving around a neighborhood with a cranky 2yo trying to get her to sleep while everyone else shops.
When I got to the parking lot with now sleeping baby I noticed my wife's phone was still in the car and I pulled up the Tinitell app to call Maggie's watch thinking it would be rather funny to call her and ask what's going on.
The app showed that Maggie was not anywhere near me and was on the street where her dance class was. I refreshed as occasionally the app will display an incorrect location when you start and you just press the GPS button once or twice and it finds the correct location (needs to be fixed in an update,) but no dice. She'd left it at dance class.
We drove out there, it was closed, and closed on Sunday as well. Sometime Sunday night the watch battery died – I'm not sure when exactly but I'd say at 32 hours or so from the time we lost it.
I picked it up Monday and charged and it's back in business.
The part where Maggie becomes a Tinitell saleslady
I've had Maggie in the watch when she's with me lately.
We had to go to the mall to pick up an order that someone had sent to a Hanna Andersson store for her baby sister's birthday. Maggie being four wanted to go everywhere in the mall and tell everyone that she had a watch that would tell time. You know, like a four year old does.
We also didn't know where the Hanna Andersson store was, I looked on a map and completely flipped it and thought it was on the wrong side of the mall. As such we spent more time wandering the mall than anticipated. This lead to four encounters where people wanted to talk to her and she wanted to talk about the watch.
For the following I swear, I'm not being paid to sell this. I got a watch out of this deal and no commission on sales.
We dropped into a couple of store to ask where HA was, Maggie walks up to a person there and takes control of the conversation before I can ask where said store is.
Hi I'm Maggie and my watch tells time wanna see?
Of course everyone says yes, she presses the button, they hear what the time is and then
I can talk to my mom, dad, or CONNOR on this!
At which point I explain that it's a phone and GPS tracker and I'm really only looking for the Hannah Andersson store.
By person #4 we'd found someone who pointed us in the right direction and had given out the Tinitell website multiple times as everyone was interested in this.
The parts that I'd like to see changed
At week one here are the things I think need some work.
I want a web interface so I can see where the watch has been, geofencing so I know when my kid is not where she's supposed to be. The PABY critter tracker does this on less tech than the Tinitell has, so I imagine they can put this in the app/web.
The ability to force answer a call. It would have been really nice if as the admin I had been able to pop into the watch when we lost it and been able to speak to the people in the room where it had been dropped and say "hey guys, mind placing this outside so I can pick it up?"
The ability to answer on a schedule – I'd like her to be able to wear it but not receive phone calls during dance class, and only answer to me or mom during school hours.
Better voice recording for audio labels. They're kind of tinny.
Bands need to be replaceable (they'll replace it if it breaks, but I'd rather have a different band)
Emergency services call option in which after selecting emergency services you have to press the button X times to make the call.
When allow unknown callers is selected the ability to say "unknown caller" rather than nothing.
The magnetic 4-contact point charger is neat, but if the watch is found by someone they're not going to have a way to charge it and subsequently get in touch with you to tell you they found your watch. Either a standard charger or a place you can write a phone number for "if lost, call…" would be great.
Where can I get the Tinitell?
Currently the Tinitell is available from the manufacturer's website for $126
You get three months of phone/data service through Ting, afterwards it will be about $9-12 a month. You can use T-mobile as well if you want afterward, however I do not know the prices and it may be significantly less with a family plan.