Cognitoys STEMosaur launches on Indiegogo
Imagine a product like Google Assistant for your child that could also teach them to code and instill a desire for learning new and interesting things. Next put it in a dinosaur shell with a Yoda-esque voice. There you have the CogniToys STEMosaur.
I first ran into Cognitoys a couple of years back at CES at Showstoppers when they had their first connected dino out. It was a brilliant web connected device that tied into an IBM Watson-powered backend to be able to appropriately answer questions based on a child's age as well as reading stories and playing games with them.
As an example – if I asked it how far is the moon, it would tell me in miles/kilometers. If a child asked it it would say it was very far away, farther than they could walk. That sort of answer is the type I've had to give my four year old since she first learned how to ask Google Home questions.
Their dino could remember my name and how old I was to apply age appropriate personalized answers. That was cool. Really cool.
The new STEMosaur has the same basic back end but adds a basic engineering component of assembling the thing, and access to a critical thinking user-programmed visual menu tree where you or your child can learn to script responses (computer or smartphone required).

Don't worry, for all that STEM talk their first programming escapade is probably going to be learning how to tell the dino to say "I am a poo poo head." Later on they can create and share their scripts with others by creating their own trivia challenge, mysteries, or whatever floats their fancy.
You can skip the programming portion if they're not interested and just have a connected personal dino assistant that can't order pizzas when your kid yells "Hey <device>, order me a pizza".
With my kids, ever since they've been able to operate a device they've longed to have it answer questions. Unfortunately with screens involved they also long to tap whichever colorful cute thing pops up and tends to go down the hole of listening to fifty five variations of "Daddy Finger" on YouTube Kids.
The STEMosaur has no screens of blinking ads to distract from the information.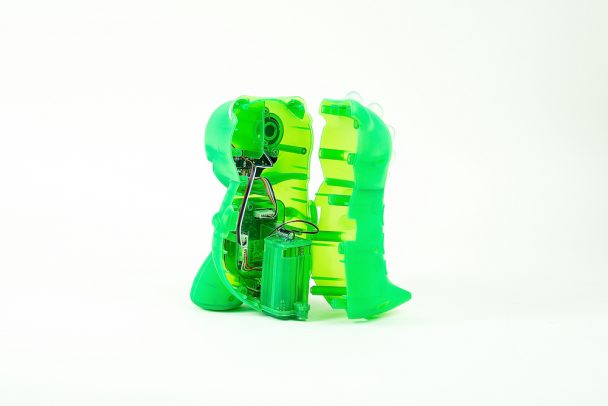 The STEMosaur is battery operated and turns off when not in use so no huge worries about a connected device in your house constantly listening to you, and it's green and scary so kids will probably love it.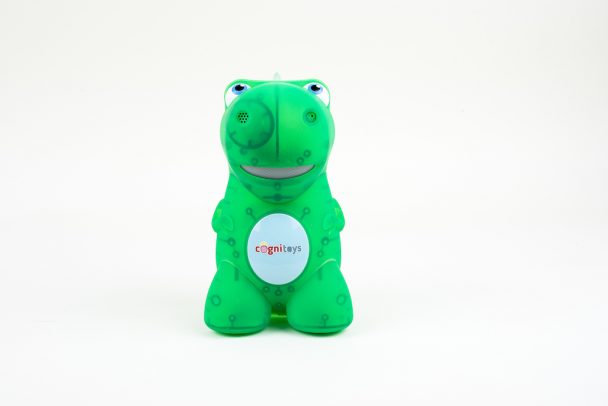 Their first dinobot won a host of prizes including being named as a Time Magazine invention of the year. More importantly I think it's cool. Yup, it had my cool idea stamp of approval.
This is the sort of toy I've wanted for my oldest since she first was learning how to speak properly to get Google Home to answer her questions.
That said, I haven't had a chance to play around yet with the STEMosaur yet as it's not out, but hopefully soon I'll get one and get a review up of it.
The STEMosaur potential
I'm not one to sell you on what your child could potentially become, that's for sales people. I'm more interested in looking at what the STEMosaur could potentially become once some savvy kids take it up as a programming destination.
I had a chance to sit down and have a conference call with Donald Coolidge (Elemental Path's CEO,) two weeks ago (I still am amazed people want to talk to me about these things,) and we discussed what the STEMosaur has in terms of programming menu trees and what could be done in the future such as the potential to interface with third party services (music, news, turning on the garden sprinklers, etc).
That's a potential future update and not so much at the moment, but you can guess that hardware-wise, anything any connected assistant can do the STEMosaur can probably be post-release fitted to do if it has enough support and requests from owners.
Specs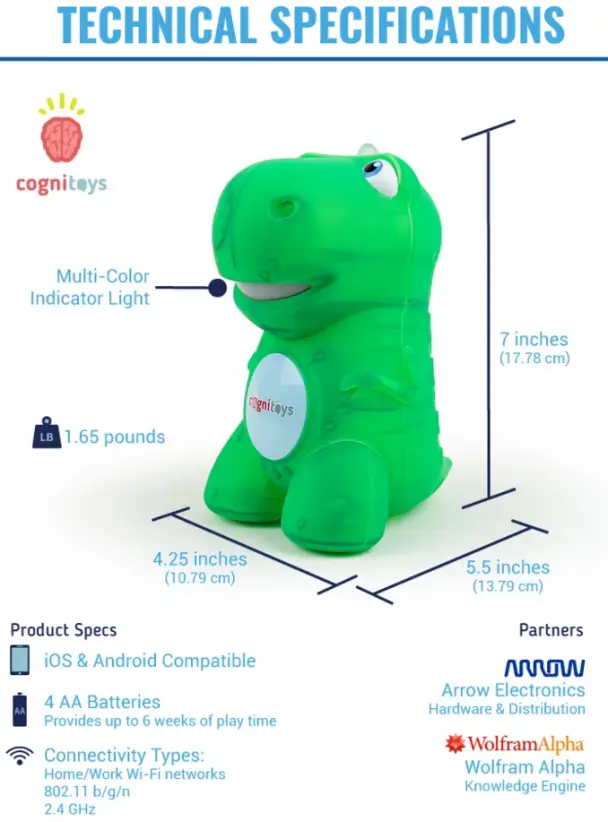 Get more info on the STEMosaur
You can learn more about STEMosaur and support the Indiegogo campaign (where you'll get huge discounts on MSRP,) on Indiegogo
You can also check out the Cognitoys website for more information on the original (and probably a link to the Indiegogo as well).