iClever XFree mini bluetooth earbud review, really pleased!
I'm going to start with the iClever XFree Mini's amazing 8 mm drivers (they call them speakers, but if you're reading this you know better too), and I'm going to commit another faux pas and say it again, are simply amazing. They produce a prodigous amount of sound, and are EXTREMELY well balanced. I use eqMac2 on my laptop and AudioFX/EqualizerFX on my phone, and commit the heresy of playing FLAC files over bluetooth. This is the first set of buds that I have found don't need tweaking. I fell no need to mess with the gain to get volume and the 8mm drivers produce simply amazing sound for in-ear buds! The response is flat, I don't want to touch the equalizers unless there is an album I remember in a specific way where I may tweak highs-mids-and-lows, but for 98% of the stuff I want to listen to from acoustic, to rock, heavy metal, rap, pop, EDM, and podcasts I am picking "Flat" or "off"! An amazing feat by iClever in such a small package!
Magnets on the backs of the drivers clip together around neck for easy storage when not in use, like checking out. The rest of the accessories are nice as well; I'm a big guy, 6'2″, and I found the large buds and medium "hooks" to be ideal. Mine came with two of the "S" clips that shorten the cord, though one is indicated in the manual, whether my double quantity was a fluke or not is unknown. I can see a second one coming in extremely handy and a low cost but extremely welcome perk!
They are labelled 'IPX5' and while I didn't do anything "dumb" with them, and have never knowingly lost a pair to sweat, I have to take their word on this. The construction is top-notch, while the buttons are mushy and not clicky, they seem well constructed, all the seams and seals are excellent based on visual inspection. I could try showering with them, but I have a shower speaker I like!
iClever offers a 30-day Money back guarantee, promise a 24 response to service requests, and to replace them if they die in the first 18mo.
iClever claims "up to 10 hour battery life" I've been getting about 8 hours per charge, and I am running them at around 40% volume. That said if you didn't use them constantly these would likely get most people through a full day of work including commute, excluding meetings, etc. They are "mini" but you're not going to catch the midday playoff game with these in without getting caught! As for the 90 minute charge time claimed on Amazon or the 120 min from the manual, I'd say they charge quickly, whether it is 90 min from flat to full is hard to measure, they do charge fairly quickly; but I don't think you're going to get a full charge while you're making and having dinner.
CVC 6.0 NOISE CANCELLING – okay I'm done OEMs/ODMs, please, this is not noise cancellation! This is possibly "noise reduction" because rubber or silicone bits are in your ears.
Ben's "CVC 6.0 Noise Cancellation" Rant
I am sick of this ODMs/OEMs! This is NOT active noise cancellation any more than me stuffing my ears with cooked oatmeal would cancel noise; yes, you rubber flange goes into my ear, thus deadening some outside sound. However calling this noise cancelling is at best ludicrous and at worst purposefully deceitful. I am not calling out iClever here, it is problematic industry wide.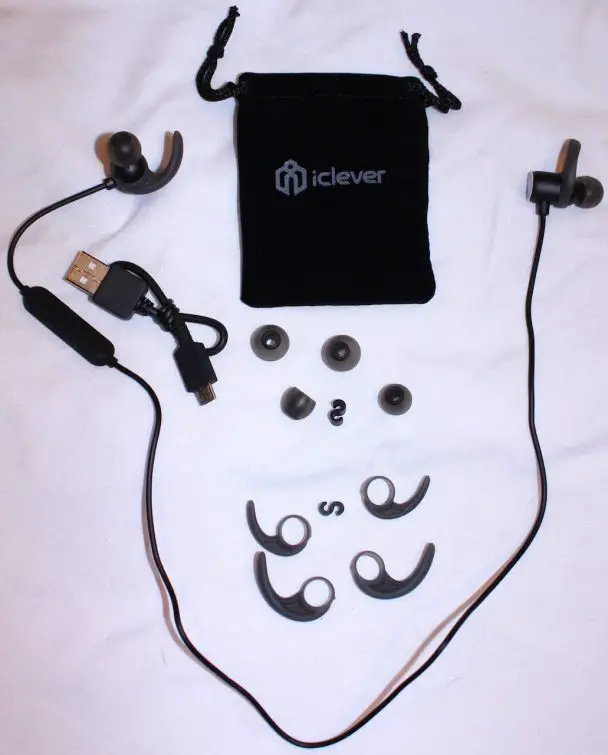 Overall I am extremely pleased with the XFree mini. The placement of the control fob with the volume and multifunction button isn't ideal for my size head as it seems like I am reaching a bit behind me even when the cord is loose, though the audio pickup is quite good.
The MSRP is a bit of a red herring, they never listed at $59.99, they launched at $35.99, and are currently listing at $19.99. At $30 they are a good pair of earbuds, at $20 they are a steal for the quality and 18mo warranty that iClever actually backs up! As someone who often sleeps in headphones with Sleep as Android Lullaby going I find these to be an excellent investment! While we don't give stars and the like; I wholeheartedly endorse anyone's decision to purchase these for the current asking price of $19.99!