ECOVACS DEEBOT M80 – Day one review (ongoing)
I'll be doing an ongoing review of the ECOVACS DEEBOT M80 robotic vacuum cleaner (with mop and water tank) – this article involves day one with it and some of the things I had to do to get things right.
On robot vacuums
Several years ago, flush with Costco Cash, I purchased a Roomba 550 as my house gets unbelievably dirty on a daily basis. There's a good seal at all doors, but the washable air filters I'm washing weekly and getting gunk out, the floors are dirty, and generally I believe a dust storm must be going through my house when I'm away.
The Roomba did a pretty good job, and I've spent nearly $120 on new batteries, replacement parts, and maintenance since I purchase it and consider it a decent investment. What I don't consider it is particularly a smart robot, which is ok, they've gone on to do greater things in the 10 years since the 500 series was released. At the time it was cutting edge.
A company called EVOVACS sent me a DEEBOT M80 a couple of days ago. I've got it running in conjunction with the Roomba. I'll note that the Roomba needs a new brush, the spinner gear has died and needs reworking, and it's not a fair competition right off the bat so don't think I'm head to head comparing cleaning abilities of a 10 year old product vs a brand new one.
That said, I'm comparing a 10 year old robot vacuum to a new one.
The ECOVACS DEEBOT M80 feature set
Schedule jobs via remote or app
WiFi connectivity
Can mop
Will avoid falling down stairs or slamming into anything it can see
Normal or heavy duty suction
You can direct it via remote or app (more useful than expected)
Auto docks to charge
Easy out dust bin
Dual spinning dust whisks
Onboard hair-cutting tool
Unpacking / assembly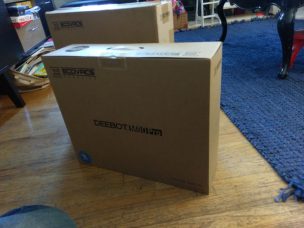 Box in a box
Packed fairly well, the 4 detachable whisk brushes were loose but that doesn't seem to be a proble,
The remote. Two batteries included.
Place the power supply in.
Power supply is in
Snap in the two whisk brushes and it's set.
Setup
I installed the app, connected to a 2.4ghz AP I have since it doesn't do 5ghz, and signed up for an account in the app. They require a confirmation of email for security purposes, so I waited for about four minutes for that to come through and then set up a weekday schedule to clean while I was out.
I positioned the charger and slapped the bot on the charger but noticed in the app that the battery claimed to be nearly full. Based on the "do not sell" sticker sitting on the bottom, I'm betting this experience is probably for bloggers and that the battery ships with less than half a charge. I might be wrong however.
ECOVACS DEBOT M80 in use
I decided to try it out. The little one wasn't around to complain about noise (she hates the Roomba noise,) so I went ahead and started.
It surprised me. It was quiet. I mean, not like silent, but quiet as in a third of the volume of my 10yo Roomba that needs work. Carry on a conversation quiet.
It wandered into a kid's room and I heard it beeping several times. I went in to find it had sucked up a dog collar and tangled it in the brushes. I extracted the collar and let it go on its merry way. Next up it sucked up a long piece of floor tape (the type that keep carpet from moving). Extracted that. Nothing to this point had stopped it that I felt was surmountable.
Until the tiny block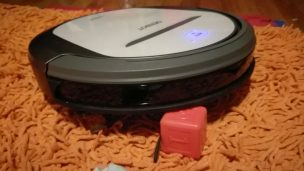 The ECOVACS DEEBOT M80 climbed this and the wheels lost contact with the ground. It beached itself on a tiny block. OK, shouldn't have blocks on the floor, I'll give you that DEEBOT. Still a rather amusing fail.
I checked the dust bin while I was extracting it from this predicament and it was full. Looking at the picture I'm not posting that. Kinda grody. Emptying was easy. I took the opportunity to remove some of the hair tangle it'd picked up using the on-board tools and set it back on its path.
It hit the slightly folded corner of the rug, bent it back, and beached itself again. I'll point out the corner of this was bent over due to kiddos being kiddos.
I extracted it again and it found an extension cord I'd forgotten was there and sucked it up and stopped. Then it found a USB power cable and tangled.
All foreign objects removed now I ran it and it finished and docked itself.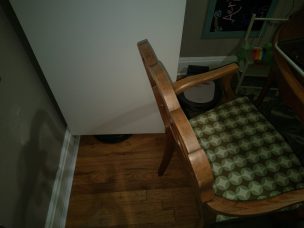 Above badly pictured – Roomba wedged under a cabinet, DEEBOT M80 docked.
Overall (day 1)
Once the area is free of cables, blocks, and snags the DEEBOT M80 did great. With two kids and the Roomba there's not been a day I didn't have to vacuum myself until yesterday.
That said, it's been 10 years of vacuums and I'm still having to manually empty out the dustbin.
I'll be testing the mopping capabilities next week as there's some edging prep I need to do.
Where can I get one?
Why Amazon of course. They're currently $229.98, and if you can hold your horses for a few we might have a discount coupon. $46.20 coupon here (valid until Friday October 13th, 2017).